---
Estonia 2002
---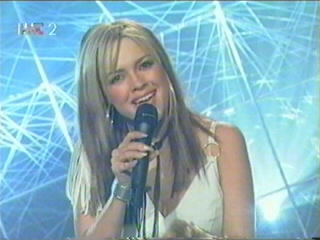 Sahlene (right) won the Estonian contest on January 26th, and will sing Runaway for Estonia in Tallinn. She is actually Swedish, and has been backing singer for Ines in the 2000 final amongst other things.
I now have a recording of the contest and will put up all the details soon.
The rest of the page remains unchanged
---
This list for the contest on 26 January
Ivo Linna sang with Maarja (not the one here!) in Oslo in 1996, and Jaanika sang Estonia's first ill-fated song in 1993 - it didn't get past the pre-selection held in Ljubljana that year.
A Dream - Maarja Kivi - Lyrics: Kärt Tomingas, Music: Raid Liiver


Another Country Song - Wildhearts - Lyrics/Music: Tommy Strike & Mario Kivistik

Can't Stop The Time (So Easily) - Julia Hillens - Lyrics/Music: Peter Ross

Computer-Love - Ivo Linna, Yvette Kadakas, V. Lattu - Lyrics: P. Selis, Music: Peeter Thomson

I'll Never Forget - unknown - Lyrics/Music: Kersti Kuusk

I'm Falling - Jaanika - Lyrics/Music: Kadri

Need A Little Nothing - Gerli Padar - Lyrics/Music: Maki Kolehmainen, Jeanette Olson & Tracy Lipp

Runaway - Sahlene - Lyrics: P. Paulus, I. Laissar & A. Kotkas, Music: J. Hallas

This Is What Love Can Do - Hatuna & Riina Riistop - Lyrics/Music: Peter Ross & Hakan Björklund

What If I Fell - Lea Liitmaa & Jaagup Kreem - Lyrics: William Vesilind & Jaagup Kreem, Music: Elmar Liitmaa
If you have any news or updates on this country's National selection I'd like to hear about it. E-Mail me, Geoff Harrison, at my contact page