---
Germany 2002
---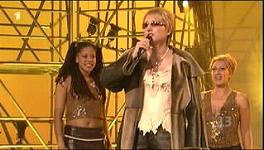 Corinna May (right) will represent Germany in Tallinn with "I can't live without music", a somewhat uptempo schlager-type song.
Here's my comments on the show:
Who says the Germans don't have a sense of humour?
Anyone who'd seen the last few German song contests would know otherwise, and the 2002 edition was on form with a mixture of schlager, pop, and silliness that had the crowd roaring in the Halle on February 22nd
So without further ado here's the list for the Grand Prix Eurovision or Countdown Live or whatever they were calling it this time
Song

Title

Music & Lyrics

Performer

Picture

1

Get Up

Harald Reitinger & Uli Fischer

Disco Brothers ft. Weather Girls

2

Hold On

Simon Veigel, Steve Waidelich & Judy Bailey

3rd Place

Normal Generation?

3

Und wenn du lachst

Andreas Fahnert, Hartmut Krech & Mark Nissen

Nino de Angelo

4

You Never Walk Alone

Klaus Dehr, Peter Voll & Eckhardt Horst

Unity 2

5

Fleisch

Lars Niederreichholz & Ande Werner

Mundstuhl

6

Will My Heart Survive

Dieter Bohlen

Isabel

7

Higher Ground

Ali Neander, Linda Carriere & Lisa Cash

Linda Carriere

8

Bravo Punk

Alexander Muth

SPN-X

9

To Be Or Not To Be

Guido Craveiro, Johannes Kram & Michael Holm

Zarah

10

Es ist niemals zu spät

Michael Buschjahn, Jean-Pierre Valance, Bernhard Brink & Norbert Hammerschmidt

Ireen Sheer und Berhard Brink

11

I Wanna Be Loved

Kelly Family

Kelly Family

12

Du bist mein Weg

Gino Trovatello, Matthias Stingl & Burkhard Brozat

Tuesdays

13

I Can't Live Without Music

Bernd Meinunger & Ralph Siegel

1st Place

Corinna May

14

Don't Say Goodbye

Jan Löchel & Vincent Sorg

Natalie

15

Joy To The World

Jason Homan & Hans Steingen

3rd Place

Joy Fleming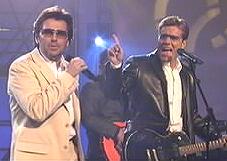 Nino De Angelo batted for Germany way back in 1989 with Flieger, but Ireen Sheer goes back to 1978 (and before) when the girl from Billericay wowed us with Feuer (Fire). No wonder she's singing "Es Ist Niemals Zu Spät" (It's never too late) with fellow schlager star Bernard Brink. But wait - there's also Joy Fleming who tried desparately to burst a few blood vessels with "Ein Lied kann eine Brücke sein" in 1975. I can't help feeling the title of her song "Joy To The World" is an ill portent. We also have Corinna May who is still trying to win again after the famous disqualification in 1999. That year songwriter Ralph Seigel's effort ended up going to Israel, and he's been trying to make it up to Corinna ever since, and "I Can't Live Without Music" is his latest consolation prize.
I'm sure you noticed no Irish participation in Tallinn, because lawnmower salesman Gary O'Shaugnessy came 21st, but instead from Ireland we have The Kelly Family. Massively popular in Europe, but ignored in Britain & Ireland, they look like Irish gypsies. The song narrowly escaped being disqualified as they had performed it in their recent concert tour. A rather forgettable ballad.
20-year-old Zarah was picked from an Internet competition, whilst Linda Carriere is a Londoner who has done some backing singing, but now has her first album "Just friends" out.
As you see, the curse of w i d e s c r e e n came to the German contest as to many others this year. For some reason some people like these smaller pictures, but I find the shots are always full of wasted space. Lets face it widescreen is useless for this kind of show, but we'll have it rammed at us until we think we have to buy one of those sets. Rant over....This was a very entertaining show with some fine songs and performances. Interval act were Modern Talking (above left), and it was curious that the late entry to this contest, "Will My Heart Survive" sung by Portuguese-born Isabel Soares was written by Modern Talking's Dieter Bohlen. An excellent ballad, but Isabel seemed too inexperienced to do it justice.
Norway isn't in Tallinn this year, so no Norwegian final for Norway's fan club president Kato Hansen (right), but he turned up in Germany instead. I'm sure he will be in Tallinn - he told me last year he had been to every final since 1985. My record is only since 1992.
Anyway they had a two-stage system, with telephone votes taking us through to stage two where Corinna, Joy, & Normal Generation sang again, and Deutsche Telecom got a few more Euros (some of which went to good causes).
There was then a truly superb piece of nonsense from The Ten Tenors from Australia who did a hilarious rendition of every one of the 15 songs, singing some of them better than we'd heard that night, before the winner was announced.
Its great to see Corinna May finally get to the big final, and with a stronger song than in 1999, so lets wish her well.
Visit the official site from North German TV, NDR at http://www.ndrtv.de/grandprix/
If you have any news or updates on this country's National selection I'd like to hear about it. E-Mail me, Geoff Harrison, at my contact page