Countries in running order
Reports from Tallinn
I posted reports from the Press Centre in Tallinn on this page. List of songs, this page, final scores here.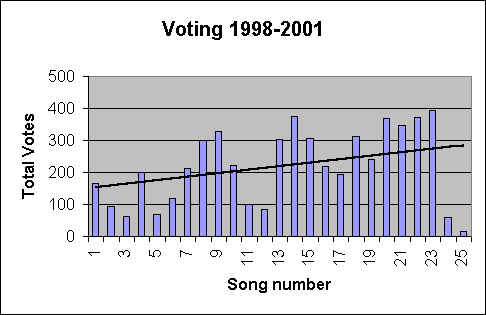 Voting System Changes
2002 marks a change in the voting system with the reintroduction of juries in part in many countries. It seems the use of televoting has distorted the voting patterns making songs later in the running order more likely to win. On the right is a graph I made illustrating the point. Click on it to enlarge. 12 countries will use televote, 7 will use 50/50 (Cyprus, Greece, Spain, Croatia, Malta, Slovenia, Lithuania), and 5 jury only (Russia, Macedonia, Bosnia, Turkey, Romania).
2003 ahoy!
These countries have confirmed participation in the 2003 contest: Albania, Belarus, Iceland, Ireland, Netherlands, Norway, Poland, Portugal, Ukraine, Yugoslavia. This means the 10 last-placed songs (ie those in 15th place onwards) this year are likely to be disqualified for 2003, unless they are one of the 'big four' (UK, France, Spain, Germany) who pay more so can't be disqualified.
Official/Unofficial sites & previews
Do check out the official Estonian TV site - its very good. I remember when there were no official sites! And don't forget the BBC Eurovision site which has all the video previews, and a nod to pal Phil Colclough's On Europe Site. Please come back sometime!.
About the 2002 contest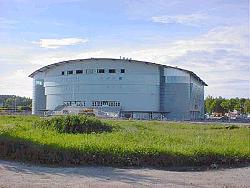 On the left I list the countries whose television companies are entering songs for the 2002 contest, which will be held in the Saku Suurhall (right) on the outskirts of Tallinn, Estonia on May 25th, after last year's win in Copenhagen by "Everybody" sung by Dave Benton & Tanel Padar. Read my report of that week at this page.
The countries are listed in performance order decided in a draw in November 2001.
Each national TV company can use any method as long as the song is new, and picked by 11 March, 2002. Some choose sinply to pick a song by an 'internal' contest. Others have a big public contest, and a few have a series of contests to whittle down their hopefuls to the best. Remember it is a song contest - its the song that wins - not the singer! They just have all the fun!
As ever, I'd love to hear from you all, but I hope you'll forgive my slow replies - everything is read eventually, I promise.
Geoff Harrison my contact page