---
Lithuania 2002
---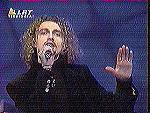 The Lithuanian final took place on 14 February in Vilnius.
An excellent contest with some great songs, all of which were performed in English.
I particularly liked Hello by Ruta, but was impressed by the high standard throughout.
After some troubles (detailed below) Aivaras (right) agreed to represent Lithuania in Tallinn with "Happy You"
#

Title

Composers

Performers

Placing

Picture

1

Fantasy

Salim Lundquist

Simona
(Simona Jakubenaite)

2

The Biggest Star Of My Life

Markas

Markas

3

Don't Ever Stop

Vaidoto Valiukeviciaus,
Vaidoto Valiukeviciaus &
Viliaus Lukausko

Kosmo

4

Find Your Song

Kersti Kuus & Imre Sooaar

Iris

8

5

We All

Deivido Zvonkaus,
Juozo Liesio &
Deivydo Zvonkaus

B'Avarija

1

6

Singing In The Night

Saules Kliošas &
Jono Jurkuno

Saules Kliošas

3

7

I Wanna Hold You

"Host&Snor"& King Lion

Jolanta Tubinyte &
King Lion

7

8

I'm So In Love

Naktines Personos

Naktines Personos

4

9

If You Can

Vytauto Miškinio & If

If

10

Q-ba-ba

Lino Adomaicio,
DJ Platus &
Natalijos Kulabuchovos

Adoms
(Linas Adomaitis)

9

11

Happy You

Aivaras

Aivaras

2

12

Hello

Daliaus Pletniovo &
Ruta Lukoševiciutes

Ruta Lukoševiciutes

5

13

You Be Waiting

A. Zvirblio & R. Difarto

R. Difartas & Dreams

6

14

Never

La Vita &
Vytauto Lebednyko

La Vita

10

15

Feelings

Art Gadel

Agne
(Agne Armoškaite)
Telephone voting was used to select the winner, and only placings were announced in the show - they are shown below - and boy-band B'Avarija with "We All" was declared winner - an excellent lively number much like some of the Pet Shop Boys better work.
However controversy soon erupted as it turned out "We All" had been a local chart hit for B'Avarija in late 2001 in its Lithuanian version. Songs are supposed to be original, and this final was full of questionable songs in that way - most obviously "If" whose words are from a world-famous poem by Rudyard Kipling. Q-ba-ba had also been released before, so it seems Lithuanian TV wasn't living up to its obligations.
On March 22nd the EBU reference group in Geneva listened to "We All" and its Lithuanian counterpart "Mes Cia!" and unanimously voted to disqualify the song.
After some indecision, on March 28th second-placed Aivaras agreed to represent Lithuania with "Happy You"
There is a semi-official Lithuanian website (in Lithuanian!) at this link.
If you have any further news or updates on this country's National selection I'd like to hear about it. E-Mail me, Geoff Harrison, at my contact page