---
Sweden 2002
---
Afro-dite (right) will perform Never let it go for Sweden in Tallinn having won the excellent Swedish final in Globen, Stockholm on March 1st. The series of semi-finals was truly excellent and a real treat to sit down and watch on the Saturday & Friday nights they were held. A CD has been issued with all 32 Semi-final entrants and its well worth getting. I got mine from Skivhugget.
I have a recording of the contest and will put up all the details soon.
The rest of the page remains unchanged:
---
Swedish Television has pushed the boat out somewhat with 4 semi-finals, each in public halls in different Swedish towns, culminating in the grand final in Stockholm on March 1st. I am sure it will be terrific - Sweden rarely lets us down.
Rather cannily there's always one or two well-known names in each show, and I am sure most of these will end up in the final
Plenty of "repeat offenders" here, including last years wonderful Friends (who should've won in Copenhagen - pictured left in rehearsal there), Jan Johansen (1995), and three ladies who maybe should know better: Elisabeth Andreasson, Kikki Danielsson and Lotta Engberg, each veterans from past International finals. Their most recent outings being 1996, 1985, and 1987 respectively.
Unless my memory is worse than I think we also have the lady responsible for that annoying hit "Y viva Espana", Sylvia Vrethammar.
We also have the man behind Charlotte Nilsson's winning 1999 song, Lars Diedricson, this time for Javiera.
Sixteen of the 32 songs are in Swedish, fourteen are in English, one in Spanish (Javiera who was in the 2000 Swedish final), and one has an English title but is in Spanish & English
The semi-finals will be live on Satellite on SVT Europa (Sirius satellite) starting Saturday 19th Jan at 7pm UK time, but SVT Europa is normally encrypted in Viaccess.


VÄXJÖ 19 Jan

Adrenaline
Lyrics: Rob Wåtz, Raz Lindwall, Leopoldo Mendez, Patrik Henzel, Pablo Cepada
Music: Rob Wåtz, Raz Lindwall, Leopoldo Mendez, Patrik Henzel, Pablo Cepada
Artist: Mendez

Blue as your angel eyes
Lyrics: Py Bäckman
Music: Micke Wennborn
Artist: Tom Nordahl

Du har rört vid min själ
Lyrics: Tommy Eriksson
Music: Tommy Eriksson, Claes-Göran Bjerding
Artist: Camilla Lindén

En värld som alltid brinner
Lyrics: Erik Appelros, Istvan Stenberg, Rickard Sköld
Music: Erik Appelros, Istvan Stenberg, Rickard Sköld
Artist: Rickard Sköld

Hollywood-Do
Lyrics: Zoë
Music: Zoë, Stefan Olsson
Artist: Zoë

Kom och ta mig
Lyrics: Larry Forsberg, Sven-Inge Sjöberg, Lennart Wastesson
Music: Larry Forsberg, Sven-Inge Sjöberg, Lennart Wastesson
Artist: Brandsta City Släckers

Last to know
Lyrics: Daniel Eklund
Music: Daniel Eklund
Artist: Excellence

Världen utanför
Lyrics: Calle Kindbom, Thomas G:son
Music: Calle Kindbom, Thomas G:son
Artist: Barbados

NORRKÖPING 26 Jan

Du och jag
Lyrics: Martin Svensson
Music: Martin Svensson
Artist: Martin

Ingenting Ingenting
Lyrics: Tony Malm, Joakim Björklund, Jonas Sällberg
Music: Tony Malm, Joakim Björklund, Jonas Sällberg
Artist: Jennifer Newberry

Ge mig mitt hjärta tillbaka
Lyrics: Suzzie Tapper
Music: Lars Karlsson
Artist: Jakob Stadell & Voice Boys

Never let it go
Lyrics: Marcos Ubeda
Music: Marcos Ubeda
Artist: Afro-dite

No hay nada más
Lyrics: Lars Dille Diedricson, Javiera Muñoz
Music: Lars Dille Diedricson, Javiera Muñoz
Artist: Javiera

Sail Away
Lyrics: Johan Ramström, Patrik Magnusson
Music: Johan Ramström, Patrik Magnusson
Artist: Annika Ljungberg

Sluta
Lyrics: Robin Rex
Music: Robin Rex, Tobias Karlsson, Anders Nyman
Artist: Molle Holmberg och Ann-Louise Hanson

What difference does it make?
Lyrics: Thomas G:son
Music: Thomas G:son
Artist: Poets

SUNDSVALL 2 Feb

Back again
Lyrics: Kjell-Åke Norén, Tove Jaarnek
Music: Kjell-Åke Norén, Tove Jaarnek
Artist: Towe Jaarnek

Big time party
Lyrics: Lotta Ahlin, Tommy Lydell
Music: Lotta Ahlin, Tommy Lydell
Artist: Lina och Hanna Hedlund

Det innersta rummet
Lyrics: Patrik Tibell
Music: Johnny Thunqvist
Artist: Date

Hon kommer med solsken
Lyrics: Larry Forsberg, Sven-Inge Sjöberg, Lennart Wastesson
Music: Larry Forsberg, Sven-Inge Sjöberg, Lennart Wastesson
Artist: Östen med Resten

Hon är en annan nu
Lyrics: Dan Hylander
Music: Tomas Enochsson, Dan Hylander
Artist: Sylvia Vrethammar

Ingenting är större än vi
Lyrics: Thomas G:son
Music: Thomas G:son
Artist: Arvingarna

Tidig är tiden
Lyrics: Markku Reingold
Music: Rolf Carlsson
Artist: Rolf Carlsson

You´re the best thing
Lyrics: Marcus Black, Linda Grip
Music: Marcus Black, Linda Grip
Artist: Linda Grip

FALUN 8 Feb

Ge mig himlen för en dag
Lyrics: Ulf Georgsson
Music: Jonas Ohlson, Niclas Eriksson
Artist: Solo

It takes 2
Lyrics: Mats Hedström
Music: Mats Hedström
Artist: Parachutes

I want you
Lyrics: Svante Persson, Micke Wedberg
Music: Svante Persson, Micke Wedberg
Artist: Niklas Andersson

Sista andetaget
Lyrics: Thomas Thörnholm, Dan Attlerud
Music: Thomas Thörnholm, Dan Attlerud
Artist: Jan Johansen

Son of a liar
Lyrics: Marcos Ubeda
Music: Marcos Ubeda
Artist: Kina Jaarnek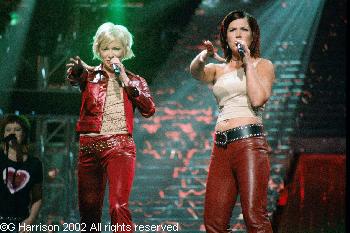 The one that you need
Lyrics: Pontus Assarson, Henrik Sethsson
Music: Pontus Assarson, Henrik Sethsson
Artist: Friends (right in last years final)

Vackrare nu
Lyrics: Fredrik Wännman
Music: Fredrik Wännman
Artist: Fredrik Wännman

Vem é dé du vill ha
Music: Thomas G:son, Calle Kindbom
Lyrics: Thomas G:son, Calle Kindbom
Artist: Elisabeth Andreasson, Kikki Danielsson, Lotta Engberg
If you have any news or updates on this country's National selection I'd like to hear about it. E-Mail me, Geoff Harrison, at my contact page