May 1st 2004 saw 10 European countries join the other 15 EU members to make the European Union have 25 member countries, so the Foreign & Commenwealth Office in London decided to celebrate this - a week early - on April 24th.
There was food, drink, and musical acts from the 10 countries, and also, perhaps unaccountably, James Fox, the UK Eurovision entrant, who opened the musical segment with a short set.
We also had Julie & Ludwig from Malta, plus Ines from Estonia, Skamp from Lithuania (their first UK gig said lead singer Erica Jennings), plus a futher Maltese contingent - Fabrizio Faniello, Olivia Lewis & Paul Giordimaina, and Junior Eurovision entrant, Sarah Harrison.
A great day in glorious sunshine. Julie & Ludwig's Eurovision song "On Again...Off Again" went down a storm.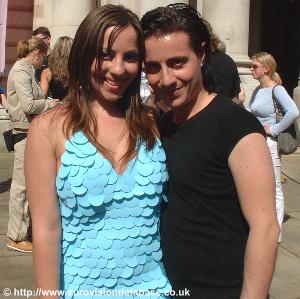 Just over a week later on May 2nd, Cypriot entrant Lisa Andreas & Greek entrant Sakis Rouvas sang at the Eros nightclub in Enfield.
Lisa's performance was curtailed to a mime of her Eurovision song "Stronger Every Minute", as she had a throat infection, but Sakis made up for it by a very energetic perfoamnce that brought the house down. He will do well in Istanbul, but perhaps Lisa will do better.
Good luck to them both.