---
1997 Eurovision Song Contest - report from Dublin Pix part 1
---
There are rather too many pictures for my report, so here is a picture album of those that didn't get in to the main report!
Its in two parts, there's a link to part two at the foot of the page.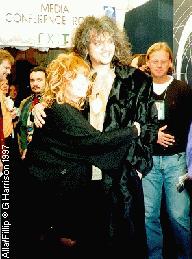 Alla Pugacheva and Fillip Kirkorov at the Press Centre.
Where Fillip was asked if he was a big star in Russia, he said "I am the biggest star". No false modesty here. He confirmed he'd bought Alla a Lincoln car for her birthday. "It had to be specially ordered from California", he said. Alla spoke no English in the Press Centre, but reputedly speaks excellent English!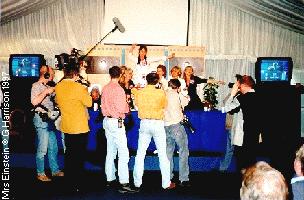 The Netherland's "Mrs Einstein" created quite a stir at their Press Conference. They danced to 'Waterloo' and much more.
There were plenty of stories of messages in their hotel - "Paging Mrs Einstein"!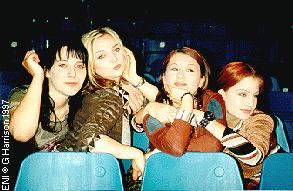 Croatia's ENI seated in the Press Centre.
Very charming young ladies, always keen to talk, they've been working together for 4 years.
From left to right:
Iva Mocibob, Elena Tomecek, Ivona Maricic, and Nikolina Tomljanovic.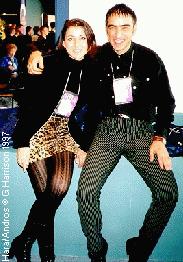 Hara and Andreos spoke no English at all, but always seemed to be enjoying their week of madness.
In the Cyprus contest, only the brother and sister were seen on stage, but the rest of the team got a share of the publicity in Dublin, and each got a shot on the TV show.
They were rather overshadowed by Constantina, their big sister, a star in Athens. They were very meek when she showed up!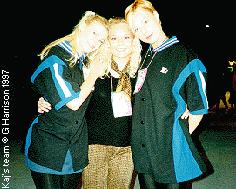 These are the backing dancers (Mikala Matzau and Marlene Britt Hansen) from Denmark's team, with Christina Juul Hansen who was the 'telephone operator'.
23-year old Christina usually works at a insurance company.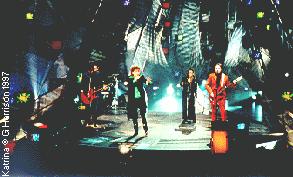 What more can one say about Katrina Leskanich?
Born in Kansas, USA, she shot to fame in 1984 with 'Walking on Sunshine', and then came oblivion, until the 1997 Song Contest. 'People said it was the kind of song that wins Eurovision, so we submitted the song with our £40 fee, and here we are', she said. The future? - who knows?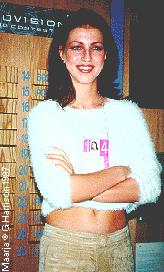 Maarja was a star in Estonia last year, before she appeared in the 1996 contest, and has hopes to break out of tiny Estonia.
She was rather difficult to talk to, her English was excellent, but she only gives very curt answers.
I heard of a Swedish journalist was she clouted after he asked a question she was none too keen about!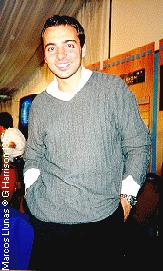 Marcos Llunas is a bigger star in Mexico than in Spain, but a album is due out very shortly.
Quietly spoken, Marcos wasn't easy to find, but has great hopes for the future.