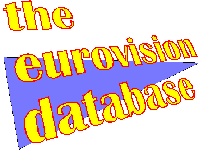 ---
1997 Network Convention Report
---
by Geoff Harrison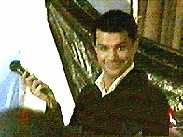 I was amongst the 110 fans who attended the 11th Eurovision Network Convention in Bingley, Yorkshire October 18-20th. Many CDs and other souvenirs were on sale, and Iceland's 1997 entrant, Paul Oscar joined us for the weekend, and performed for 45 minutes on the Sunday.
My friends and I joined Paul for dinner on the Saturday, and he told us unrepeatable stories about the Spice Girls, one of whom has an Icelandic boyfriend, and about how badly Germany's 1997 entrant, Bianca Shomburg, had been treated by writer/producer Ralph Siegel. He told us how he'd done the Icelandic entry on his own terms, and how he'd chosen, for better or worse "..the techo thing, to slap the song contest in the face, and say smell the nineties".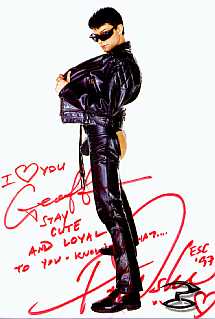 Asked about coming 20th, he said, "I've never been so busy, or so financially secure, so I'm happy - of course its not so good for Iceland".
Asked which was his favourite Eurovision song he said, "All kinds of everything, but I'm not so sure Dana is my favourite singer after hearing her views about gay people."
He brought along many CD albums and other souvenirs for sale at quite reasonable prices, and promised "Nobody leaves the house without some sort of autograph", and you can see the sort I got over on the left.
In his Sunday live performance Paul gave us songs from his current album, "Seif", amongst others, told us how good he thought singers like Dusty Springfield, Dionne Warwick, and Sandie Shaw were, and then told us of how, "I kind of wish I could have entered the Eurovision Song Contest in 1965, because maybe then I'd have done this song, because it even qualifies - it's three minutes long.", and then sang "Anyone who had a heart", the old Burt Bacharach song - he's a big fan of Bacharach's songs. He asked whether we wanted to hear "Minn Hinsti Dans" in Icelandic or English, and gave us our requested Icelandic - an excellent show, if rather tamer than the part drag act we had for the press party in Dublin. (see those pictures at this link)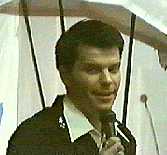 Paul really seemed to enjoy the wekend watching the videos of National finals and contest clips quite avidly, and he certainly is a real fan. He took part as the foreman of the Icelandic jury in the 'Song for Bingley' contest, and that's what he's doing in the picture at the top of the page. Of course he was a real juror in the real Icelandic jury in the 1996 contest. Paul has just been signed to Flex records of Copenhagen, who are behind this week's UK number one hit, "Barbie girl", by Aqua, and is planning to tour Southern Europe, having already made an impact in Germany and Scandinavia. I asked him about plans to perform in the UK, but he had no firm plans, although he was hopeful of appearring in London.
The convention itself had numerous home-brew contests and a quiz. The "Song for Bingley" is a contest made up of songs from National Finals that didn't make the International final, and we were presented with videos of the songs and invited to vote in national juries we had been placed in, of course being unable to vote for our "own" country. Sounds silly, but it's good fun.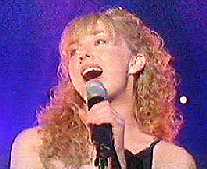 Here's the roll of honour for the 1997 contest:
Joanne May - You've stayed away too long (United Kingdom -184 pts)
All About Angels - Engel (Germany - 170 pts)
Monia Sjöstom - Nu idag (Sweden - 168 pts)
I was rather disappointed Bosnia's 'SOS' from Alma Cardzic got no points, but there you are.
There was also a re-staging of the 1997 contest, with votes on the preview videos. Rather predictably, Katrina and the Waves won, with Jalisse second, and Paul Oscar in third place.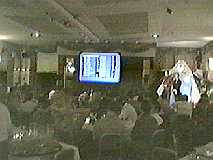 There was also a more interesting 'Network Song Contest" where favourite songs over the years battled it out, and here are the medallists in this Olympic event:
Gina G - Just a little bit (UK96)
Anabel Conde - Vuelve conmigo (Spain95)
Ruth Jacott - Vrede (Netherlands93)
Ireland's 1993 winner, Niamh Kavanagh came for just the Sunday, and although she didn't sing, she did mingle amongst us, and tell us of her plans.
She's working on a country music duet with an un-named Northern Irish male singer, but hopes to record an album going back to her roots in blues and soul, for release in Ireland. She's not had anything out since the album containing the little-heard single "Romeo's Twin" came out in 1994.
Asked if she was ever going back to the bank, Niamh said, "No, I don't think so. I took a five year career break so my job is kept open, so I can go back if I want to, but I won't be going back."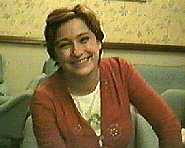 We told about how Kathy Leander, who sang for Switzerland in 1996, and was also a bank worker, and how Kathy had only been promised a record deal only if she got in the top 5, which she didn't.
Niamh told us about the poor record deals she'd been offerred before winning the 1993 contest. One record company had offerred £1000 beforehand. She could keep it, but get nothing more if she didn't win, or keep it, and get a percentage, if she won. She thought it was a rotten offer, and turned it down, and agreed the record companies only looked for winners. However she ended up with a good deal.
All in all, an excellent weekend, and credit must go to Perry Robbins, David Bridgman, Lee Colquhoun, and the other committee members of the Eurovision Network for yet again making a great success. Niamh Kavanagh said she might be able to come to the 1998 convention (she hopes to be at the 1998 Song Contest - if she's invited - she wasn't invited to Oslo), and bring her keyboard player and sing, so if you want to be a part of it get in touch with the Network. The contact details can be found at this link.
Vital links here: