---
Cyprus 1996
---
Eight finalists competed in the Cyprus contest on March 5th, 1996. The preselection 8 jurors were joined by another 12 for the selection. The final was broadcast on Cyprus TV international service over Eutelsat at 7 degrees east, as in previous years.
In order of presentation, with final points and placing: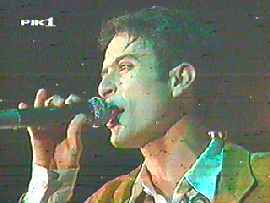 Constantinos won the Cyprus contest
Ke se roto (And I ask you) - Music/Lyrics Katerina Hartoshia Logotheti. Performed by Katerina Hartoshia Logotheti.78 pts, 5th
Trello pedi (Crazy child) Music Andros Papapavlou, Lyrics Leonidas Malenis. Performed by Micheal Hadjiyiannis.139 pts, 2nd
Antekho (I Endure) Music Korallia Skhiza, Lyrics Elias Antoniades. Performed by Sophie Christofidou.109 pts, 4th
Epi gis trini (Peace on Earth) Music/Lyrics Theocharis Anastasio (Anastasios). Performed by Anastasios.72 pts, 6th
Erota Mou (my Love) Music Theos Kallias, Lyrcs George Karavokiris. Performed by Katerina Hartoshia Logotheti.111 pts, 3rd
Hilies sirenes (A thousand sirens) Music/Lyrics Kiros Londos. Performed by Kiros Londos.54 pts, 8th
Mono gia mas (just for us). Music Andreas Giogallis. Lyrics Rodoula Papalambrianou. Performed by Constantinos.162 pts, 1st
Kravghi (Scream) Music Andy Oskis, Lyrics Lucas Christou. Performed by Andy Oskis.139 pts, 2nd
These 8 were selected from 43 submissions.
Anastasios as Anastazio sang 'Milas Poli' for Cyprus in 1990, and danced in the 1987 'Aspro-Mavro'.
Rodoula Papalambrianou was Lyricist of the 1993 entry 'Mia Stamatas'.
Andros Papapavlou wrote the 1987 entry 'Aspro Mavro'.
Report by yours truly, Geoff Harrison:
Alex Panayi opened the show from the Monte Caputo night spot in Limassol, with last year's song, "Sti Fotia". Then our stunning presenter, Marina Maleni-Kyriazi, came on, and introduced the songs, and between them, clips from old Eurovision finals. The standard was fairly high.
Song number one was a rather indifferent ballad, better suited to a night club, and the faster paced 'Trello pedi' never really got going, but 'Antekho' was well received by the audience. It was sung by a young dark haired girl backed by 2 leather-clad male dancers, and a girl. There was an electric guitar and a keyboardist on stage - a more modern song.
'Epi gis irine' had Anastosios and two girl dancers in black accompanied by keyboard and bongos in a medium-paced song.
'Erota mou', was Katerina's better song of two she sang, a strong full-bodied Mediterranean ballad - the best song so far.
'Hilies sirenes' was a fast song, which built in stages. All in black again, this year's colour.
'Mono gia mas' was sung by young Constantinos, dressed, for a change, in a brown jacket. A sweeping syrupy romantic ballad with guitar and strings adding strength. It was very popular with the audience.
The final song, 'Kravghi', was a rouser, with Andy Oskis backed by three singers, and timpani on stage, but it didn't compare to 'Sti Fotia' in that regard.
The interval for voting by the 'expert' panel, (which included John Vickers, who writes a music column in 'The Cyprus Weekly') was filled by a new song from Alex Panayi, after he chatted with Marina, and then a middle aged singer came on and sang quite a few songs, including one in French. He was very good, and may well be famous in Cyprus, but I couldn't identify him!
Marina quickly went through the voting - the jurors varied somewhat, and there was much screaming from the audience, but song number 7 was always doing well, and easily won.
I think Contantinos will pass pre-selection to go to Oslo.