---
Denmark 1996
---
Dansk Melodi Grand Prix was held on March 9th.
There were 5 songs, all written by composers famous in Denmark, as part of the current music scene.
Votes were from the public by telephone.
The winner was 'Kun med dig' sung by Dorthe Andersen and Martin Loft.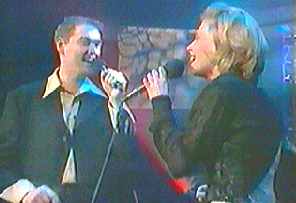 Martin Loft and Dorthe Andersen
Unfortunately, the song failed the pre-selection hurdle on March 22nd, and will not be seen in Oslo.
Songs, and votes:
Det gør ondt når jeg griner (It hurts when I Grin)(writer - Michael Hardinger) - Peter Belli (2463 votes)
I nat (Tonight)(writers - Anders Blicheldt/Peter Viskinde) - Master Fatman and Janni Høeg (1089 votes)
Kys mig nu (Kiss me now)(writer - Lars Muhl) - Channe Nussbaum (1224 votes)
Kun med dig (Only you yourself)(writers -Jascha Richter/Keld Heick) - Dorthe Andersen/Martin Loft (9422 votes)
Røde kinder (Rosy cheeks)(writer - Thomas Blachman) - Mark Linn (2465 votes)
Master Fatman scored highly in last year's contest.
Some information on the writers:
LARS MUHL - A performer in the 'Warm Guns' in the 70's, he is now a composer, but sang his own compostion in Dansk Melodi Grand Prix 1995.
ANDERS BLICHFELDT AND PETER VISKINDE - Composers for the live band 'Big fat snake'
THOMAS BLACHMAN - A new name in Denmark's music scene, he has already received a Grammy with Kasper Winding for Caroline Henderson's 'Cinemataztic'.
MICHAEL HARDINGER - A member of the Danish dance band orchestra 'Shu-bi-dua', and has wriien some of their greatest hits.
JASCHA RICHTER - Lead singer in the Danish rock band 'Michael Learns To Rock' wich has become internationally famous since its debut in 1988