---
Ireland 1996
---
Eurosong '96 took place in the Point Theatre, Dublin on Sunday 3rd March at 2120. As usual, Pat Kenny presented the show.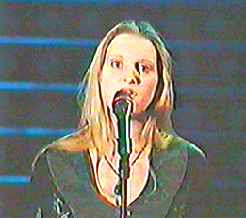 Eimear Quinn, singer of the 'The Voice'
The line-up
A "Gotta know right now" (Tony & Robert Burke) sung by The Rob Burke Band.
B "Missing You" (Raymond Smith) sung by Dav McNamara.
C "Once Again" (Peter Becket) Sung by William Byrne and Lorraine Nolan
D "The Voice" (Brendan Graham) sung by Eimear Quinn.
E "This Time" (Marion Fossett) sung by Marion Fossett, ex-member of Sheeba.
F "Find my Way" (Richard Speedie) sung by Yvonne Holmes.
G "Amhran an Ronnach" sung and written by Sean Monaghan.
H "Worlds Apart"(Stephen Nimmon) sung by Maura Donaghty.
Report by yours truly, Geoff Harrison.
An excellent contest from Ireland, obviously keen to regain the crown. As ever, Noel Kelehan conducted the RTE Concert Orchestra, and Pat Kenny showed his knowledge of the contest by accurately explaining the new rules which could mean Ireland won't make it to Oslo, but, as he said given Ireland's track record, it should make it.
The songs themselves:
"Gotta know right now" was uptempo, whilst Dav McNamara, a veteran of Eurosong, gave another one of her classic strong ballad performances in "Missing You".
"Once Again", a fine duet, was followed by "The Voice", written by Brendan Graham, the man behind the 1994 winner, "Rock N' Roll Kids". "The Voice" is best described as 'River Dance' with words!. Words like, "I am the voice of the wind and the pouring rain...I am the voice of the future" got a rapturous reception in The Point.
"This Time", another big ballad, perhaps not particularly outstanding amongst so many, followed, and "Find my way" was equally unexceptional.
The Gaelic entry "Amrhran an Ronnach" was performed by what was described as a 'Cajun band', but it sounded very Irish to me! Presenter Pat Kenny later described it as 'Connemara meets Cajun'. It was very well received in the hall. The final song was "Worlds Apart", another big ballad.
Eddie Friel, last year's Eurosong winner, provided the interval entertainment, before the voting, which was very exciting at first, with Dav MacNamara vying with Eimear Quinn for the lead until the last few juries.
Brendan Graham's "The Voice" won easily in the end, and afterwards he said he'd put it in last year for Eurosong, and it'd gone nowhere! The song is arranged by River Dance's Bill Whelan, and it showed. Some have compared it to 'Nocturne', but it is rather different, although Eimear Quinn's voice shines out like Gunnhild Tvinnerheim's did.
I think Ireland has a strong contender for Oslo.
The votes:
Song             Jury ->1  2  3  4  5  6  7  8  9  10 Total Place
A Gotta know right now  5  8  8  8 10  8  8  8  3  10   76    3
B Missing You          10 12 12  7  5  3 12  5 12   6   84    2
C Once Again            6  7  4  6  7  6 10  7  5   3   61    5
D The Voice            12 10 10 12  8 12  7 12 10  12  105    1
E This Time             3  4  3  4  3  4  5  6  4   4   40    8
F Find my Way           7  5  6 10 12 10  6  4  8   5   73    4
G Amhran an Ronnach     4  6  7  5  4  7  4 10  6   8   61    5
H Worlds Apart          8  3  5  3  6  5  3  3  7   7   50    7
Jury/Town: 1/Athlone, 2/Cork, 3/Donegal, 4/Dublin, 5/Dundalk, 6/Galway, 7/Kenmere, 8/Limerick, 9/Waterford, 10/Westport.