---
Estonia 1996
---
Estonia selected 'Kaelakee Hääl' from the 13 finalists on January 27th. I have seen the title translated as 'Sound of Necklace'. Song 12 came second.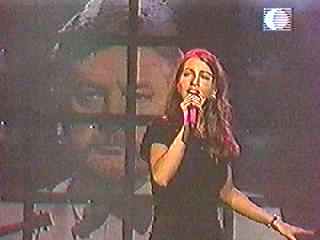 Ivo Linna(on the video-wall) and 15 year-old Marja-Liis.
1.BALLAAD - Toenis Maegi (T.Maegi/V.Kangur)
2.EESTIMAA EUROMEHLE LAUL - Toenis Maegi (A.Mattiisen)
3.ELUST ENESEST - Sirje Medell (K.Rauna/M.Viires)
4.IIALGI VEEL - Ullar Meriste (M.Arukask)
5.KAELAKEE HÄÄL - Ivo Linna & Marja-Liis (P.Pakusaar/K.Sillamaa)
6.KAHEKSA NAEOGA KUU - Evelin Samuel, Toomas Rull (T.Kikas)
7.KUMMALISEL TEEL - Evelin Samuel, Karl Madis, Maarja-Liis & Pearu Paulsson (H.Vaikmaa/K.Sillamaa)
8.LAULE JA PALVEID TAEIS PÄEV - Reet Kromel & Arne Lauri (M.Alviste/A.Lauri/M.Lattik)
9.LIHTNE VIIS - Ivo Linna & Kadi-Signe Selde (G.Kriik/L.Tungal)
10.MAATUTRE TANTS - Kirile Loo (R.Rannap)
11.MEELETU ALGUS - Hedvig Hansson & Pearu Paulus (P.Paulus/I.Laisaar/A.Kotkas/H.Hansson/K.Sillamaa)
12.ME RÖÖM EI KAO - Kadri Hunt (K.Hunt)
13.VABA KUI TUUL - Urmas Podnek (P.Thompson/L.Tungal)
Additional report by Tobias Larsson:
The songs weren't judged by Estonians, there were jurors in Norway, UK, Ireland, Russia, Slovenia, Denmark, Turkey and Finland, giving points by a system (at least I think there was some kind of system) of which I understood absolutely nothing. The top note seemed to be 10, but all jurors didn't award ten points for any of the songs.
Finally the voting ended with a tie, and somehow (don't ask me how) they managed to declare a winner. These were the points and places of the songs in their order of appearance in the final:
1.Kaheksa naaoga kuu /Place: 5/ Points: 54
2.Me room ei kao /Place: 2 Points: 62
3.Iilagi veel/ Place: 13 Points: 37
4.Meeletu algus/ Place: 7 Points: 50
5.Vaba kui tuul/ Place: 10 Points: 41
6.Kummalisel teel/ Place: 6 Points: 51
7.Lihtne viis/ Place: 12 Points: 40
8.Laule ja palveid taeis paev/ Place: 7 Points: 50
9.Ballaad/ Place: 3 Points: 57
10.Maatutre tants/ Place: 4 Points: 56
11.Elust enesest/ Place: 9 Points: 48
12.Kaelakee haal/ Place: 1 Points: 62
13.Eestimaa euromehle laul/ Place: 10 Points: 41
There is no doubt that the right song won. "Kaelakee haal" is a soft and very medium song somewhere in between a ballad and a soft popsong. This one was, together with no 2 and no 6, the only ones who deserved to be called songs. The standard of the songs weren't too excellent, and some singers didn't even bother to show up and were only visible on a big screen on the stage.
The most bizarre entry was no 10. This was a strongly folkloristic number with no lyrics. It reminded a bit about the "jojk" Norway used in their entry of 1980.
The songs were said to be performed live, but some of the entries seemed to be and sounded as playback.