---
Finland 1996
---
The Finnish selection, called Euroviisut ja Emma, took place on February 3rd.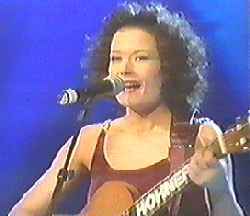 The winner is sung by Jasmine
Entrants;
1. NIIN KAUNIS ON TAIVAS (So beautiful is heaven) / Jasmine - 67811 votes
2. RAKKAUDEN KIRJA (Book of love)/ Eija Kantola 35885 votes
3. TOUKOKUU (May)/ Kirka 29550 votes
4. ELÄMÄN TIVOLI (Funfair of life)/ Funky karkurit 23775 votes
5 IHAN HILJAA (Quite slowly) / Aikakone 23673 votes
6. KEINUTA MUA (Rock me) / Inka 12579 votes
7. AINA SUN LUONAS (Always with you) / Eini 7264 votes
8. AURINGONKUKKA (Sunflower)/ Sami 7198 votes
9. PINTAA SYVEMMÄLTÄ (From beneath the surface)/ Riot 6348 votes
10. SALAISIMMAT TUNTEET (The mose secret feelings)/ Laila ja Timo 4443 votes
Report by Jari-Pekka Koikkalainen and Erkki Rantakari
The votes were given over telephone. The organisers of the event were expecting at most 150 000 votes during the evening, but when the lines were opened there were 300 000 people trying to get through simultaneously. This caused a shutdown in the telephone system and the lines had to be closed. At least 700 000 people tried to give their votes during the evening.
Because of this it was decided that the winner was not to be announced during that evenings event and the vote was continued until Monday 8 am. By then there were 218 000 votes given.
The winner, Jasmine, is a 20 year old gipsy woman and her song is "Southern European stylish with some country spirit"
Additional note by Geoff Harrison - easily the best on the night, a catchy song that ought to make it to Oslo
Thanks to Erkki and Jari-Pekka