---
Germany 1996
---
Report by yours truly, Geoff Harrison.
Germany selected its song for Oslo, 'Blauer Planet' sung by Leon on March 1st in Hamburg (organised by the NDR - Nord Deutsches Rundfunk), broadcast live on ARD.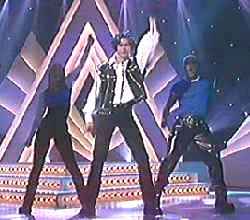 Leon on stage

The contest was called 'Ein Bißchen Glück!'
The show opened with all the competitors on stage singing a song called 'Ein Bißchen Glück'. Then in quick sucession all 10 were presented, with some star guests who had sung for Germany turning up in between for a chat with presenter Jens Riewa.
These were Mary Roos (1972, 1984), Lena Valaitis (1981) and Katja Ebstein (1970, 1971, 1980).
After the last song a ballet act danced to 'Puppet on a string', something so awful, that I assume was meant to make the Germans rush to a phone!.(Selection was by the German public by telephone votes)
Nicole, Germany's only winner (1982), then sang her current single, 'Mehr als ein bisschen frieden', perhaps the best song on the night!. As she finished, the scores were put up, after just 10 minutes of voting.
Only scores in percentages for the top three were announced, and are given below.

Song titles/artists:
Der liebe Gott ist ganz begeistert - Ibo
Für Dich... mein Kind - Anett
Wo bist Du? - Enzo
Ohne Dich - Rendezvous
Immer nur Du - Nina Falk
Blauer Planet - Leon (votes 37.9%)
Echos - Angela Wiedl & Dalila Cernatescu (votes 11.9%)
Jeanny wach auf - Andre Stadt (votes 16.4%)
Surfen - Multimedia - Euro Cats
Ja, das kann nur Liebe sein - Jacques van Eijck
The winner song's music is by Hanne Haller, and is a lively 'Europop' number, faintly reminiscent of the early 80's disco sound. This was Leon's first TV appearance. He is very active on stage (has a head microphone), with two dancers, a girl, and a man, gyrating on stage to his song. The song was obviously the most popular in the hall, and was the most lively, and memorable of the ten songs.
Ralph Seigel/Bernd Meinunger's song, 'Echos' only came second. It was a rather slow forgettable song, accompanied by pan-pipes played by Dalila.
The wooden spoon should surely go to 'Surfen Multimedia' by Euro Cats. Four girls with skirts made from flags singing a song about the World Wide Web!. My only fear was that sometimes in the 'ZDF Hitparade', a monthly German TV show on simlar lines to this show, the phone votes have put the worst song ahead. I though that this could happen again - what a relief!
Leon should do better than 'Stone and Stone' did last year. They didn't even get a mention.