---
Germany 1998
---
A controversial outcome to the German final held 26th February in Bremen - Guildo Horn (left) won an overwhelming victory. Final list of 10 songs:
| | | | |
| --- | --- | --- | --- |
| # | Title | Singer(s) | Pl |
| 1 | Es regnet nie in Texas | Shana (changed from 'Stella') | |
| 2 | CanCan | Ballhouse | |
| 3 | Freut Euch | Maria Perzil | |
| 4 | Laß die Herzen sich berühren | Wind & Diana | |
| 5 | Kids | Sharon | |
| 6 | Guildo hat Euch lieb | Guildo Horn (pictured on the left) | 1 |
| 7 | Herzensschöner | Rosenstolz | 2 |
| 8 | Karneval | Köpenick | |
| 9 | Kleine Melodie | Fokker | |
| 10 | Du bist ein Teil von mir | Heart and Roses - Die drei jungen Tenöre | 3 |
Below, my review, pictures, and some background; I now have several other views - read these at this page, Germany 98 - reviews.
The German final this year attracted more than usual interest - even the BBC Six o'clock news featured the controversy over Guildo Horn - Nicole and Ralph Siegel were very opposed to Guildo Horn representing Germany in Birmingham. Siegel himself had three songs in this final (2,5,8), so maybe he was biased.
Anyway, the 'Countdown Grand Prix' had a very enthusiastic audience, and 10 mostly very lively songs filled the 90 minutes. Nena and Axel Bulthaupt were excellent as presenters.
The oddest song was from Fokker, which featured a fairy, and the lead singer monotonously talking the words of his not-too-serious song. Maria Perzil had a gnome on stage and a line "Jetzt kommt die schlecten Zeiten". Ballhouse's Can Can indeed featured a can-can, Köpenick had a clown on stage. Guildo Horn put some of the audience into rapture, but some booed. Rosenstolz sang a pleasing ballad with a line "Machts gut, mein Herzensschöner", and also were loudly cheered.
< Guildo Horn - the winner

Rosenstolz - 2nd >

< Heart and Roses - Die drei jungen Tenöre - 3rd

Paul Oscar - guest 'cult star' >
Between songs, a look back at the jury system, old contest winners that made good (ABBA, Bucks Fizz, and Celine Dion were in there), and an interview with Paul Oscar, who told us (again) how his song in '97 got poor votes from juries, but good ones from televoting countries. The voting system has been renamed T-VoteCall, and could handle 30,000 votes per minute. We also had an interview with Beanz, who told of his 1995 British entry by Love City Groove, and how he had an entry in the GBSC (in The Collective).
Paul Oscar provided some of the 10 minute public televoting interval with an Icelandic/English version of 'Minn hinsti dans' with 4 German girls who were pretty, but not stunning like the Icelandic lovelies. Nena sang her new song "Was hast du in meinem traum gemacht?", and then we were into the 3,2,1.
I was surprised the rather old-fashioned Heart and Roses - Die drei jungen Tenöre came 3rd, but when Rosenstolz were made 2nd, we knew Guildo Horn had won, and with what a margin - 62% of the votes were his - a huge victory. It was more like the end of a football match as he reprised the song. No other results were announced.
The rest of the page remains the preview, as before.
---
Shana has her own web page:http://www.intercord.com/artistc/shana/home_shana.htm (thanks to Darren Thrussell)
Frank Heser writes: I just saw on RTL Spiegel TV that many German music and Eurovision fans, including Nicole, and Ralph Siegel for exmaple, are strictly against Guildo Horn representing Germany on this year's Eurovision Final in Birmigham.
Marco Schiffer adds to this comment: (more other commentary below)
There's a big argument in the German press at the moment, about the nomination of Guildo Horn for the preselection on 26.2.98!
As you know, he is like a comedian, who does very crazy new versions of old schlager-songs! in the popular daily German boulevard-paper "BILD" they ask their readers, if Guildo is well enough to represent Germany in Birmingham! 62% of the participants (about 45,000) said: "NO"!
Rosenstolz, another participant at the preselection, is a great cult-act in the German gay scene! so it will be a great fight between Guildo - who has all his fans on his side, and Rosenstolz - they have all the gays on their side! Rosenstolz's song would be a great song for the ESC with big International chances!
Anyway: Germany is back on Eurovision!
Thanks Marco! - now back to the older background:
Now officially announced, the location of the German final on Feb 26th is Bremen.
The best known is the group Wind who have been in Eurovision three times: 1985, 1987, and 1992, but the line-up has changed over the years.
Composer Ralph Siegel and Bernd Meinunger (lyrics) will send three songs to the German Eurovision Final:
Sharon Brauner with "Kids" (She has an excellent voice and the song will be a mix between soul and dance)
Ballhaus (A band from Munich)
Köpenick with "Karneval" (A band from Berlin, used to be called "Hit Company")
Also taking part, but not from Siegel's stable are these songs:
Wind & Diana will sing "Laß die Herzen sich berührn". It's a mix between a rap and a hymn.
Stella will sing "Es regnet nie in Texas". (Now apparently changed to 'Shana')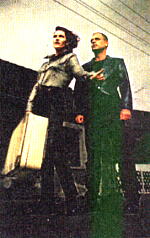 "Rosenstolz"(pictured right), a shooting star-Popduo, openly gay Peter Plate and the fantastic voice Anna R. Their new album "Die Schlampen sind müde" just hit the German charts.
The song they will sing is called "Herzensschöner". (a word even in German makes just a little sense, something like "better heart", "very nice heart"...) It will be a typical great Rosenstolz ballad and the song was recorded with 60 violinists from the Deutsche Oper Berlin. The song will be released on Maxi-CD at Feb. 27th (with some other tracks, f.e. a new mix of their hit "Königin" (Queen).
There is also the male duo "Maria Perzil" who will sing "Freut euch". Nobody knows who they are!
One competitor has been known about for some months, Guildo Horn (pictured above). His song is called "Guildo hat euch lieb". This is a strange turn-up, as the show is supposed to take the German ESC entries away from the direction of Schlager towards pop. Guildo makes his living from the "Kult of Schlager" covering old songs and writing new ones in traditional 70's schlager style.
The famous Annette Humpe take also part as a composer.
The presenters will be Axel Bulthaupt and Nena, who will be remembered for her 1983 hit, "99 Red Ballons". The 90-minute show will have Paul Oscar, this year's Icelandic entrant, as guest star.
[Thanks to Ulf Meyer, Braunschweig, Axel Schock, Berlin, and to Ivor Lyttle, Editor EuroSong News /OGAE]