---
Israel 1999
---
All the news I have from this year's host country:
There's news on the Israeli entry right here, and below is the latest news on the preparations (updated 13 May):
Interview with presenters | Latest news - strikes, Dana International's Interval Act | Earlier stories
Israel first to announce song for May 29th news from Itamar Barak in Israel: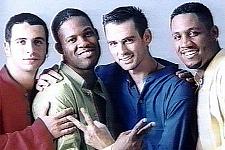 The Israeli entry for ESC'99 is: "Yom Holedet" (birthday) performed by an unknown boyband named Eden (right).
A little more information about Eden: Their first single "Me'ohav"("in love") was released to Israeli radio today.I heard it and it sounds really good. The ESC song "Yom Holedet"(Birthday) was composed by Moshe Datz, who represented Israel in 1991 with his wife Orna and was also producer and composer of "Amen" in 1995.Co-producer of Eden is no-other than Shlomo Tzach.This is his 11th entry to Eurovision. He was manager of Yizhar Cohen (1978), Milk & Honey(1979), Dafna Dekel(1992), Liora(1995), Ilanit and more.One of the members of Eden is Doron Oren,who participated in Israeli Kdam pre-selection in 1996.The rest three members are an unfamiliar Israeli singer and two Americans.
Ellis Shuman invites us all to the Israeli Culture website - which introduces Israel's selection for the upcoming Eurovision Song Contest, Eden. If you want to see his pages on Eden, follow this link, and there are pages on Dana International too.
Final in Jerusalem: Strike threats/The Postcards/Dana's Interval act /Eden single soon /Set design out
Itamar Barak from Israel reports on preparations for the International final on May 29th:
Itamar Barak reports the ESC presenters have been chosen.
According to the 9 April "Yediot Akhronot":
A threesome will present the ESC. Sigal Shachmon - She's a model and a very popular TV presenter in Israel, Dafna Dekel - Israeli entrant to ESC'92, with "Ze Rak Sport", which reached 6th place, and Yigal Ravid - the Israeli Terry Wogan. He was Israeli Televoting spokesman in the last ESC,and presenter of the ESC on Israeli radio in recent years. He is a well known Eurovision fan.
All three speak fluent English and French, and Ravid also speaks German.
Thanks to Itamar, who also supplied the photo.
Here's a part of a very long interview with ESC'99 presenters, as posted in 24 April Israeli "Yediot Akhronot" paper:
Sometime in the middle of our meeting, Sigal Shahmon suddenly burst out in an imitation of her favourite Eurovision song, "J'aime La Vie" by the bouncy minor from Belgium, Sandra Kim. Her version was not very far from the original.
Shahmon: "I love this song. I won't forget how she jumped and sang hysterically."
We gathered in Yigal Ravid's nice penthouse in north Tel-Aviv to discuss the threesome's appointment as presenters of the 1999 ESC.
How do you audition to this role?
Dekel: "They asked to talk about everything that comes along in French. I talked about my kid."
Who were your co-presenters in the audition?
Ravid: "I was. They asked me to stay and co-present with every female candidate. They probably marked me earlier."
The rumours indicated on Haim Topol and Yael Abekassis as presenters. No one guessed they'd pick you.
Ravid-"They also talked about Eden Harel."
Aharon Goldfinger says That Yael Abekassis was turned down because she was pregnant, and Haim Topol refused, although he was IBA's manager preference.
Dekel- "Yigal will do the formal presenting and Sigal and me will give it more spice".
Will we see any provocations like the Swedish presenter who lost her skirt and stayed in her underwear? Shahmon smiles.
Dekel-"Are you up to something, Sigal?"
Ravid-"I think that sometimes the over-sophisticated presenting in recent years were a bit too much"
As we were talking we noticed Yigal's impressive collection of old Eurovision video tapes. With sore eyes we watched the circulating toilet bins of ESC'79 in Jerusalem. -Is Eurovision still alive in Israel?
Ravid-"Sure. Since our victory it has had quite an hysterical come-back .I admit we had our share of fiascos: that singing officer ('96) that got us kicked out even before the contest and Sara'le Sharon ('93).But I can assure you, on May 29th you'll see what patriotism is".
It's always very campy this show ,isn't it? That's why they say the Eurovision is a gays thing?
Shahmon-"If that's what's going to bring the victory, then I don't care. If we stand on that stage because of them I will not see a problem. I love gays".
What about the costume dress changing?
Dekel-"Without 12 dresses each, I don't go on stage ,right Sigal?"
Ravid- "Frankly, I'd rather get my own clothes and give the IBA the receipt"
Aren't you a bit worried that the IBA is producing the show?
Ravid-"Rabin's (the late Israeli prime-minister) theory of "you can count on me" does not apply here. We are dealing here with a bunch of people who are taking this matter very seriously. What's the most embarrassing mistake you are afraid of?
Shahmon- "Language mistake"
Dekel-" Language?! - Falling! Did you see Carola falling of her chair in the green room in '92?"
Ravid-"I think the funniest was in 1990 when Toto Cutugno won the contest and all his hair colour dropped of his hair to his jacket".
There are always stars for a moment, those who give the national results. Do you know them?
Ravid-"I was one of them last year"
I'm talking about those who talk about the shining sun and the nice flowers in their home-countries.
Ravid-"Last year they went too far with this routine: 'thank you, you're wonderful. No, you're wonderful...'Eventually Dana sang with credits on her face. It won't happen to us".
Dekel-"This year the presenters became more important than our home entry".
Ravid-"I hope everything will go according to plans. I want us to enjoy this.
Dekel and Shahmon burst out together in English: "Ladies and gentlemen, we invite you to sit back and relax".
Shalom, Itamar Barak, Israel.
Here is some news as reported today (10 May 1999) in Israeli newspapers: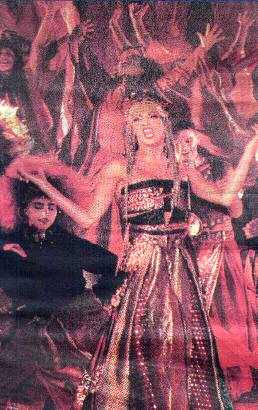 The technicians union of the IBA is threatening once again to disrupt the preparation and the live transmission of the ESC'99.
The union's claim is that the IBA's management has hired external employees to work on the ESC production, since Channel One has also to deal with the coverage of the general elections in Israel, next Monday.
By this, the IBA's employees status is damaged and also their salary.
They expressed their protest a while ago, but now they repeat and declare they will act and disrupt the production.
IBA's management has decided that no candidate for the Israeli prime ministry will be present at the ICC on the big night.
The election's second round will be held on June 2nd. After consultation between IBA's managers, they came to a decision that the show must be clear of politics and out of politicians reach, since they could try and use this event as last moment attempt to gain votes.
So, once again we won't have the head of state in the show, since the current Prime Minister Benjamin Netanyahu is running for a second term in office.
Jerusalem's police are preparing very intensively for tomorrow, when Dana International (picture right) will shoot her part of the interval act.
The religious population in Jerusalem is demanding that the singer will not perform in King David's tower grounds and will not sing the song "Free" which is based upon a biblical poem "Deror Yikra".
The religious population is threatening to disrupt the shootings by demonstrations
Shalom, Itamar Barak, Israel.
As reported today in Israeli (24/2)"Ma'ariv" paper:
The IBA's employees union is threatening to disrupt the broadcasting of the 1999 ESC on May 29th.
They claim against the management of IBA's Channel One, that it has hired an independent firm of employees to work on the production of the contest.The union has given the EBU it's reasons and warned from the protest expected on May 29th. Their biggest weapon can be declaring a strike on that night, which will paralyse the production.
The IBA hired the extra-workers,since the first channel will have to deal with the up-coming elections,as well as the ESC. IBA's general manager, Uri Porat, refered to this threat as "an outrage".
Meanwhile, Yoav Ginay, lyricst of "Diva",was chosen as the Israeli televoting spokesman in this year's Eurovision song contest.
As reported today (24/2) in Israeli "Yediot Achronot" paper:
The bible's legends and stories will be used as the theme for the minute long passages between the 23 songs in this year's ESC.
The stories that have been chosen have the most piquancy and stings than the rest.These stories will be showed with humour and much respect to the feelings of the three religions.These passages will be a combination of animation and live filming in different sites, under supervision of directors Levy Ziny, Amnon Vinner and No'am Meshulam.
This decision will save the IBA the trouble and cost of taking all the entries members to the usual "scenery postcard".
The idea of this theme was initiated by Jerusalem-born artist, Yossi Abu'Lafia, who will be the artistic supervisor of this project. The concept is to show the link between modern Israel and the biblical one.There will be use of engravings and paintings of renowned artists in the making of the clips.
Shalom from Itamar Barak, Israel.
A special interview with Dana International was printed today (19 February) in Israeli "Ma'ariv" newspaper.In this article Dana speaks about the night on May 9th last year,about her success in Europe,about "Woman in Love" (her single from a charity album of Bee Gees covers: GH) and her new album and about this year's interval.
According to the article Dana is supposed to be the star of the interval.She is planned to perform Stevie Wonder's "Free" from a special set constructed in "Breichat Ha'sultan" in Jerusalem.
Some resistance to this plan is expected, and it is claimed that the objecters are already protesting, but, as the time being, it will continue according to the plan.
Eden: As reported today (19 February) in "Yediot Akhronot" newspaper,"Yom Huledet", Israeli entry for ESC '99,will make it's debut performance in over a month from now.Eden's managers plan to release the single as the fourth and last of the band's up coming album. As a result, The single will reach radio stations in Israel at the end of March or the beginning of April.
The television broadcast is more complicated. It seems there is no suitable programme in the IBA's first channel for "Eden" to perform.If no other alternatives raise,the first screen test of "Yom Huledet" will be five weeks before the contest, in Channle One's main show for Israel's 51st independance day.
Shalom,from Itamar Barak,Israel.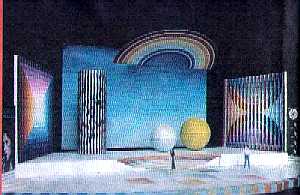 Set: As reported today in Israeli "Maariv" paper (February 17):
The Israeli artist,Ya'akov Agam, will not design this year's ESC set. (his design is shown right)
This desicion was taken a few days ago in the IBA, after Agam had submitted a model to the production team, which was found unsuitable. Now, three months before the show is due, the IBA started negotiations with a new set designer. The idea of of asking Agam, an international renowned artist,came from IBA's chief executive, Uri Porat. Seniors in the IBA refered to the model as "Very Bad". These sources also revealed that "This adventure with Ya'akov Agam cost the IBA 100.000$".
Yair Stern,IBA's channel one manager,confirmed that Agam's proposal was "inappropriate".
Shalom from Itamar Barak,Israel.
As reported in Israeli "Yediot Achronot" (15/1/99) paper:
The 1999 Eurovision song contest will be held on May 29th in Jerusalem.
Uri Porat, IBA's chief executive, confirmed it yesterday. In the beginning of the week Porat implied there was a threat that the IBA wouldn't be able to organise this year's contest due to financial problems, consequently to the '99 state's budget problems. However, in a meeting of the ESC production team yesterday, Porat assured that the financial matter had been clarified and the production can now advance and go ahead.
Shalom, Itamar Barak from Israel.
Here is an article from today's Israeli "Yediot Achronot" paper: (13 Jan)
Financial problems
A couple of days ago, Uri Porat, IBA's chief executive, stated that the ESC'99 in Israel is under a threat because of financial problems. But it seems that no one bothered to inform the EBU about it, so officials in Geneva were quite surprised to hear it. Christine Marchal, first heard these news from the paper's reporter and was astonished: "This is very unprecedented. There has never been a country that took upon itself the task of hosting and didn't meet it's obligations.I don't even want to think of the possibility that Israel will not be able to host this year. If such a scenario happens, THERE WILL NOT BE A CONTEST IN 1999.I can hardly imagine another country taking this in such a short notice. Anyway,all technical co-ordinations have been taken care of and even hotel rooms are reserved. As far as were concerned the contest is taking place in Jerusalem on May 29th,as planned".
Elections on May 17th add pressure
Officials in the IBA also believe that the contest will go ahead in Jerusalem. The belief is that Porat made this declaration in order to stimulate the government to give the IBA the needed amount to proceed in the production. But the budget is not the only problem.12 days before the contest elections will be held in Israel. IBA's Channel 1 will have to manipulate between these two mass productions. "It will be difficult, but we have succeeded before in these situations and I believe we can also do it this time" says Uri Porat. "In regards to the ESC we are in a two months delay. If this situation continues for about ten days,we will reach rock bottom, where we won't be able raise from, but I'm more optimistic about it." The one who didn't stay an optimist is Amnon Barkay, ESC executive producer. He is also Channel One's news senior producer. After elections were scheduled for May 17th he submitted his resignation. Officials in the production see him as "the wind in the ESC wings, without him it will be hard to manage four months before the show". "I still haven't accepted his resignation" says Porat. "I can understand his distress. But as soon as all the problems are solved I'm sure he will stay".
A poor contest
But even if the contest eventually takes place in Jerusalem, there is no certainty how it will look. The previous contest in Jerusalem in 1979 was a great success. According to some officials there won't be a resemblance."The contest will be very poor" says a senior in the production. Four months before the show, the presenters were not chosen yet, the interval or the passages between songs are still in vague. All these are consequences of the budget.
Topol as presenter?
People in the IBA say that Uri Porat wishes to give the contest an international look with as much glamour.That's why he insists on the artist Ya'akov Agam as set designer, which is quite an extraordinary choice. The artistic supervisor will be Ralph Inbar,the Israeli/Dutch TV producer. Porat also want's Haim Topol, star of "Fiddler on the roof", as presenter. His choice also raises some protest:He had a TV show a couple of years ago,which was eliminated shortly after it went on air. The IBA's management claim all possibilities are still open for presentation:Eeden Harel(MTV Europe presenter and Miss World 99 presenter);Noa Tishby; Milly Avital (a successful actress in Hollywood); Meirav Michaely; Yael Abekasiss(A TV presenter who is really keen on hosting the ESC, especially with her husband, the actor Lior Miller). On the male side the names given are some TV presenters like Avri Gilaad,Erez Tal,Kobi Meidan and Yigal Ravid(Israeli jury spokesman in 1998). But there is no rush to solve this problem in the IBA, Uri Porat: "First we build the house, then we will furnish it".
Shalom from Itamar Barak, Israel. Thanks!
Earlier news from Itamar: As reported today (8 Jan) in Israeli "Yediot Achronot" paper:
Uri Porat, IBA's chief executive, has refused to accept Amnon Barkay's resignation as ESC'99 executive producer. Barkay, who is the senior producer in the news section of IBA's TV branch,wishes to be released from the ESC task after elections in Israel were declared and scheduled for May 17th.
Most probably, elections second round will be on June 1st. Barkay wishes to express his great difficulty to manage between the two events, because the ESC will be stuck in the middle of other big events which will demand his full attention. Uri Porat objected to Barkay's standpoint and gave him the full support to go on,in spite the obstacles.By this, Porat recognizes Barkay's ability as one with the highest salaries in the IBA.

Even earlier news from Itamar, this time more positive:
Here is some news as reported today (20th December) in Israeli "Yedioth Achronot" paper:
Last weekend the IBA ESC committee assembled.
In that meeting Channel One chief executive, Yair Stern, gave some new information:
The whole budget of this production is 27.5 million Shekels (about $6,875,000). Half of this amount will be contributed by the EBU, and the rest will be raised by governmental aid and Israeli or foreign sponsors.
Jerusalem is expected to host a total of some 1500 guests, during Eurovision week. Due to technical requirements of the set design, TV and cameras equipment, inside the ICC in Jerusalem, there will only be a 1000 seats available. All of those seats will, unfortunately, only be vacant to invited guests.
Several days before the contest, a special artistic show will be filmed in "Breichat Ha'Sultan" (The Sultan's Pond), right under the ancient city's walls. This show will probably be the interval act, or will be used for the passages between the songs. The producers are considering selling tickets to this show. There is also concern that the dress rehearsals, usualy held on the Friday and Saturday will violate the Jewish Sabbath. Staging the show in Jerusalem like this risks extreme religious opposition.
Shalom from Itamar Barak, Israel. Thanks!