---
Malta 1999
---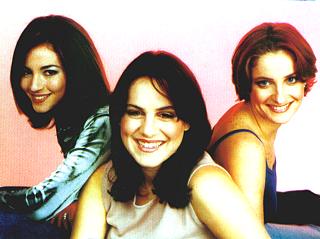 Minor update on March 20th.
Fred Bronson reports to me that the Maltese delegation has decided to rename the song "Believe 'N Peace". This seems to be rather odd grammar for a country boasting English as an official language, because I always take the 'N to mean "and". "Believe and peace?", but they must know best.
Good luck to them, anyway - it's a good song.
Now updated 24th February to add pictures, lyrics, scores, and a good quality sound file of the winner.
Malta Song contest - a report from The Malta Times, dated 21 February, faxed to me by Fred Bronson.
Times Three - right first time
The vibrant, dynamic voices of the glamorous Times Three singers enchanted the soul of the seven judges who voted their upbeat song Believe In..Peace the winner of the Song for Europe Festival.
The electrifying charisma of the singers, Diane Stafrace, 19, Philipa Farrugia Randon, 20, and Francesca Tabone, 23, combined with a dash of beauty was the winning recipe.
The vivacious girls are new on the musical scene and they were completely flabbergasted with the results.
"I am ecstatic. It feels like a dream and winning has still not sunk in," Francesca gushed as Philipa and Diane smiled in agreement.
Their lively performance was addictive and the audience at the Mediterranean Conference Centre cheered and clapped to the tune.
Sporting eye-catching sexy silver dresses, the girls resembled the Irish group The Corrs and their winning song was reminiscent of Madonna's hit album Ray of Light.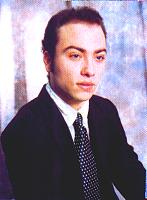 Times Three will now represent Malta in the Eurovision Song Contest being held in Jerusalem on May 29.
They triumphed with 119 points with the rhythmic song Believe In...Peace composed by Chris Scicluna and written by Moira Stafrace, who is Diane's sister.
Both Chris and Moira are no newcomers to the scene having represented Malta in the Eurovision in 1994 with their song More Than Love.
Following hotly in the heels of Times Three with 114 points, was Lawrence Gray (left) who wooed the audience with The Right Time, composed by Paul Abela and written by Philip Vella.
Georgina Abela (below right) placed third with 79 points with Who will be there that she wrote and which was composed by Paul Abela.
Chris (Scicluna) was evidently delighted but remained with his feet firmly placed on the ground.
"I am thrilled and without words. We never expected to win. When I composed the song I tried to find the missing spot in the musical market and moved away from the traditional songs," Chris said.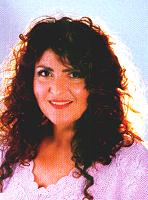 Last night's festival kicked off with a repertoire of three songs by Chiara who placed third in last year's Eurovision with The One That I Love.
German singer Melanie Torres accompanied Chiara with a German interpretation of her English version The One That I Love, and Chiara added an international flavour by ending the song in Maltese.
Italian singer Paola Turci mesmerised the audience with exquisite, angelic voice and interpretation of Bambini which had won her the Sanremo Festival in 1989.
The show, which was presented by Joseph Chetcutt and Mariella Scerri was impeccably organised with the exception of a few minor hitches to the sound system due to an occasional shrill feedback. - [report written by Ariadne Massa]


Believe in Peace - Times Three (1st place) - full clip Real Audio Mono

Believe in...(peace)
written by Chris Scicluna & Moira Stafrace

Take it, use it, make me prove it

However it might sound
I'm still the one
Who sticks around
When you're shut down
To the ground, out on the run

Take me as I am
I'm here for you
I'm everywhere
I'm sure you know
I'm hanging there
For you to hold

Chorus





I believe in love
It's for everyone
I believe in peace
It's for you to keep
I believe in, believe in
It's right here

I believe in fun
Not the only one
I believe in me
This is what you see
I believe in, believe in
It's right here


Take it , use it, make me, prove it

Time will pass and die
Unlike me I'm here to try
And make you smile
And realise
I'm not shy





Take me as I am
I'm here for you
I'm everywhere
I'm sure you know
I'm hanging there
For you to hold

Chorus repeat twice

I believe in love, believe in love
It's right here

---
Victor Axiak in Malta brings us this reaction:

"Believe in...(Peace)" written by Chris Scicluna & Moira Stafrace and performed by Times Three, a group composed of three stunning good-looking young women, won the Maltese Song Festival on February 20th.

It is interesting to know that for these two (Moira and Chris) it will be the third time for them in the ESC. In 1992 they sang as backing vocals with William Mangion in his song "This Time" (7th Place), in 1994 they interpreted the song "More than Love" and came 5th, and this year, 1999 they will again be representing our country, though not as singers.


Thanks, Victor!


Its a sort of Disco song, nice & upbeat.


The rest of the page is unchanged.

---
Songs for the Maltese Song for Europe Festival (report by Deo Grech, updated 19/2).
I have just had this message "Just to tell you that Deo Grech and myself, Victor G.Axiak have linked our pages to form the Official Malta Song For Europe Webpage. The pages are
http://www.eurovision99.cjb.net
http://www.maltasong.cjb.net
Deo's earlier link (still active) http://www.homestead.com/jtd/blackrose.html

---
There's an updated song list below.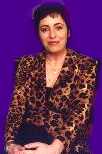 The 16 songs selected to participate in next month's Song for Europe Festival were announced on Monday 18th January. This festival is an annual landmark in the calendars of Maltese lyricists, composers and singers, as winner gets to represent Malta at the Eurovision Song Contest. Maltese singers, composers and lyricists still consider ESC as the TOP EVENT of their life-time.
A record of 272 songs were submitted for this year's Maltese Song for Europe Festival. The 16 finalists, selected by an international jury, will feature during tthe Song for Europe Festival to be held at the MCC, Valletta, on 19th and 20th February. The international jury was composed of the Maltese: Maestro Twanny Chircop, Tonio Grima, Imelda Micallef, Dominic Chircop, James Catania, Tony Cassar Darien and Joe Tania; alongside with the foreigners: Jason Bandy (competition co-ordinator of UK's Basca), Silvio De Peso (managing director of an Italian singers' agency) and Elsner Regula (presenter of a Swiss music programme). Mr Gejtu Abela, the newly appointed chairman of the Maltese organising committee, was pleased to note that, on both pre-selection occasions, the judges described the entries as of a good standard.

(update: Two singers now confirmed):"Breathless" is going to be performed by Claudette Pace. (pictured above right)
"The Right Time" is going to be performed by Laurence Gray. (left)
Laurence won the International Malta Song Festival 1998 with the song "Min Jaf Ghalfejn?" (Who knows why?) by Ray Agius and Philip Vella.
CHIARA (pictured below left) will perform as the 'guest singer' at the festival, after all, despite earlier stories. The main reason for this reason was the UK's Tour that will launch Chiara on the international market. Chiara's debut album 'Shades of One', has appeared in the local charts, mainly the TOP 10 Albums. 'Shades of One' is a collection of English and Maltese original ballads, of which 'The One that I Love' and its Maltese version 'Lilek Inhobb'. Massimo Ellul, Chiara's Manager, broke the news that the new prospects for CHIARA are to launch her in the international market as a CLUB SINGER.

So, the Malta Song for Europe Festival 1999, is going to see the following past entry singers together: Chiara (ESC98) - only as a guest singer ; Moira & Chris (ESC94), Georgina (ESC91) and Paul Giordmaina (ESC91).
Meanwhile, on 18th February, a special pre-festival performance will be held instead of a dress rehearsal. All the proceeds from ticket sales will be donated to the Communiity Chest Fund - a local organization which forwards funds to charitable institutions.
The Song for Europe Festival is sponsored once again by AIR MALTA, MALTACOM, and the RADISSON SAS BAY POINT RESORT. It will be compered by TV presenters Mariella Scerri and Joseph Chetcuti (Joseph is the violinist who appeared in 1998's preview clip, accompanying CHIARA's 'The One that I Love')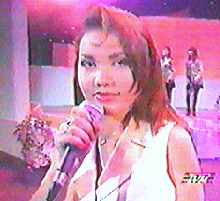 It was also announced that Miriam Chiristine (1996's Maltese entry singer - pictured right) has recently come third in the Vilnius Festival in Lithuania with the song 'IT'S UP TO YOU' (a 1998 National final entry). MIRIAM CHRISTINE was also awarded the prize for the best interpratation. Another success was obtained by CLAUDETTE PACE & 6th ABOVE at American-based FIDOF International Festival for Peace and Friendship. They came fifth with the song 'LISTEN TO OUR VOICES' (a 1998 National final entry) out of a total of 500 entries. This song will now be included in a CD of the festival's top 10 songs to be launched at the Midem Fair in Cannes, France on 27th January.
It seems that this could be the year for the up-beat singers and sisters Olivia and Marvic Lewis.
Also this year's Maltese National final will see the come-back of the 1991 entry singer - Paul Giordmaina.
NEWS SUBMITTED BY,
Deo Grech, Malta.
Thanks, Deo!
The 16 entries for the 1999 Song for Europe Festival are in order of performance
(Click here for sound files of songs coming in the top three):
| | | | | | |
| --- | --- | --- | --- | --- | --- |
| # | SONG | COMPOSER | LYRICS | SINGER | POINTS |
| 1 | Night Has Fallen | Jason Paul Cassar | Sunny Aquilina | Alexander Schembri | 74 |
| 2 | The Right Time | Paul Abela | Philip Vella | Laurence Gray | 114 |
| 3 | Thankful for your love | Ray Agius | Alfred C. Sant | Fabrizio Faniello | 71 |
| 4 | Takes me Higher | Tarcisio Barbara | Alfred C. Sant | Tarcisio Barbara | 23 |
| 5 | Breathless | Philip Vella | Gerald J. Borg | Claudette Pace | 75 |
| 6 | Hold my Hand | Marika Axisa | Rita Pace | Rita Pace & Nadine Axisa | 25 |
| 7 | Give Me Love | Eugenio Schembri | Doris Chetcuti | Alison Ellul | 33 |
| 8 | Who will be there? | Paul Abela | Georgina Abela | Georgina | 79 |
| 9 | Autumn of My Love | Mark Debono | Doris Chetcuti | Olivia Lewis | 73 |
| 10 | Look into my eyes | Charlene Grima | Natasha Grima | Charlene & Natasha Grima | 68 |
| 11 | Believe in.. | Chris Scicluna | Moira Stafrace | Times 3 - winner | 119 |
| 12 | Heartbeat | Mark Debono | Doris Chetcuti | Mark Tonna | 52 |
| 13 | You're the Reason | Renato Briffa | Julian Farrugia | Leontine | 77 |
| 14 | It is You | Eugenio Schembri | Doris Chetcuti | Marvic Lewis | 42 |
| 15 | I Believe again | Paul Giordmaina | Fleur Balzan | Paul Giordmaina | 45 |
| 16 | Love will find a way | John Mizzi | Joe Mizzi/Gino Micallef/ Roberto Longo | Joe Mizzi | 54 |