---
Eurovision 1996
---
A report by Geoff Harrison
Reporting for The


Oslo greeted us on Saturday May 18th, the day of the 1996 Eurovision Song Contest, with snow flurries, but we hardy Eurovision fans were warmed by the prospect of seeing the contest live in a few hours, and hardly noticed the cold as we walked to the SAS Plaza Hotel, Oslo. This was the official hotel, and its bridge to the Specktrum, the venue of the contest, made it an ideal vantage point for watching the performers come in and out, for those fans denied access to the venue itself.
For those lucky enough to attend as press, there had been a week of rehearsals, interviews, press conferences, photo opportunities, and parties.
It was a dirty job, but someone had to do it.
There was little activity this particular morning, so I sought out my favourite performer, Maja Blagdan, representing Croatia. I found her in the foyer chatting with 'her people' as she called them, and with fellow fan Tobias Larsson of Sweden, found ourselves interviewing Croatia's biggest record star.
She was wonderful, and we were besotted.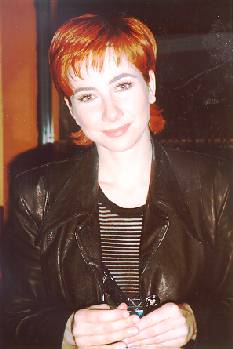 Maja Blagdan
Copyright G. Harrison 1996
The hours flew by, and soon we were in the hall, the atmosphere electric, a digital countdown on the screens began....55 seconds, 54, 53... the audience clapped to every second, and as the Eurovision logo appeared, an almighty cheer, and banner waving session. Presenter Morten Harket sang his opening song, and then with co-presenter Ingvild Bryn read through welcomes in different languages.
There was a united Europe that night - cheers from all parts of the hall when they heard their greeting, and the songs began to fly by. We cheered, and waved our flags for all our favourites, then came the voting - all over the place at first, then Croatia in the lead - had I interviewed the winner?, but then Ireland grabbed an unassailable lead, and we realised it would be Dublin next year.
It was hard to get tickets for the post event party, but I was there to see Maja Blagdan dancing to Gina G's song for the UK, and Gina herself looking very pleased to be in 7th place with a number one single.
The Norwegians don't seem to like parties, because they turned off the music at 3:30, but Portugal's Lucia Moniz would have none of that. The most cheerful all week, she sang her song to keep the party going, as did Austria's George Nussbaumer, and Iceland's Anna-Mjöll. There was no food or drink by now, and they'd put up the lights, but there was no stopping Anna. As she sang her third song, they turned off the microphones, and all the lights, and her team carried away the weary blond Icelander at 4:30.
The following morning we were all tired - the winner's Press Conference was a dull affair, and singers and fans were leaving.
Before long we were back in Britain, with sore heads, but warm hearts, despite Oslo's cold, and already talking of next year!
This article appeared in the 24th May edition of 'The Leicester Mercury'