---
Norway 1996
---
Norway, as last year's winner, didn't have to face pre-selection, so it chose it's song, "I evighet" sung by Elisabeth Andreassen, later than the other countries on March 30th.
I saw it live over Intelsat 702 at 1 degree West in D-MAC.
The entrants, and final total points from the country-wide juries:
Når hjerter står i brann - Scandinavia (12 points)
Din smittende glede - Arnold B. Family (29 points)
I evighet - Elisabeth Andreassen (88 points) 1st
Jennina - Stephen Ackles (32 points)
Tenn lys - Mia Gundersen (28 points)
Frieri - Helga Hatløy Osdal & Marie Hatløy Hagen (56 points)
Uten de - Geir Rønning (56 points)
Ariel - To tenorer (Jahn Teigen and Oystein Wiik) (39 points)
Commentary by yours truly, Geoff Harrison
Rather a low key key affair compared to the huge shows put on by Croatia, and neighbouring Sweden, but still entertaining. The small audience seemed to consist largely of members of the Norwegian and Swedish fan club, and they were very enthusiastic.
It opened with 'Scandinavia' presenting a mid-tempo rather forgettable song sung by their male lead.
Arnold B. Family (3 girls, 2 men) sang a cheerful song similar to last year's entry with their usual close harmony, but the near-jazz style didn't seem right to me for the contest.
Between each song their was an attempt at humour with comedians in the audience or coming on. One was pretending to be Gro Harlem Brundtland, and another, a Eurovision anorak.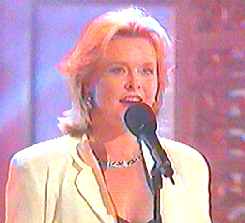 Elisabeth Andreassen
Elisabeth Andreassen (formerly Andreasson until her marriage last summer) had been unwell, but the veteran Swedish half of one-time winners Bobbysocks, dressed in a short black dress with white jacket, sang her slow romantic ballad clearly and beautifully. She was accompanied by a man on pan-pipes in this fine song. This sounded like the winner, and the audience seemed to agree.
Stephen Ackles had the unenviable task of following her. A rather bulky chap in a blue jacket, he sang a fairly fast, but ordinary song about Jennina. This song was written by Geir Rønning, who wrote and performed the seventh song.
Perhaps it is worth mentioning the absence in this year's Melodi Grand Prix of Rolf Løvland, writer of both Norway's winning songs.
Mia Gundersen dressed in black skirt and white top, sang her slow ballad urged us to 'tenn lys'(light a candle). It was pleasant, but no winner.
Twin sisters Helga Hatløy Osdal & Marie Hatløy Hagen in black with red jackets presented a catchy song with a fair share of 'doobie dum dum day' in it. Our resident Eurovision anorak popped up to tell us this was the first time in world history twins were competing.
Geir Rønning's second song, this time sung by himself, was a strong rather slow romantic ballad about life 'uten de' (without you). I thought he was bit like Jan Johansen with a closer shave, but the song wasn't as good as 'Se på mej', but was a real contender.
The final song was sung by 'two tenors', one the infamous Jahn Teigen, who, for me, embodies the true Eurovision spirit. Keep coming last and keep trying. Ge deg allt (give your all) as his 1993 song said. Dressed like two Pavarottis, Oystein Wiik had the real tenor voice in this pair. Uptempo and bright, rather operatic, but with a catchy hook, and building well, 'Ariel' was one of the better songs. Jahn wouldn't be last this year.
The voting started out as a battle between Geir Rønning and Elisabeth Andreassen, but Elisabeth soon took the lead, and won easily.
As a joke, the winning team got subway tickets and maps of Oslo! The presenter thought Elisabeth, as a Swede, would need the map.
Good luck to Elisabeth in Oslo.