---
Portugal 1996
---
The Portuguese pre-selection final was held on the 7th of March, at 20:30 GMT. As in the past, this was shown on RTP-International all over the world, and in Europe on the Eutelsat satellite at 10 degrees East.
A fine show, returning to the style of the 1994 contest, this was rather more of a spectacular than 1995.
Our presenters were Isabel Angelino and Carlos Cruz, and they guided us through the 10 songs with clips from '100 years of Portuguese cinema' between each song.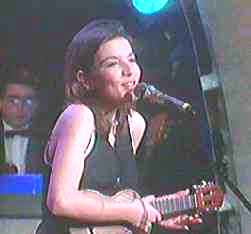 Lucia Moniz, winner of the 33rd Festival de Canção
Here are the songs, and final scores:
1. Start Stop - Vânia Maroti (33 points)
2. Eu, mesmo (Me, myself) - Tó Leal (42 points)
3. Canto em Português (I sing in Portuguese) - Patricia Antunes (91 points) 2nd
4. A Minha Ilha (My Island) - Barbara Reis (43 points)
5. Ai... A Noite (Oh... The Night) - Elaisa (49 points)
6. A Canção da Paz (The Song of Peace) - Somseis (76 points) 3rd
7. Ganhámos o Ciu (We Won the Sky) - Cristina Castro Pereira (63 points)
8. O Meu Coraçáo Não Tem Cor (My Heart Has No Colour) - Lucia Moniz (95 points) **1st**
9. Prazer em Conhecer (Pleasure to Meet You) - Pedro Migueis (54 points)
10. Top Model - Check In/Check Out - João Portugal (34 points)
Report by your satellite watcher and editor of these pages, Geoff Harrison:
A really excellent contest, with some fine songs.
We opened with the lively Europop 'Start, Stop' with three girls in shiny dresses. 'Eu, mesmo' was a complete contrast - an old-fashioned 1960's French-style ballad sung by an man of that era. 'Canto em Português' was a fine strong medium-paced song, but 'A minha ilha' struck an odd note - it was rather strange with discordant notes.
A rather ethnic feel from black singer Elaisa was next. Then, Somseis, 3 girls, 3 boys in brown, gave us a very traditional Eurovision song about peace. It was anthemic, and built well, and was well liked in the hall.
'Ganhámos o Ciu' was a very nice, but perhaps too ordinary, ballad with a very good ending. Lucia Moniz then came on with a ukelele. Her song was rather more latin-sounding, and leapt into march-like moments where the ukelele came in. Strange at first, but quite catchy really.
Pedro Migueis gave us another stirring fine romantic ballad, and the songs ended with 'Top Model', a novelty song sung by a man in a shiny grey suit with three girls posing as models.
The interval was filled with comedy sketches about the history of cinema, the only item of interest being the appearance of Portugal's 1993 entrant, Anabela.
Voting from 10 regions followed, and although there was some doubt, Lucia Moniz's song soon was in front.
Tó Cruz(1995) was there to hand out trophies, and get one, as was Sara Tavares(1994), before Lucia Moniz gave us the reprise.
Although I like "O Meu Coraçáo Não Tem Cor", I fear it may not find favour amongst the pre-selection juries, but I hope to be proved wrong, and see it in Oslo.
Thanks to Victor Nogueira and Pedro Courela for their help.