---
Reports from Tallinn, Eurovision 2002
---
Reports will appear here - the latest report will be at the top of the page
All pictures on this page are Copyright 2002 G Harrison & The Eurovision Database.
Page Uploaded 8am UK May 26th, 2002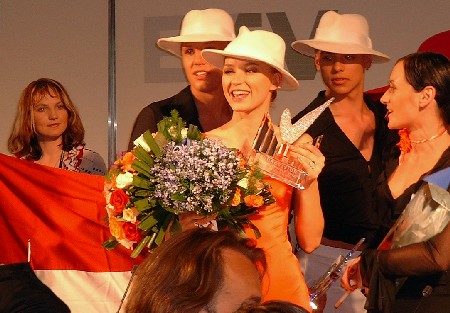 Latvia wins!
Who'd believe it! The crazy nonsense with the Salsa strip took the contest by storm last night beating Malta decisively and leaving the rest of the field way behind. Here are the key placings:
Latvia 176pts


Malta 164pts

Estonia 111pts

United Kingdom 111 pts (joint third)

France 104pts
The party atmosphere during the contest was great - much better than in Copenhagen, but the surprise win shocked most of us. "It was the dance routine", admitted Marija Naumova in the press conference afterwards. She said she was happy to win, but said she was "Sorry for Latvia", because of the problems in staging the contest. However it does seem likely that Riga will host the 2003 contest. It's a bigger town than Tallinn, and has many hotels according to Marija who is a Russian-speaking Latvian. She denies being any nationality, though, "I am just a person", she says. She has studied law, but couldn't be a lawyer, "You have to lie, and I can't do that", she says, but asked about her age, she was vague, "I told him 17, 18, 19, I tell you 20", was one answer.
Next year Riga then.
Page Uploaded Saturday 25th May 9.30am UK
No pictures for a while today - bit of rush day. Two rehearsals down and we know the shape of the show. Our presenters are better than last year,but do sing in operatic style before Finland - toilet break! The postcards are all about fairytales and are mostly funny, especially the one that ends with "So Many Beautiful Women" before Slovenia's drag act.
Most of you know the stage has a main area and a little catwalk out in the audience. Only Estonia, Croatia, Denmark, & Malta use it. Sahlene (Estonia) stays out the whole song and really gives her all, whilst Croatia & Malta walk out there for the end of the song. Vesna (Croatia) still has her "whip" which is really an extended bracelet on her dress, but I still think it looks like a whip. She moves very well, and I love it. but I fear it will score low. As with the UK. Good performance, but lost in the crowd.
Sarit Hadad (Israel) looked tense, but performed well. Sestre's (Slovenia) dresses were just glittery red stewardess dresses. Pretty unchallenging it should score lowish. Russia was all in white & off key. Pity. Spanish TV plans a 12 hour special today, but I fear it will turn into an inquest. They're a great team, lovely to talk to, but nobody rates it. All the backing singers get some camera.
Belgium's Sergio does a somersault, and comes over well, as does Afrodite for Sweden. Same dresses as in Swedish final. Karolina for Macedonia wears her Skopje festival dress, under and cloak she drops. A balkan standard trick now, but she does it well. Latvia's Marija Naumova strips jacket & trousers off to reveal a red dress as in the Latvian final, but she shouts it. Lithuania wears a beret and a stripey jumper and looks very old-fashioned, but it sounds great. Burgundy dress for France- no English despite trying it in the week.
Look out for Malta's Ira fiddling with her dress to blow some glitter from her hand on "Reality". Finland is in Finnish colours (blue & white) and sounds good. Turkey has some English. and front girl Buket now has her name in the groups's title. She's in blue. Just looking at Greece on the tape of last night, they seem a bit tuneless.
Few problems - Jessica's earpiece dropped out, and they had a delay before Finland due to a problem resetting the stage.
Forecasts - I'll say between Estonia & Sweden for the win, Germany top 5, UK sadly at 10th ish. Out for the count has to be Romania, Switzerland, Greece, and Macedonia (sorry Karolina, but too ethnic for here)
That's enough for now. Another 2 shows yet. The event is at 10pm local time, so a late night for us before leaving tomorrow. Expect little chance of another update today, but who knows?
Report uploaded Friday 11am UK
I took a day off yesterday to visit nearby Latvia. Terrible roads but great fun. I even found a French language CD by Marija Naumova, this year's Latvian entrant. However, we were back for the parties which opened for us with Greece - very loud electronic early eighties stuff from Michalis Razintkis. Good, but way too loud.
Then over to the Club Havana where Malta, Spain, & Cyprus had a joint party which was very crowded and very hot. Everybody performed, even the Spanish backing singers, and it was great fun. The Turkish team was there too, along with Vesna from Croatia, and Karolina from Macedonia. Maja Tatic from Bosnia wisely stayed outside.
We sneaked into the invitation-only Swedish party where Afro-dite had just got a Platinum disc for their hit "Never Let it Go". The trio chatted, and were very relaxed and calm. They remain hot favourites here along with Estonia & Germany.


Back to Club Hollywood where Estonian entrant from Sweden, Sahlene, gave us about 4 songs backed by a band. Apart from Runaway, the entry, these were composed by Sahlene herself, and were not very good. She is certainly a competent, confident performer, but perhaps a little over sure of herself. Anyway after a long break we had another set well after midnight from 2000's Estonia entrant, Ines. This was much better, and went down very well. She ended with "Once in a lifetime".

Right now its 11am UK time on Friday. We just had a crazy Spanish conference, and are awaiting the first full rehearsal at 1pm your time.

We hear the presenters will sing, and the single is on sale here.

More later.
Report uploaded Thursday 23 May 7am UK
We're on a tour of Estonia this morning so no pictures today - can't get them out of the camera until later
The joint French/British party was a highlight. Jessica Garlick wore a union jack skirt as she sang "Papa don't preach" and "Come Back", and Sandrine gave us her song and another fine piece. Then it was over to the Olympia Hotel where there was a choice of the Slovene or Danish party. Better food from Denmark - the Slovenians offered meals in Adria Airways packs. Sestre treated us to a 30 minute drag queen show with all the usual elements like miming to"Vogue",etc, plus Miss Marlene sang a medley of Eurovision hits including "Rock me Baby". Meanwhile a collection of Danish musical "talent" was on show in the Danish party. Malene sang her song a few times, got a little tired of signing autographs and counted down to her 20th birthday at midnight. After having "Happy Birthday" sung to her she sang "Tell me who you are" again in English, after refusing the host's wish to hear it in Danish. Damn right too.
More later.
Report uploaded Wednesday 21 May 6am UK
Tuesday - Another hectic day. I took a tour of the old town in blazing sunshine, and ate out in the central square. One of our party even got sunburnt! It really is a beautiful old town with plenty of history, and plenty to see, but you just want to hear about Eurovision, so. ..
One odd thing is that we can watch the rehearsals on our hotel TV´- great fun, and some went better than others. Sestre (Slovenia) had no problems and only performed twice in glittery versions of their Stewardess costumes. Miss Marlena says they will have new secret costumes for Saturday. They are at every party and are a real hit. However Marija Naumova's (Latvia) rehearsal was less happy. Four tries and lots of issues over the backing singers & dancers. I saw Aivaras (Lithuania) rehearse too, and it didn't sound too good. I think its a great song, but the backing chorus were off key, and the lead was a bit weak. But there's plenty of time, and he's a professional, so it will work out.

The parties got going with a bang with Finland. Laura gave a great 30 minute set out in the courtyard of the Finnish embassy and really wowed us with her local hit, and with "Addicted to you", a wonderful medley of old Finnish Eurovision entries, and some rocky numbers. She is really a tiny pack of dynamite.

The German party was a crush, and as usual for German parties, dominated by TV crews filming live performances by acts in some tiny corner only the crews could see. So we heard Corinna May, Manual Ortega, and Francine Jordi, who tells me her names (Lehmann is her real name) are German. Sarit Hadad gave us one song as the guests were leaving. She speaks little English, but seems to be enjoying the festivities.

Sandrine Francois for France was there as was Sestre (everywhere, and hard to miss in their high heels and red costumes) and Maja Tatic for Bosnia. I asked Maja if she'd had any hard political questions as she was a Bosnian Serb from Banja Luka. She said "No, but she was expecting some".

I told her I thought it was good sign she was representing Bosnia. She now lives in Spain some 10 years, but hopes this will relaunch her career back home in Bosnia. More parties Wednesday. Quite a few clash, but the Slovene one is bound to be a smash.
Report uploaded Monday 20 May 11pm UK
Well, everybody is here!
Here's the first picture of the UK's Jessica Garlick on stage this morning and here she is in the press conference, afterwards.

It was a pretty busy day in the rehearsals. Everything looks good, and everybody seems fairly happy, and is in good voice.

In the evening it was time for the first party, this one hosted by the Mayor. We had singing from former entrant Maarja, and from Tanel Padar, half of last year's winning team. Dave Benton was in the room but I never saw them together. Rosa's team were out in force, and Chenoa, one of the backing vocalists, said they were just like a family.
There was no competition between them, they all love Rosa.

Belgium's Sergio got to meet the ladies of Sestre, who are very tall even allowing for shoes, and he hastily wiped a kiss off his forehead. Sahlene boogied better than most, and Ira Losco got to meet up with Jessica Garlick and Laura again - they'd all been in Malta the other week.
Laura was sporting a bright yellow outfit very suitable for crossing the local roads. She told us that she & her band would be performing at the Finnish Embassy at 8pm tomorrow. We'll be there!
More rehearsals & parties tomorrow.
All pictures Copyright 2002 G Harrison & The Eurovision Database.
visits to this page since May 15th, 2002