---

Turkey 1996
---
Turkey's selection took place on February 17th in Ankara.
The winning song was'Besinci Mevsim', song no 5, by Sebnem Paker.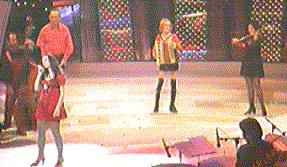 The song has a violinist (like Nocturne!), as you can see!(if you have graphics), and is a slow ballad, rather more ethnic than last year's entry.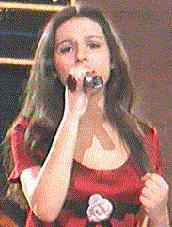 Lead singer in Turkey's 1996 entry.
The list(Thanks to Frank Vijt):
1. 'Yoruldu Düslerim' (Getting tired of dreaming) - Semih Bayraktar
2. 'Dön gel artik bana' (Come on back to me) - Suavi Andac
3. 'Sevgiyle' (With love) - Suat Yildirim & Zeynep Poyraz
4. 'Hep bir yarin var' (There's always a tomorrow) - Coskun Demir
5. 'Besinci Mevsim' (The fifth season) - Sebnem Paker
6. 'Vazgec' (Give up) - Sedat Yuce
7. 'Var Misin Soyle' (Tell me , you are there) - Tuzmen, Pinar Karakoc, Ebru Ozgencil, Esra Acu, Utku Celik & Erbil Kececi
8. 'Masal' (Fairytale) - Nursel Mumcu, Sekan Sonmez ve Mehmet Efe
9. 'Poyraz' (Dream) - Sebnem Özsaran
10. 'Bilirsin ya' (You know very well) - Ebru, Tuzmen, Utku Celik ve Kivilcim Yardimci
17th Feb - TRT Ankara
Presenter: Bulent Ozveren
Only well known participants (in turkey): Coskun Demir and Suavi