---
Turkey 1997
---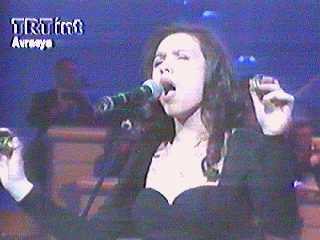 Sebnem Paker, seen here performing the winning song, 'Dinle' (listen), will represent Turkey for the second year running. To add to the feeling of Deja vu, 'Dinle' is written by the the composer of last year's song, Levent Coker.
This year the Turkish contest was shown on TRT International on Eutelsat II-F1 at 13 degrees E, not live, but delayed only 155 minutes.

Report by your editor, Geoff Harrison.

My Turkish isn't too hot, and I can't confirm the artist names below, as they were only spoken, but I think a few changes may have been made, but the song titles are as shown.

An entertaining contest, this was a real mix of styles. Some songs very western-oriented like songs 6,7,8 and 9, and others very eastern, like 1,2,4 and 5. The contest chose a dolphin as a logo, and wasted little time in getting into the songs.
'Gece' was pretty awful, and 'Askima inan' was little better, 'Dorduncu boyut' was a total mish-mash of styles and was easily the worst to my ears.
Then came 'Dinle', with Sebnem Paker looking a little different in a short black dress wearing those finger cymbals, which she played as she girated in some sort of belly dance. Backed by three Turkish-style folk musicians, this was vaguely catchy, but far too Turkish, with plenty of long-held notes.
Later, 'Sarki' was a very pleasing duet which was easily my favourite, with 'Seninle' featuring the Turkish answer to Tor Endresen, a man with guitar singing forgettable stuff.
'Sen nerede ben orada' was pretty good, with 'Sevda' being a good old fashioned love song which built.

There was no voting, just the winner was announced, and then Sebnem and Levent Coker went about doing it again.
There's no doubt in my mind this will score low in Dublin, because it will turn off most Western ears.

Good luck, anyway, Sebnem

Here's the list in final presentation order of songs:
Gece (the night) - Burcu Gunes
Askima inan (believe in my love)- Serdar Aydemir
Dorduncu boyut (4th dimension)- Perval Basel
Dinle (listen) - Sebnem Paker
Hic gitme (don't ever go) - Sevan Deniz
Sarki (The song) - Elcin Engin (this was a duet)
Sevda bu dostum (this is love, my friend)- Sebnem Ozsaran
Seninle (with you) - Erdal Celik
Sen nerede ben orada (I'm wherever you are)- Pinar Karakoc
Sevda (love)- Asli Omak
Visit the attic to look back at Turkey 1996, or my report on Oslo 1996 has another picture of Sebnem.
Internal links: