---
Turkey 1999
---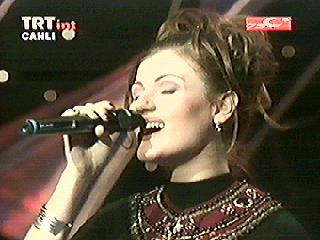 "Don artik" (Come back) performed by Tuba Önal & Grup Mystik (right) won the Turkish final on March 12th, and will represent Turkey in Jerusalem. As usual no other placings were given.
A pretty good show, well presented with some fine songs, and a good interval act.
You can hear Real Audio full length clips on the links below:
"Don artik" -Tuba Önal & Grup Mystik
"Unuttugumu sandigin anda" - Feryal Basel
The latter one being my favourite. See if you think they got it wrong!
There were substantial changes to the details provided before the contest, and these are now rectified below.
I have left the original preview comments by Alp Tuncaci and added my own thoughts in blue italics.
Alp has nothing to do with those!
Alp Tuncaci (please visit his web site on Turkey at Eurovision for more) brings us up date on Turkey's plans to select its entry to go to Jerusalem in May:
The Turkish Final will be held in Ankara on the 12th of March. The ten finalist songs are the following (in running order): (Turkish letters are avoided to make all read them easily)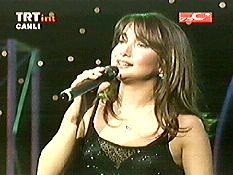 1. Birak beni- Leave me Composer: Savas Savasan Lyricist: Savas Savasan Sung by: Sedat Yuce
Savas and Sedat appeared in TR final 96. Savas is 24 and a big fan of ESC. He's a member of OGAE Türkiye since 96. They all are from Izmir and their song should be one of the favorites ( I heard it and it's good). Upbeat - male singer. Four dancers - all in black.
Picture - Yonca Evcimik - part of the Interval act>
2. Don artik- Come back, Composer:Erdinc Tunc Lyricist: Erdinc+Canan Tunc Sung by: Tuba Önal & Grup Mystik
Last year's family is back. Erdinc who composed "Unutamazsin" is back with a very different type of song. It's a very promising entry for Turkey. Can Attilla who wrote song 9 above arranged it. Erdinc is also a member of OGAE Türkiye since 97. Female lead singer. Upbeat. A bit like last year's entry by Sebnem Paker, Cal. Not quite my cup of tea, though.
3. Vazgecme- Don't give up Composer: Hakan Suersan Lyricist: Hakan Suersan Sung by: Meltem Buyukugurgor
This is Hakan's third appearance in a row as a composer a in Turkish Final. Meltem sang his song last year in the final (the 3rd song in the running order). Medium paced, westernish
4.Kolay mi birakmak-Is it easy to leave? Composer+Lyricist: Ozgur Yedievli Sung by: Volkan Eroz
Unknown people.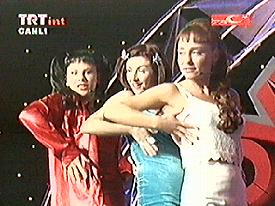 5. Neredesin-Where are you? Composer: Can Attilla Lyricist: Emel Attilla Sung by: Kaan Yalcin
The song's title indicates that composers and lyricists in Turkey started to watch ESC and they even imitate some stuff. Can appeared in TR final 90-91 if I remember well as a composer and arranger. He's from Ankara.
Picture - Citir Kizlar - part of the Interval act>
6.Selam sana toprak ana- Hello to you motherland Composer: Nino Varon Lyricist: Figen Cakmak Sung by: Sibel Mirkelam
Nino Varon is a famous figure in Turkish pop scene although he doesn't compose so many songs. Figen Cakmak is the president of FIDOF and she usually appears in the jury during TR finals (if you watched some of the finals, she's the lady who smiles all the time in the jury). The singer (I'm not sure but I think she is) is Mirkelam's wife who's a very popular Turkish Pop singer. She sang this slower song at the piano dressed in white.
7. Hayda el ele- Turkish expression to say "let's take hand in hand to dance". Composer: Semra Oztan Lyricist: Semra oztan Sung by: Birsen Tezer
That's should be an interesting song with a Turkish rhythm. I know the composer very well and it's her 3rd attempt in TR finals. She's the only female composer this year. The song is interesting but that's it. Good backing group though. Rather dramatic and ethnic, sung by a female singer.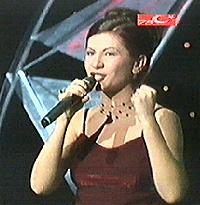 8. Döne Döne- Composer: Mehmet Kartalkanat Lyricist:Mehmet Kartalkanat Sung by: Neslihan Demirtas
Unknown people. Another rather ethnic piece with some rotating camera views on the female singer.
9.Unuttugumu sandigin anda- The moment you think I forget Composer: Ihsan köseoglu Lyricist: Ihsan köseoglu Sung by: Feryal Basel (pictured right>)
I don't know anything about Feryal Basel. The composer is known but not a famous one. This one is the tragic shame of the entire Eurovision Song Contest this year. A very lively cheerful Western-sounding song that was so right for Eurovision. My favourite of the year this far. Check it out for yourself with the Real Audio clip at the head of the page.
10. Her nefeste- In every breath Composer: Mertol Salt Lyricist: Gunay Coban Sung by: M-B
The lyricist wrote many lyrics for the Turkish final. He also wrote "Çal" Sebnem Paker's 98 entry in TR final. M-B is a group but I don't have any information about the members. The group is made for TR final. A man and a woman with a pianist. Undistinguished.
The interval was filled by the Turkish "Spice Girls", Citir Kizlar who have been going several years now, and by Yonca Evcimik, long-time star of the Turkish scene, now with dark hair.
As ever, no votes were given from the in-studio expert jury.
Thanks to Alpy for the preview details.
Thanks!