---
United Kingdom 1996
---
25 year-old Gina G, from Queensland, Australia, won the 'Great British Song Contest' on 8th March with the song 'Just a little bit', at the BBC Television Centre.
Here is a report from your editor of these pages, Geoff Harrison:
I was privileged to be amongst the audience for the final of the 'Great British Song Contest' where the four finalists (see the earlier report below for details of how they got there) did battle. Terry Wogan did the usual snide remarks - this time about Norway, and Jonathan King told us (before transmission) how he'd reestablished the credibility of the contest. This from the man who gave us 'Johnny Reggae', and 'Una Paloma Blanca'.
The four finalists performed well live on a tiny stage, and if you're in the know, you can see me in the audience behind the balding loony at the end of song 4, just before it cuts to Terry Wogan - fame at last!.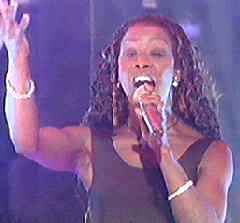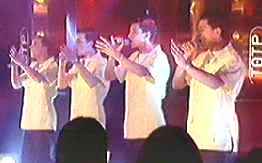 Songs 1 and 2, by Zeitia Massiah, and Code Red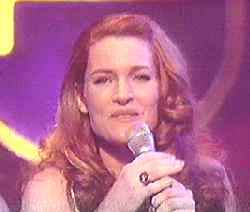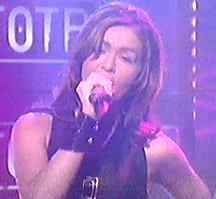 Songs 3 and 4, Gina G, and Layla
After the four songs there was 30 minutes for telephone voting, during which the TV audience was treated to a nauseating self-congratulatory series of clips about the so-called 'Brit-pop' phenomenon. These talentless merchants of derivative sounds have nothing to do with Eurovision, or the 'Great British Song Contest', so why were they on this show?
Somewhere in there 'Boyzone' did a song, but the booing you can hear from the audience afterward is because they were on tape, but obviously in the same studio, as was the excerpt from 'Tommy'. It would seem the four hopefuls competing still have to master the art of avoiding singing live in case you sound bad.
Probably the most Europop song of the show, and my favourite, 'Just a little bit' easily won.
The votes:

1st Just a little bit - Gina G - 113,576 votes
2nd I gave you everything - Code Red - 41,791 votes
3rd A little love - Zeitia Massiah - 41,105 votes
4th Find love - Layla - no votes were announced
Below is the earlier report, with details of the preselection, and the songs:
Jonathan King is again behind the plans for this year's British contest, now renamed 'The Great British Song Contest'.
The songs will be unveiled in a preview 'Top of the Pops' on March 1st, and on 'Live and Kicking' on the following Saturday morning. Through telephone votes, the eight will be reduced to four finalists, revealed on the dire 'National Lottery Live', on Saturday evening, 2nd March.
The four songs will then compete in the final on March 8th, with telephone voting again choosing the winner.
The final four are guaranteed a record release.
Jonathan King has said that after reestablishing the contest's credibility, a more commercial song can now be tried. I guess this means no rap songs - Eurovision doesn't like them!
The songs
Layla sings Find Love - Written by Marcus Vere & Simon Wilkinson
Code Red sing I gave you everything - Written by Deni Lew, Nicky Graham & Wayne Hector
Essenes sing I never knew - Written by S Elliot & R Driscoll & M Connaris
Dan Anderson sings Sometimes it rains - Written by Louisa Scott & Ronnie James Scott
Lois sings I just want to make love 2U - Written by Ben Keen, Paul Thompson & Mike Connaris
Twin Hazey sing Louise - Written by Keith Summers, David Whitehouse & Michael Flaherty
Zeitia Massiah sings A little love - Written by Pam Sheyne & Eliot Kennedy
Gina G sings Just a little bit - Written by Steve Rodway & Simon Tauber
Report by Geoff Harrison:
Still daring to be different (is this wise?) the UK put up a collection of young artists. Layla's song was described by host Nicky Campbell as 'jungle', but seemed ordinary. Code Red sounded like the recently deceased Take That. 'I never knew' was an more old-fashioned boy-girl sound in a rocky song, whilst Dan Anderson unconvincingly sang a slow ballad. Lois was a black singer with hair stuck up, and the song's lyrics were definitely a bit racier than 'Boom bang-a-bang'!.
'Louise' was thudding electric guitar song seemingly about the evils of drugs, and 'A little love' was somewhat gospel-like.
In my opinion, the strongest song was 'Just a little bit' sung by redhead Gina G, and backed by a troup of crazy girl dancers. Despite its dodgy lyrics, "You know what I'm looking for..ooh..aah..just a little bit..ooh..aah..a little bit more..", this piece of 'europop' (Campbell's description) was very catchy, and immediate. This single is released on March 4th.
During 'National Lottery Live' on Saturday evening, March 2nd, Jonathan King announced the songs whose telephone votes have put into the final on Friday March 8th.
These are (in no particular order) by :
Code Red, Gina G, Layla, and Zeitia Massiah. No counts were announced.