---
United Kingdom 1997
---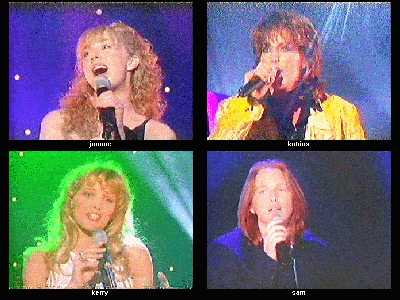 The winner of the Great British Song Contest is 'Love shine a light', sung by Katrina and the Waves, and will represent the United Kingdom in Dublin. The winning song was announced on the lottery show at 8pm on March 15th.
Here are the votes:
Love shine a light - 69,830 votes
Yodel in the canyon of love - 58,696 votes
You stayed away too long - 51,584 votes
For the life you don't yet know - no voting figures given
It'll be nice to not have to watch that dreadful lottery show. Jonathan King, and all the artists and writers were on hand to congratulate Katrina, and there was a replay of the songs video recording - no expense spared!
I think this song, like the Swedish winner, is a little out of date, and will probably score moderately well in Dublin, but not win.
The rest of this page is unchanged since last week.
The Great British Song Contest was held on 9th March at 1530 - 1600.
There wasn't actually a show at all, but merely a compilation of the clips from the lottery show, the programme being filled out with interviews with the writers and Gina G.
The picture shows the four entrants doing their songs.
Preselection results follow below, but don't include the rumour that the song by Beyond was disqualified for appearing on the children's TV show 'Blue Peter'!
There is now a free 4-track CD out in record stores in the UK giving 2 minute clips of all four finalists. It bears a picture of Jonathan King, and the words, "Free to all lovers of good music, and fans of the Eurovision Song Contest".
It also gives the phone numbers for voting on the 9th March, and the performance order matched it:
| Artist | Vote line |
| --- | --- |
| Sam Blue | 0891 980 111 |
| Joanne May | 0891 980 222 |
| Kerry | 0891 980 333 |
| Katrina and waves | 0891 980 444 |
We will have to wait until the following Saturday's lottery show for the official winner, 5 days after the EBU will know!
Both Jonathan King, and Kenny McDonald (writer of 'Yodelling in the canyon..') were interviewed on Radio 5, and Talk Radio UK respectively on 20th February. King's comments were more or less the same as the quotes below.
He did let slip, in not so many words, that his favourite was Joanne May's "You stayed away too long". There are rumours that the vote is fixed, and she will win, but then other rumours say the same about Katrina and the Waves. Time will tell.
McDonald said his song was not written for Eurovision, but as a Europop song, but had been inspired by silly Eurovision songs. When asked if he remembered the last British winner, he fumbled and offered 'Lulu', suggesting Cliff Richard was in there too, which the interviewer agreed. There have been two British winners since Lulu, and Cliff has never won. McDonald thought his song was the most cheerful, and therefore most likely to win. He also did a bit of yodelling himself, and said he'd listen to some yodelling songs for help.
Jonathan King has said he'll quit his role as GBSC guru if the UK doesn't win this year:
He said this year's choice is squarely aimed at conservative Eurovision Song Contest juries even though he thinks they would not know a hit song if it jumped up and bit them.
"I completely despair of Eurovision juries," he said. "The last two Eurovision winners have frankly been rubbish.
"They had to talk me into doing it again this year by telling me it was what I am supposed to be good at."
Both Love City Groove, the soulful British entry two years ago, and last year's song by Gina G went on to be huge hits.
Gina G's Ooh Aah Just A Little Bit has now sold 4.5 million worldwide and is currently even high in the American charts.
"I came in to raise the musical quality of British entries, which I think I have done," King said.
"But although we have had the hits we have only come seventh each year, and the records that have won have never been heard of again."
King is particularly flummoxed by the failure of Gina G, a Europe-wide success, to tickle the national juries that decide the Eurovision outcome.
"This year we are looking for a winner, and slanting the shortlist a bit more into the areas that are acceptable to the juries.
"If Britain doesn't win, I think I will have to throw in the towel, but if it does, I get the chance to take on the Eurovision Contest next year," he said. [Reuters]
600 submitted songs were whittled down to 8, and were be presented in the Terry Wogan, and Ken Bruce radio shows on BBC Radio 2 from week commencing February 3rd. Each programme featured two songs, the Ken Bruce show on Friday 7th February featuring all eight from 09.30 to 10.00.
Phone lines were then be opened from 10.00 to 11.15am on the Friday. Votes from the Radio 2 listeners then reduced the eight to four. I found no difficulty in making my vote, but no voting count was given.
The final four were announced at 1115 that morning and are:
Love Shine a light (Kimberley Rew) - Katrina and the Waves. On the lottery show 15th Feb
Yodel in the Canyon of love (Kenny McDonald and Gordon McDonald) - Kerry and Do-Re-Mi. On the lottery show 22nd Feb
You stayed away too long (Don Black/Richard Kerr) - Joanne May. On the lottery show 1st March
For the life you don't yet know (Mick Spindler) - Sam Blue. On the lottery show 8th March

These final four will then appear in preview slots on consecutive Saturdays in the 'National Lottery Live' show from 15th February, the last being on 8th March.
On 9th March, the 4 songs will be presented in the 'Great British Song Contest' with Jonathan King at 15.30, with telephone voting to select the winner to go to Dublin.
Robin Scott says this will not be publicly announced until 15th March.
It is certain that is the date the winning song will appear on the National lottery show.
Here is the list of the original eight song titles, and writers and performers. My comments are below.
You can read the lyrics at Nick Deller's special GBSC lyrics page
Crying (Rohan Heath/Steve Long) - Paul Varney
For the life you don't yet know (Mick Spindler) - Sam Blue
Heart of Stone (Nicola Philo) - Dave Black
Lighten up (Lee Lindsey/Mike Brayn/ Dave Christie) - Beyond
Love Shine a light (Kimberley Rew) - Katrina and the Waves
Room for change (Laura Pallas) - Laura Pallas
Yodel in the Canyon of love (Kenny McDonald and Gordon McDonald) - Kerry
You stayed away too long (Don Black/Richard Kerr) - Joanne May
Don Black is a very well known songwriter having written for many musicals and many artists including Matt Monro. Laura Pallas appears in the Movie 'Evita' as Eva Peron's sister, and is a high NRG dance performer.
Comments from youe editor, Geoff Harrison:
Much less 'cutting edge of pop' this time, but it's a pity all eight are not being given a chance on TV.
'Crying' made me cry. Dreary and very repetitive, and kept sounding like it would end. Eventually it did.
'For the life you don't yet know', obviously inspired by a irritating insurance commercial, featured a nice violin sound, was slow, and forgettable.
'Heart of Stone' was a medium paced slightly rocky song.
'Lighten up' was livelier, vaguely grunge style.
'Love shine a light', cheerful and lively - the best so far. Vaguely gospel, it has lines like, "Brothers and sisters.. let our love shine a light in every corner of our hearts", and a tribute to part of Ireland in the line, "Let the love light Kerry". I think she means 'carry'.
'Room for change' was slow and boring, "There's room for change, make room for change". There's room for improvement.
'Yodel in the canyon of love' was fast and lively, with a back beat reminiscent of last year's winner. The lyrics run like this, "I'd yodel in the canyon of love..I call out your name again and again..". I'm amazed to say I found this one quite catchy, but if they could kill the (male) yodeller in the background it would help! Terry Wogan said he thought it'd get Austria's vote! Apparently Kerry is disabled, and her backing group is called Do-Re-Mi. The yodeller is anonymous.
'You stayed away too long' was a strong, well-produced ballad. Rather theatrical-sounding, as you might expect from Don Black, but I thought it was good, but not outstanding.
My tip for the top four (what do I know) is songs 4,5,7 and 8.
Visit the attic to look back at United Kingdom 1996.
Internal links: