---
Eurovision Song Contest 2000 CD
---
What was that CD somebody flashed up during the contest babbling on in French?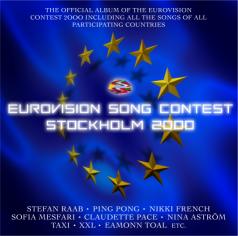 Well I had plenty of e-mails. I wish the BBC presenters had told people what was going on. The French woman was Christine Marchal-Ortiz, official scrutineer for the European Broadcasting Union who organise the show. She is a native French speaker, and chose to tell us in French about the new compilation CD of all of this year's songs.
Yes, that's right. There's a CD of all 24 songs in (more or less) the versions heard on the night. This is the first time a CD like this has had a European release before the contest. (OK - there were some compilations in the 80's but they were incomplete, and not Europe-wide)
It officially came out on May 13th, but was found in shops in Stockholm around May 11th. According to the information I have, it won't be released in France or Belgium due to rights issues, but will be found elsewhere. Knowing the interest UK record companies have, don't hold your breath in the UK, but who knows.
The rumour in Stockholm was that it would be a limited edition - rights issues stopping more being pressed, but the sleeve says they hope to do this again next year. The order is a little odd, but the songs sound great. We don't get the little changes heard on the night - some Italian in Cyprus, some English in Macedonia and Turkey, and the change to 'Be Happy' from Israel, but its great.
Expect to pay about 12 or 13 pounds. BMG Germany 74321 76587-2 Skivhugget, online Swedish CD shop has it.