National
Finals
Denmark won the 2000 contest on May 13th in Stockholm with "Fly on the Wings of Love", performed by The Olsen Brothers and written by Jørgen Olsen.
EMI gave the stunning news on June 13th, that it had dropped plans to release the song in the United Kingdom, due to "Lack of Interest". This is despite UK viewers giving it 12 points. The song has topped the charts in Scandinavia, and is in the German top 10 - the Olsens were recently on the RTL version of "Top of the Pops". However on June 14 I found copies of it at HMV & Virgin Megastore Oxford Street on the Danish CMC label. Singles from Iceland, Latvia and Germany were also on sale. Meanwhile, Edel records release "Once in a lifetime" from Ines in the UK on August 7. It's Scandinavian release was May 15th. Brainstorm's "My Star" comes out June 26th. There's no sign of the compilation album from BMG yet. Get it from abroad
Danish TV announced June 6 Danish TV-1 programme head Jørgen Ramskov would be Project Manager for the 2001 final. "It's a once in a lifetime chance which I just couldn't say no to", he said. Its a big move - he won't get old job back afterwards. He now has to find sponsors and choose from the many towns in Denmark wanting to stage the grand final.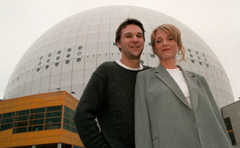 There's still a full song list at this link, and you can see Real Video of the sadly-missed previews here!
Swedish TV still has the official website at http://www.eurosong2000.com
Nicki French was on BBC-1 Saturday May 6th - see her appearance on this page
Henrik Szabo writes (Feb 12th) with news of the Presenters (left) for Stockholm!
According to the Swedish newspaper "Expressen" and the text-TV of SVT on Saturday the 12th of February the presenters will be very wellknown Kattis Ahlström and Anders Lundin. Kattis has presented many big TV-events, for example the Swedish heats for Eurovision in 1994 and now latest the Swedish "Filmgalan" where prizes are given to the best Swedish films during the last year. Anders Lundin hosted the Swedish heats for Eurovision in 1999 and he has also hosted many popular TV-shows such as "Robinson" where a group of people are sent out to an island in the Philippines to see which one survives the longest.
Please click a link on the left to find out about the national selections for each country for the grand final in Stockholm in May 2000.
The list is in order of performance on May 13th.
As ever, I'd love to hear from you all, but I hope you'll forgive my slow replies - everything is read, I promise.
Geoff Harrison
my contact page