---
Turkey 2000
---
The Turkish final 2000 was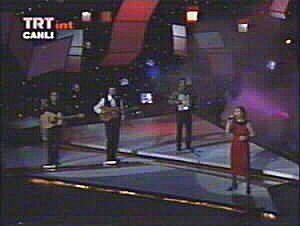 held in Ankara (as usual) and on the 18th of February.
Updated 19th February. The winner was Yorgunum anla sung by Pinar Ayhan & the S.O.S.(right). As usual no other placings were announced.
Play a Real Video G2 full length clip.
Rest of page awaits an update.
Most notable are the entries from Feryal Basel, who came unofficially second in the 1999 Turkish final, and who, many feel, would have done well for Turkey in Israel.
All the news below comes from Alp Tuncaci. (please visit his web site on Turkey at Eurovision for more)
The 10 finalist songs were chosen on the 17th of December from 135 songs which were submitted to TRT on the 6th. Although the number of entries is not so high, it still is better than the previous two years where the participation was less.
And the good news is that TRT thinks very seriously about releasing a CD containing all the finalist songs. Let's hope for it. (The below are not in performance order - I'll fix that later)

Bir kirik sevda - A broken love
Composer :Asligül Ayas
Lyricist : Gunay Coban
Performer: Isin

The composer and the lyricist are not new to the Turkish finals.
Asligul Ayas competed in 88,89,92,93 and 98. She's the only female composer this year. Their singer is not known yet in the country very strong voice.I heard the song, western oriented mid tempo pop song. Pleasant. The lyricist wrote lyrics in 97,98 and 99.

Askimiz bir masal - Our love is a fairy tale
Composer : Tolga Gurdil
Lyricist : Muge Baysal


The only time thiscomposer competed was in 93. he has two songs in the final.


Yorgunum anla - Understand that I'm tired
Composer : Suhan Ayhan
Lyricist : Pinar Ayhan & Orkun Yazgan
Sühan Ayhan, the composer of the song "Yorgunum Anla" ("I'm weary") writes:
I would like to inform that the song will be performed by Pinar (Karakoç) Ayhan & the S.O.S.
Pinar (Karakoç) Ayhan has participated in the finals twice in 1996 with (Varmisin Söyle, by Erdinc Tunc) and 1997 (Sen nerede ben orada, by Erdinc Tunc) and she was unofficially second in both finals...
The S.O.S. is made up of Sühan Ayhan (it's me), Orkun Yazgan (lyricist in part) and Selim Öncel. The S.O.S has participated in the finals twice, as back vocals in 1996 and 1997 with Pinar.
Our song is a mid-tempo, Meditteranean song and will compete second, Sühan

Bu ask yasak bana - This love is forbidden
Composer : Semih Bayraktar
Lyricist : Semih Bayraktar


I know the composer but I don't have any idea of his early work. He has an opera background.

Son defa - the last time
Composer : Ihsan Kosoglu
Lyricist : Ihsan Kosoglu
Performer : Feryal Basel

Our beloved Feryal and her composer are back with two songs this year. This one is a soft ballad. Their song "sana" will be one of the favorites this year again. It is similar to "unuttugumu sandigim anda" but needs a better arrangement.

Sana - To you
Composer : Ihsan Kosoglu
Lyricist : Ebru Eksi Kosoglu
Performer : Feryal Basel

Comments above.

Duy beni - hear me
Composer : Selim Korkmaz
Lyricist : Selim Korkmaz
Performer : Sibel Mirkelam

Last year's "Selam sana toprak ana" singer and the piano guy teamed up this year for this song. We'll see what they have to offer this year.

Asik oldum-I'm in love
Composer : Umut Erdogan
Lyricist : Devrim Aydin

Totally unknown.

Yarim kalan senfoni - The unfinished symphony
Composer : Tolga Gürdil
Lyricist : Tolga Gürdil

The same composer of song #2 above.

Bak rüzgarlara - Look at the winds
Composer : Can Atilla
Lyricist : Bahadir Sahin

The composer is the same of last year's "neredesin" and he was also the arranger of "don artik". No idea about the song.
Since every year the performers of the finalist songs change right before the final, TRT did not include this information in its press announcement. The names of the performers that I wrote above are the ones that I heard from the composers.
I hope a strong entry will be chosen to save Turkey from relegation.
Thanks to Alp Tuncaci for the above news. (please visit his web site on Turkey at Eurovision for more)
If you have any more news or comments, please e-mail me, Geoff Harrison, at my contact page and I'll credit your contribution.