---
Norway 2000
---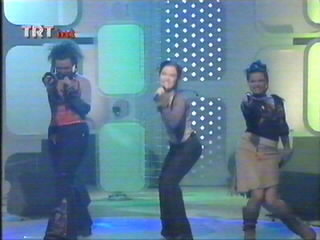 May 3rd: Charmed will represent Norway with 'My Heart goes boom'.
Charmed consists of (left to right in the picture) Hanne Kristine Haugsand (24), Oddrun Valestrand (26) and Lise Monica Nygård (25). Hanne Kristine is an illustrator, but also does a bit of designing - the clothes worn by the trio during the Norwegian final were designed by her. Oddrun is a model and a stuntwoman, and used to play the violin in a youth symphony orchestra. Lise Monica used to be a member of the show group Sparkling Divas and has studied at the Ballet Academy in Gothenburg.
An excellent contest, in which Charmed never really stood much chance of losing. There were two stages in the voting, all 10 were voted on by experts & telephone voters down to 4, who sang again, and were voted on again.
Despite sound problems meaning it was heard three times, Jorun Erdal came 4th. I wonder how many noticed Sweden's Carola joining in briefly with Sha-Boom?
The final rounds scores were:
1. My heart goes boom

Charmed

84 points

2. One more time

Jan Werner Danielsen

66 points

3. If

Leif Anders Wentzel

60 points

4. Another you

Jorun Erdal

0 points
Below is the unchanged preview. Songs were not presented in the order below; Charmed were first on:
---
The contest has been moved from February 19th to March 4th in Oslo. 19.25 TO 21.10, UK time on NRK1.
Roger Fry reports on the upcoming Norwegian final which, like the Swedish final, has been given permission to take place after the official EBU closing date - well at least it gives us a quieter weekend on February 19-20. Over to Roger:
Well - at last some news of this year's Norwegian Grand Prix. It's been a long time coming and I've been getting impatient as news from all the other countries rolls in!! Anyway...
Ten songs will compete in this year's Melodi Grand Prix on March 4 in NRK's Oslo studios. Presenters will be radio DJ/TV presenter Hans Christian Andersen and former children's TV presenter Stine Buer. Two excellent choices!
1. (No title yet)
Sha-Boom
Composed by Dag Finn Strøm, Peo Thyrén
Peo Thyrén wrote the lyrics to "Stopp Stopp Stanna" in Sweden's Melodifestival in 1986 and to "Dansa i neon" in 1987. Most recently he co-wrote the songs and was a member of B.I.G. who performed in the 97 and 98 Melodifestivals.
2. She's My Baby
(Performer not decided)
Composed by Christian Ingebrigtsen
Christian Ingebrigtsen is a member of boyband A1.
3. My Heart Goes Boom
Charmed
Composed by Morten Henriksen
4. I Never Stopped Loving You
Astrid Tveitan
Composed by Sigurd H. Røsnes, Jimmy James Ekren, Sondre Pettersen
5. One More Time
Jan Werner Danielsen
Composed by Are Sigvardsen
Jan Werner Danielsen represented Norway in 1994, duetting with Elisabeth Andreassen.
6. If
Leif Anders Wentzel
Composed by Hilde Heltberg
Hilde Heltberg has taken part in MGP before - in the 80s!
7. Another You
Jorun Erdal
Composed by Per Øystein Sørensen
8. Trying To Forget You
Miriam Mercedes
Composed by Anders Moberg
Anders Moberg wrote I'll Be Your Friend for the Gryttings in last year's MGP.
9. Wings Of Love
Kine
Composed by Kenneth Eriksen, Willy Ludvigsen
10. When I'm Looking
Arnold B. Family
Composed by Thomas Børud
Arnold B. Family have taken part twice before, in 1995 and 1996.
Thanks Roger!

Morten Thomassen adds:
Willi Ludvigsen is Kine's father. She had some CDs out as a child.
Per Øystein Sørensen was backing singer for Norway last year
Thanks Morten!
If you have any more news or comments, please e-mail me, Geoff Harrison, at my contact page and I'll credit your contribution.