---
(FY) Republic of Macedonia 2000
---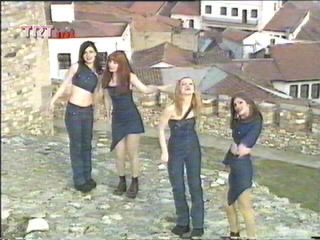 February 20th: Girl group XXL will sing "100% te ljubam" (I love you 100%) for Macedonia in Stockholm after winning the Macedonian final on February 19th. Stefan Markoski has sent me a sample of the winning song - a catchy commercial pop song that should score well. You can play the clip in Real Audio G2 by clicking on this link.
XXL are four girls who used to study together at high school, in 1999 founded a group. Last year they where the winners of the first price at the teen festival. One of them is a composer's daughter. Their names are Maria, Verica, Rosica and Ivana. All four are good looking and good singers.
Biljana Nikolovska writes from Macedonia.
She is the head of music department in Macedonian Radio - Radio Skopje (in Macedonian Radio Television).
I am sending to you an official and correct information about Macedonian Contest.
It will be held on 19th February in the big Universal Hall in Skopje - Macedonia.
Soon we are going to have an official web site on Internet and will be possible to get all the information there.
In the first week of November '99, the nine members Jury, from the 168 compositions sent on an anonymous open competition selected 22 songs.
The Art Director Petar Georgievski and the executive producer Kokan Dimusevski of the Festival made a selection of arrangers and performers for the 22 selected songs and defined February 19th, 2000 as the date of the Festival, that is the national selection for Eurosong 2000.
A day before, i.e. on February 18th, the final rehearsal will be held, in the presence of an audience.
There going to be combined models of voting: jury, audience and by telephone. Jury will have 21 members and audience in the hall will be about 1500. The sum of points of each type of voting will make the winner.
So this is the table with correct names of the songs, composers, arrangers, lyric authors and performers in order of performing.
(The songs will be performed in Macedonian)
#

Song

Composer

Lyrics

Arranger

Performer

1

New Day
(Nov den)

Ivana Andonovska

Ivana Andonovska

Goce Dimitrovski

Ivana Andonovska

2

It's Raining
(Dozzdot paga)

Trajche Organdjiev

Tanja Trchkova

Trajche Organdjiev

Mama

3

You Know That I Know (znaesh deka znam)

Toshe Pop Simonov

Toshe Pop Simonov

Toshe Pop Simonov

Verche Pandilovska

4

Just Love Me
(Samo ljubi me)

Jovica Karalievski

Vesna Malinova &
Jovica Karalievski

Kokan Dimushevski

Klik Klak

5

Illusion
(Iluzija)

Erzana Berisha

Klementina Krstanovska

Darko Dimitrov

Erzana

6

Secret Story
(Kade shto denot boite gi sokriva)

Hari Kotlarovski

Risto Samardjiev

Davor Jordanovski

Risto Samardjiev

7

Only Yours
(Samo tvoja sum)

Igor Cvetkovski

Igor Cvetkovski

Ljupcho Mirkovski

Lidija Kochovska

8

Are You The Heaven
(Dali ti si ova nebo)

Petar Georgiev-Kalica

Petar Georgiev-Kalica

Goce Dimitrovski

Marijan Stojanovski

9

Are You Lonely
(Dali si osamen)

Ano Josifov

Ristanka Pecova

Valentino Skenderovski

Jasmina Mukaetova

10

100% I love You
(100% te ljubam)

Dragan Karanfilovski

Orce Zafirovski &
Dragan Karanfilovski

Davor Jordanovski

XXL

11

Tell Me What You Gonna Do
(Kazzi shto kke napravish)

Dimitar Dimitrov

Aneta Kachurkova

Vlatko Georgiev

P.S.

12

Forget
(Zaborav)

Djina Papas Djoksi

Ana Genchovska

Kokan Dimushevski

Geena Pappas Joxy

13

Don't Be Naive
(Nemoj da si naiven)

Toshe Pop Simonov

Toshe Pop Simonov

Toshe Pop Simonov

Maja Vukichevich

14

You Would like
(Ti bi sakal)

Ivica Brchioski

Ruzica Miloshevska-Brchioska

Valentino Skenderovski

Area

15

Your Letter Is Bible For Me
(Tvoeto pismo, Biblija)

Grigor Koprov

Vlado Janevski

Damir Imeri

Andrijana Janevska

16

Hear Me
(Slushni me)

Ivo Nastevski

Ivo Nastevski

Ivo Nastevski

Tanja Angelova

17

About Us
(Za nas)

Darko Dimitrov

Aleksandar Ristovski

Darko Dimitrov

Karolina Gocheva

18

Are You Still Mine
(Dali seushte si moja)

Jovan Jovanov

Jovan Jovanov

Jovan Jovanov & Marijan Filipovski

Magija

19

Light
(Svetlina)

Elena Petreska

Orce Bozzinovski

Vlatko Georgiev

Elena Petreska

20

A Golden Ring From Tears
(Solzi pravat zlaten prsten)

Grigor Koprov

Ognen Nedelkovski

Damir Imeri

Toshe Proevski

21

Sometimes
(A nekogash)

Ljupcho Mirkovski

Vesna Dodeva

Ljupcho Mirkovski

Dani

22

I Wanted To Be The Only One
(Sakav da sum edinstven)

Hari Kotlarovski

Hari Kotlarovski

Hari Kotlarovski

Pece Ognenov
Biljana adds these notes on the performers:
1. Ivana Andonovska - Born in Kumanovo. She is studying solo singing in a music school in Skopje. She is 17 and for the first time on the Macedonian festival scene. She needed a special license from her professor to perform in 'Skopje 2000 Eurosong 2000' Festival.
2. Mama - Members of the band: Petar, Maria and Dekso. Petar works in radio, Maria plays viola. Dekso is back in Macedonia just recently, after a long time spent in Italy. All together they are oriented towards blues and rock music.
Gossip: Maria is a great cook.
3. Verica Pandilovska – a very interesting vocal, one of the best-paid club performers. She started 1994 on Interfest, then she performed at Skopje '95. After several years she is back to the festivals.
4. Klik Klak. They are teenagers. The Members of the band are Dojcin, Vasko, Dea and Dime. They have meet in Ohrid where they had got the idea of forming a group. They are working together for almost one year. It's easy for Dea. Her Father is a music producer.
5. Erzana - A very talented young singer, she is studying music in Pristina. She is working at her debut CD. Both her parents are musicians. She likes soul, R&B. The kind of a girl wishes to conquer the world.
6. Risto Samardjiev - our famous singer. He used to be a member of 'Chaos In Laos', 'Cylinder', and 'Memoria' (some of the most popular groups in Macedonia).He has won numerous festival awards in the past several years and made his first solo album last year.
His favorable meal: Pizza with four kinds of cheese and black wine.
7. Lydia Kochovska - Her parents were members of our famous band 'Magnifico'. She is a graduated oboe player, she studied at the Music Academy in Skopje. Lydia has managed to achieve great success at the Macedonian festival scene and has won a lot of awards. Very often Lydia appears in the role of a composer. She made her first appearance when only 4.
Last year she was performing at the festival 'Slavjanski Bazaar', winning the second price.
8. Marijan Stojanovski - He lives in Krushevo, is 19 years old and he is studying first year at the Music Academy in Skopje. His first neighbour is Toshe Proevski and maybe that is why they have similar voices.
9. Jasmina Mukaetova - Although a former folk singer, in '98 she turns entirely to pop music. She has performed at a few festivals. Last year, at the Skopje '99 Festival, she was awarded as a best newcomer.
She comes from a place where the best wine in Macedonia is made.
10. XXL - Four girls who used to study together at high school, in 1999 founded a group. Last year they where the winners of the first price at the teen festival. One of them is a composer's daughter. Their names are Maria, Verica, Rosica and Ivana. All four are good looking and good singers.
11. P.S - Female trio formed 1998. Last year they performed at the Skopje'99 Festival. Aneta and Genche are sisters and Jule is their best friend. Very often, they are working as backing vocals. They sing like angels.
12. Geena Pappas Joxy - Our famous and well-known pop music composer and singer. The front man of our legendary band 'Makakus'. He indulged in music 1978. 1988 he begins his solo carrier. Two years ago he performed at the Chanson Festival in Zagreb - Croatia. After a three years' break he is back on the pop scene, and for the first time at a Skopje festival. He works as an editor in a private television. He is a very communicative person, known for his optimism and the smile on his face. Very often described as 'not seriously - serious'.
13. Maja Vukichevich - Attractive blonde .For almost two years successful at the festivals throughout Macedonia. She is working with many composers and lyrics-authors. Recognizable by her erotic style.
14. Area - come from Gostivar, winners at the Pop Rock Festival 1992.They cherish pop-rock music. After a long break they become active again on the Macedonian pop scene. The essence of the band is the couple Ivica & Ruzica Brciovski.
15. Andrijana Janevska -Talented young singer; often composes her songs. She studies violin and is wanted as a backup vocalist. Last year she performed at many festivals in Macedonia and won several prizes for interpretation.
Her charm lies in her modesty.
16. Tanja Angelova - At her early ages she was interested in music. 1999 she made her festival debut on Makfest. She is 15 and plays guitar , often composes her songs.
17. Karolina Gocheva - very talented young lady coming from Bitola. She is also a winner of many festival first prices. Carolina shows up at the festival scene for the first time at the age of twelve. She studies English language.
A combination of a good voice and good looks.
18. Magija - Jovan, Damjan, Doni and Zoki. Jovan is in charge, he is the author of the music and lyrics. They published their debut album 'Thinking of You' last year. A real teenage attraction. They all have musical education and they make their own choreography.
They are called 'Macedonian Back Street Boys'.
19. Elena Petreska - She comes from Prilep. She has been performing at teenage festivals for four years. Appearance on 'Skopje 2000' festival is a real challenge for her.
She is looking for a recipe against stage nervousness.
20. Toshe Proevski - the most popular male vocal in Macedonia at the moment. His performance at concerts would always cause a real jam among teenagers. Comes from the mountainous city of Krushevo .He studies solo singing. Last year he had over 40 concerts in Macedonia and published his debut CD.
21. Dani - Has shown up at the festival scene last year for the first time. She has postponed her studies because of the music.
Likes to travel a lot. Because of her hair she is called Macedonian Nicole Kidman.
22. Pece Ognenov - Comes from Bitola. So far has made some festival performances and has won a couple of awards. Winner of the Macedonian festival Skopje '97.
Backing vocals: Ana Kostova , Ema Angelova i Aleksandra Popovska.Very talented vocals with music aleducation. Thay are experienced studio musitions and very often wanted as a backing vocals.
Often called "COPY & PASTE BAND".
Thanks Biljana.
I'll give the URL for the official site when I have it.
Filip Nofevski tells me the CD from all 22 finalists will be in music shops on 19th February
The full (but un-official) list with song titles in Cyrillic is now below
Some familiar names from the 1998 FYR Macedonia Final, but no Kaliopi Gril (the would-be 1996 entrant) or Vlado Janevski (who represented Macedonia in 1998), but he does have a song entered - Tvoeto pismo, Biblija to be sung by Andrijana Janevska.
Stefan Markoski writes from Macedonia with unofficial comments and views:
The national contest will be held on 19th February. The MRTV will be organizing the contest.
The number 1 candidate is Karolina Gocheva. Karolina is 20 years old from Bitola, but currently living in Skopje. Maybe Todor Proevski will win. Todor, or Toshe, is 19 years. He is from Krushevo (highest city in the Balkan region) and living in Skopje. Todor is in the Musical Academy.
Others:
Thanks very much Stefan!
If you have any more news or comments, please e-mail me, Geoff Harrison, at my contact page and I'll credit your contribution.
and here is the unofficial list of finalists from Stefan..