---
Sweden 2000
---
48 year old veteran of the Swedish contest Roger Pontare will represent Sweden with "Spirits are calling my name", the English version of "När vindarna viskar mitt namn". Inspired by the film 'Geronimo' the perfomance features a Red Indian and a Sami in the background - very colourful, but is it winning material? I wonder if Sweden would do better with the very Eurovision song by Friends (really catchy & somehow familiar), or with my favourite "Anropar försvunnen " by Hanna. The Balsam Boys sang a rather annoying rap with a melodic chorus sung by Svenne & Lotta - who sang Abba's "Bang-a-Boomerang" in the 1975 Melodifestivalen. Svenne Hedland was the lead singer in the Hepstars, the band Benny Anderson of Abba was keyboardist in. So you're never far from Abba.
Roger's song is written by Thomas Holmstrand, Linda Jansson and Peter Dahl. Linda was a member of Angel who opened the 1992 Swedish contest with the wonderful 'Venus Butterfly'. I must be one of the few in the UK with the album!
The thing everyone will remember from MF2000 will be the interval - a cavalcade of famous MF songs sung by famous MF performers. We saw Tommy Körberg, Lena Phillipsson (robbed of victory three times), Lotta Engberg, Loa Falkman (whose 1990 Symphonin came last, but he cried all the way to the bank), Lasse Holm, Arja Saijonmaa, and Bjorn Skifs & Carola. These latter two were the main presenters. I noticed Carola only ever sang her own songs, unlike the others, and wasn't quite a good presenter, but she was dubbed Queen of the Melodifestivalen but some professor. Voting was the usual regional plus telephone, and Roger was always in front, although Stockholm didn't go for him, but the professor pointed out Stockholm usually disagreed with the rest of the country.
Pl

Title

Performer

Points

1

När vindarna viskar mitt namn (When the winds whisper my name)

Roger Pontare

227

=2

När jag tänker på i morgon (When I think about tomorrow)

Friends

146

=2

Se mig (See me)

Barbados

146

4

Varje timma, var minut (Every hour, every minute)

Javiera

139

5

Vi lever här, vi lever nu (We live here, we live now)

Guide

97

6

Tillsammans (Together)

Midnight Band

58

7

Bara du och jag (Only you and me)

Balsam Boys

54

8

Anropar försvunnen (Calling the missing one)

Hanna

47

9

Alla änglar sjunger (All the angels sing)

Tom Nordahl

32

10

När filmen är slut (When the film is over)

Avengers

0
Meanwhile, the preview remains below.
The 1999 Swedish final was one the finest national finals anywhere in every aspect, and SVT Göteborg have much to follow, but 1394 songs were submitted and music publishers whittled them down to about 200, from which a 13-member jury selected the final ten below.
They will all compete on March 10th in the Gothenburg opera house, and it will be broadcast on SVT TV2 from 1900 GMT. The date is after the EBU cut-off date of 28 February, but SVT tell me they have permission. All 1200 public seats for the contest were sold in just 12 minutes!
Tobias Larsson has updated and expanded his preview of the upcoming contest below, plus I have added a few extra details in italics translated from the Swedish TV Melodifestival web site.
I'd also like to thank Torbjörn Jons for contributing a similar list.
So here we go with the correct running order and all singers:
1."Vi lever här vi lever nu"
(We live here, we live now)
Music/Lyrics: Mattias Reimer & Lars Edvall
Performer: Guide
Reimer/Edvall took part last year as composers and members of the group Crosstalk, which seems to be no more. At first, they wanted a 14 years old girl to sing in MF, but as she wouldn't have been allowed to sing for Sweden in Stockholm, SVT Göteborg turned the whole idea down. Instead, we get a 26 y.o male singer from Eskilstuna, who says he'll record a solo album in the same vein as E-type, La Cream and several other Swedish dance acts.
Mattias Reimer and Lars Edvall competed in Melodifestival 1999 with "Det gäller dig och mig", performed by Crosstalk
2."Bara du och jag"
(Just you and me)
Music/Lyrics: Gustaf Eurén, Stefan Deak, Karl Eurén
Performer: Balsam Boys
Balsam Boys are the same people as the composers, and they had a minor summer hit in 1999 with "Här kommer sommaren". One would certainly want their entry to be stronger than that... Very soft rap in Swedish, with sing-along choruses is their trademark so far.
3. "Se mig"
(See me)
Music/Lyrics: Danne Attlerud & Thomas Thörnholm
Performer: Barbados
Did anyone miss Arvingarna? No need for that anymore. Young dance band Barbados do everything to take their place, and the singer, heart-throb Magnus Carlsson, has actually made quite a few young girls go out and buy their records. They ended second in "Dansbandslåten 99", a contest for dance band music, and are currently having a hit with their entry "Rosalita". Their MF entry is described as a solid boyband ballad, and caused controversy, when the newspapers revealed that it wasn't at all selected by the jury, but by the executive producers at SVT, just like two other entries in the contest.
Danne Attlerud has amongst other things, written the Swedish Davis Cup team's song "Tennis Spirit" (1987).
4. "När filmen är slut"
(When the movie is over)
Music/Lyrics: Suss von Ahn & Henrik Wikström
Performers: The Avengers
This group, consisting of the two composers, was initially called Soulmates, but when it turned out another band owned the rights for that name, they came up with the current name. Henrik Wikström composed "Okej, jag ger mig" for MF'83, without much success. This song is rumoured to be one of the stronger of the lot, reminding a bit of Cher's latest hits. Both bandmembers come from the north of Sweden, and they are certainly chasing an international career after MF.
Published by Misty Music/Anders Mörén & Billy Butt (Suss von Ahn)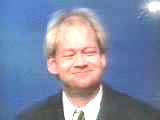 5. "Alla Änglar sjunger"
(All the angels sing)
Music/Lyrics: Stephan Berg (pictured right)
Performer: Tom Nordahl
The second of the three "scandal-entries" that were rejected by the jury, but inserted by SVT. Stephan Berg has been supplying songs for MF for the last ten years, with two wins: 91 and 97, and just like Ralph Siegel he always promises never to come back to the contest ever again. This ballad entry will be performed by a young singer that won the Swedish final of Soundmix (Stars in their eyes) in 1999 with an impersonation of Jon Bon Jovi.
Stephan Berg has through the years had nine songs in the Swedish final, and two have won through to represent Sweden, and one song, "Fångad av en stormvind", sung by Carola, won the Eurovision Song Contest (ESC) 1991.
6. "När vindarna viskar mitt namn"
(When the winds whisper my name)
Music/Lyrics: Thomas Holmstrand, Peter Dahl, Linda Jansson
Performer: Roger Pontare (right in 1999)
Third time around for veteran Roger Pontare, whose outfits keep getting weirder and weirder... This is said to be the rockiest and most uptempo of his entries, with rather patriotic lyrics. One of the composers, Linda Jansson, was a member of girlgroup Angel in MF'92.
Published by Scandinavian Songs AB. Linda Jansson took part previously in girl group Angel, who opened the 1992 Swedish final with "Venus Butterfly", written by Nick Borgen and Bert Karlsson. Pontare is also a veteran, representing Sweden in 1994, and was in the 1999 Swedish final.
7. "Varje timma var minut"
(Every hour, every minute)
Music: Johnny Thunkvist
Lyrics: Ulf Georgsson & Patrik Ahlm
Performer: Javiera
Johnny Thunkvist wrote the very 50's-sounding "Jag kan se en ängel" for MF'92, but now for something completely different. Javiera is a 20 y.o female singer, unknown as yet to the public, aiming at an international career, riding high on the salsa/latino-trend started by the likes of Ricky Martin and Enrique Iglesias. If Javiera wins, she says she'll be singing in Spanish on the big night. If she sings at all, two days before the list of performers was official, Javiera had cold feet and decided not to take part, but after some negotiations with the record company, she was back into MF again. This is the third of the songs participating without being chosen by the jury.
Published by Scandinavian Songs.
8. "Tillsammans"
(Together)
Music/Lyrics: Mikael Wendt & Christer Lundh
Performers: Midnight Band
The songwriting tandem of Wendt/Lundh have graced many a Swedish final, especially in 1990, where they had written three of the ten entries, of which Mikael Wendts "Som en vind" won the whole thing. Now they are back after some years of absence, with a very jazzy number. So, of course, there will be a jazz band performing it: the Midnight Band, one of the members being the son of jazz legend Stan Getz.
Published by Bert Karlsson. Micke Wendt and Christer Lundh have both taken part in the Melodifestival many times, most memorably with the 1987 Swedish entry "Fyra bugg och en coca cola" (later renamed to Boogaloo) with Lotta Engberg
9. "Anropar försvunnen"
(Calling the missing one)
Music: Bobby Ljunggren & Robert Ullman
Lyrics: Robert Ullman & Anna-Lena Högdahl
Performers: Whooopz Sisters
Bobby Ljunggren co-wrote Sweden's ballad entries of 95 and 98, but now he changed partners, and, most notably, style. This is a lively disco number, performed by the three comic strip heroines Melody, Harmony and Symphony, aka Whoops! At first, this band's name was Swing Sisters, but for unknown reasons, that name was changed. The members of the group involves one MF-veteran, Lizette Pålsson, who took part in 90 and 92, and another member is Annika Ljungberg, who had a monster hit with Rednex and "Cotton eye Joe" in 1994. The third girl in the group is Hanna Hedlund. This dynamic threesome is said to be designed to win, and if they do, the English title for Stockholm will be "Calling Major Tom".
Published byTrippel Music. Bobby Ljunggren has been involved in six entries to the Melodifestival, most recently 1998 with Kärleken är" (lyrics: Ingela "Pling" Forsman), sung by Jill Johnson. The song came 10th when it represented Sweden in Birmingham.
10. "När jag tänker på i morgon"
(When I think about tomorrow)
Music: Lasse Holm
Lyrics: Ingela "Pling" Forsman
Performers: Friends
Just like some other people mentioned earlier, Lasse Holm keeps promising never to return to MF and he has never kept his promise so far... Friends are more a project than a group. They are a hybrid between a popgroup and a danceband, created by the infamous Bert Karlsson for the TV4 documentary soap "Friends on tour". After one season, their album is selling quite well, but the last episodes have implied that there may be tensions in the group. Will they split up before the MF or rest intact? To be continued... The group has five members, and there have been some controversy surrounding the line-up for MF. Bert Karlsson wants to replace some of the members with backing singers for MF, something some of the members are very against. The song is described as a pop rhythm with positive lyrics, and, starting last, it could very well be the winner. If Friends stay friends, that is.
Lasse Holm har taken part as composer sixteen times, and has won through five times. Ingela "Pling" Forsman has written lyrics for 21 songs for the Melodifestival.
Thanks Tobias!
Jan Jingryd is again executive producer of the show.

If you have any more news or comments, please e-mail me, Geoff Harrison, at my contact page and I'll credit your contribution.