---
Sweden 1999
---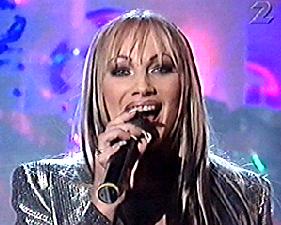 MELODIFESTIVALEN 1999 - updated 20 March - to add details of the results, sound files, pictures, and further comments:
Tusen och en natt - Charlotte Nilsson


Stjärna på himmelen - Drömhus

Det svär jag på - Arvingarna
So Charlotte Nilsson (right) will represent Sweden in Jerusalem. It's rather an old fashioned chugalong, with definite Swedish dansband tendencies, but is quite likeable. The show passed quite well, apart from a microphone failure for Arvingarna, which meant their song got heard twice - I wondered it this would make it win, but no.

You can read my comments in the song list in blue.
Hear a full length Real Audio clip of the song by clicking on this link, or a 4 minute reprise of all the 10 songs at this link.
A truly excellent very entertaining show, with a good sense of fun and some great songs - and all in Swedish - no English in this show (although Charlotte will sing in English in Jerusalem, unfortunately).
The voting was pretty crazy - we had juries from all over the country vote, leaving their top marks to last, and then going back for their top marks. Charlotte Nilsson won this, so then there was the voting based on the telephone calls, but this was so much weighted that the jury votes became irrelevant. Fortunately, the jury at home also found 'Tusen och en natt' their favourite.
Visit Swedish TV's web site for some nice pictures and info in Swedish.
Melodifestivalen took place in Stockholm on Saturday 27/2 with the following entries (Final List)
No:

Performer(s)

Lyrics /Music:

Points

Place

Picture

1

Tusen och en natt

Charlotte Nilsson

Words: Gert Lengstrand /Music:Lars Diedricson
Old fashioned chug-along, Rather like Swedish dansband

217

1

2

Det gäller dej och mej

Crosstalk

Words: /Music: Lars Edvall/Mattias Reimer
Lively dance number with some rap elements

87

6

3

Jag kan se dig

Janica

Words: Anders Dannvik/Pär Olsson /Music: Anders Dannvik
Slow ballad - rather weak

66

7

4

Stjärna på himmelen

Drömhus

Words: /Music: Per Andreassen and Anders Dannvik
Excellent lively modern dance song

148

2

5

Som av is

Roger Pontare

Words: Lars Johanson /Music: Staffan Stavert
Very folksy ballad with guitars and a lady flautist. Very Swedish.

98

5

6

(Du är så) yeah yeah wow wow

Martin Svensson

Words: /Music: Martin Svensson
Monotonous forgettable guitar opus

109

4

7

Välkommen hem

Christer Björkman

Words: Lars Sahlin /Music: Jan Lundkvist
Rather reminiscent of his 1992 offerring, this was slow & pleasant.

6

10

8

Bilder av dig

Ai

Words: /Music: Stephan Berg
Female voices dominated this reasonable dance song

42

9

9

Det svär jag på

Arvingarna

Words: /Music: Lena Philipson and Torgny Söderberg
Slow dance-ish piece. Had to be sung again after microphone failure - would this help? - it didn't.

114

3

10

Natten är min vän

Cleo Nilsson

Words: /Music: Thomas G:son
Very Svensk schlager with a big dansband sound and choir

59

8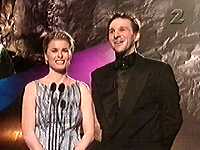 Presenters: Vendela Kirsebom Thommessen and Anders Lundin (pictured right)
---
No Lena Phillipsson, or Carola, but we do get Roger Pontare again (sang for Sweden in 1994), and the return of Arvingarna who sang for Sweden in 1993, and Christer Björkman who sang in 1992.
Some changes in the plans since Tobias Larsson's preview below this table (but it now updated), this is the final list from SVT.
Quite a few old faces, but for me the most impressive addition is that of massive Scandinavian hit makers Drömhus, fronted by the stunning 20 year-old Therese Grankvist. I well remember last summer's Number One single 'Jag Vill Ha Dig' which was very catchy and went like..
- Jag vill ha dig i mörkret hos mig.... (I want you in the darkness with me..)
Tobias Larsson reports on the upcoming Swedish Melodifestivalen:
On December 13th, all the titles were revealed:
BILDER AV DIG (Pictures of you)

Music: Stephan Berg

Lyrics: Stephan Berg

Performer: Ai

Stephan Berg is in the game again, this will be his 8th entry to MF since 1990.
He is, of course, the composer of "Fångad av en stormvind". The evening newspapers in Sweden suggest Carola as a possible performer, but this seems unlikely, especially since the song is said to be written for a "girl band", and since Carola is certainly not a girl-band, and not very keen on taking part again, there will probably be someone else on stage.

DET GÄLLER DIG OCH MIG (It concerns you and me)

Music: Mattias Reimer

Lyrics: Lars Edvall

Performers: Crosstalk

A new team with one of the more modern efforts of the years, apparently. The song is described as a modern popdisco with some rap elements. The group is formed by three guys and a girl, and are not famous (as yet) in Sweden.

DET SVÄR JAG PÅ (I swear on it)

Music & Lyrics:

Lena Philipsson & Torgny Söderberg

Performer: Arvingarna

This is something to make fans of Melodifestivalen all happy, after four previous participations (performer in 86, 87, 88 and composer in 91) Lena is back in the Swedish final. There has not been a lot of talk about her lately, and yesterday she came down with her second child. The jury of SVT recognised her voice in the demo. She was rumoured to want to participate in 96, but backed out. According to Torgny Söderberg, the song is the best one they ever wrote, and it is described as a "melodic popsong".

JAG KAN SE DIG (I can see you)

Music: Anders Dannvik

Lyrics: Anders Dannvik & Per Olsson

Performer: Janica

Anders Dannvik has qualified with two entries in Melodifestivalen 99. He has participated before (5 entries), and this is said to be a soulful ballad with Spanish guitar. The singer is not yet announced, but said to be a talented singer that has provided a lot of backing vocals during the years.

NATTEN ÄR MIN VÄN (The night is my friend)

Music: Thomas G:son

Lyrics: Thomas G:son

Performer: Cleo Nilsson

Thomas G:son is the heavy metal-lover from Skövde that has been writing several major hits for Swedish dancebands. This is his first MF-entry, and it will most certainly be performed by his partner, Cleo Nilsson, singer in one of Sweden's up-going dance bands, Cleo & Grabbarna (Cleo & The Lads). It is described as a "typical uptempo schlager".

SOM AV IS (As if by ice)

Music: Staffan Stavert

Lyrics: Lasse Johansson

Performer: Roger Pontare

This is described as a well-arranged, powerful ballad, with influences of folk music. The composers are unknown (at least for me), but the singer is said to be a familiar face for followers of Melodifestivalen, and rumours have it that it might be Roger Pontare, who sang for Sweden in 1994 together with Marie Bergman. (pictured right)

STJÄRNA PÅ HIMMELEN (Star in the sky)

Music & Lyrics:

Per Andreasson & Anders Dannvik

Performer: Drömhus (right)

This song, described as a hybrid between E-type and Torgny Söderberg, is the second of Anders Dannvik's two entries to MF. This duo have worked together before on numerous occasions, their last joint contribution was "Följ dina drömmar" in 1995. The singer will be "a young female popsinger".

TUSEN OCH EN NATT (A thousand and one nights)

Music: Lars "Dille" Diedricson

Lyrics: Gert Lengstrand

Performer: Charlotte Nilsson

This fast, upbeat popsong will be performed by Charlotte Nilsson, who took over as lead singer in the dance band Wizex after Lena Pålsson (MF'92 and 93), and who has been visible as a backing singer for Björn Hedström in MF'95.
The composer is an established name in the dance band world, and Gert Lengstrand has written numerous lyrics before, most notably "Eloise" for Arvingarna.

VÄLKOMMEN HEM (Welcome home)

Music: Jan Lundkvist

Lyrics: Lasse Sahlin

Performer: Christer Björkman

Lasse Sahlin signed the lyrics for "Nu idag" in 1997, and has worked for many Swedish popacts, most notably Nordman. The composer makes his debut in MF. The performer is yet to be decided, but rumours have it that Christer Björkman might want to make his comeback here. It's yet to be seen...

(DU ÄR SÅ) YEAH YEAH, WOW WOW (You are so yeah yeah, wow wow)

Music: Martin Svensson

Lyrics: Martin Svensson

Performer: Martin Svensson

This is certainly the title of the year, a title that would have been laughed at, had it not been for the fact that the composer is one of Sweden's most promising debutants of last year. 20yo Martin's first album "Pojkdrömmar" (A boy's dreams) was very well recieved, and he became the big favourite among young girls. He described his song as "an ironic and playful popsong". He claims to have been surprised to be accepted, and says he "might" sing his own song. He will have to, since the jury recognised his voice as well...
Melodifestivalen will be held in Stockholm on February 27th. For the first time since 1995, there were no invited composers, but the final result seems a lot more promising than one might have feared.
The jury also selected three back-up songs to be used if any of the songs would have to be taken out of competition for one reason or another.
Since 1994, SVT have a rule saying that the person singing on the demotape will have to perform the song in MF as well, if SVT wishes so. If not, the song will be disqualified, if the composer(s) can't come up with an established replacement. This has been the case once, in 1994, when Stephan Berg's "Jag ser dig" was disqualified (and replaced by another Berg-composition), only to be recycled the next year as "Joanna".
Thanks very much, Tobias!