---
France 2000
---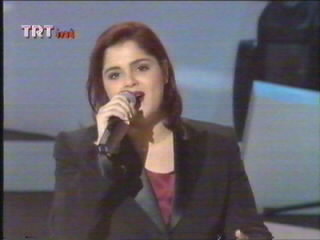 19-year old Sofia Mestari will represent France in Stockholm after winning the French National final on February 15th with the song "On aura le ciel". Thanks to my friend Ian Fowell for telephoning me with this news.
Ian tells me that Sofia is of Moroccan origin and the song has similarities with Marlayne's Dutch Eurovision entry last year. Second-placed Jessica Ferley's song was a Celine Dion style opus. Patrick Fiori (France ESC1993) sang at the start of the show, was part of the judging panel, and read out the placings. Of the other acts Mademoiselle was an all-girl group with a bouncy pop song, and Hologramme was a 2 boy, 2 girl otfit who couldn't sing well. More new later along with pictures & clips.
France 3 presents the 14 songs competing to appear in Stockholm on Tuesday February 15th from 1955-2215 UK time. The presenters will be Julien Lepers and Karen Cheryl, and there'll be the usual collection of nostalgic clips.
France 3 can be received all over Europe on the Telecom satellite.
Title

English Trans.

Performer(s)

Place

Martin Huber of OGAE Austria writes "The French final will be held at the Olympia in Paris on 15th February 2000."
He adds that he will be there along with OGAE-Austria-President Sven Koblischek

Thanks Martin!

Here's the list of songs and performers taken from the French OGAE fan club web site http://www.geocities.com/eurofans

Thanks to Alex Rouffignac for sending me the link to this essential resource for French-speaking song contest fans.

The 1999 French final was also held at Olympia, and it seems France 3 will again be making the programme, and again the winner will be decided by a jury, rather than televoting.

Jean-François Loiseau writes: I have just gone through the list of the French performers for ESC 2000. As in the past, they are all unknown! I have never heard of them. I do not know where they are coming from but according to the name of the performers, I guess that the multi-ethnic face of France will be well represented in this selection.

Thanks, Jean!

If you have any more news or comments, please e-mail me, Geoff Harrison, at my contact page and I'll credit your contribution.

Autour de toi

Around you

Orijin

3

SOS

S.O.S

Mademoiselle

Espoir

Hope

Jessica Ferley

2

L'amour en noir et blanc

Love in black and white

Ebony

Pense à moi

Think of me

Gildas Thomas

Tu en fais trop

You do too much of it

ZH

Tendresses

Tendernesses

Jenny Zana

Nous deux

Us two

Stéphane Godsend

On aura le ciel

There will be the sky

Sofia Mestari

1

Libérez

Release

Guillaume Eyango

Maintenant

Now

Alexandre Aiden

Une très belle histoire d'amour

A very beautiful history of love

Christophe Sarti

L'amour avec des gants

Love with gloves

Hologramme

Jeunes solidaires

Interdependent young people

Soundkaïl