---
France 1999
---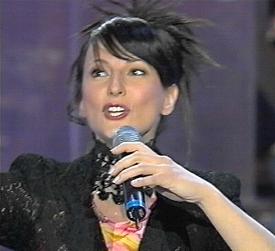 Updated 25 April to add my comments.
On Tuesday March 2nd, France 3 held the contest to select France's song for Jerusalem, and "Je veux donner ma voix", a dramatic chanson with Celine Dion overtones, performed by Nayah, (right, pictured kindly supplied by Alex Rouffignac) was selected.
The selection was by televote plus an in-studio jury with Gibert Becaud, Richard Cocciante, Marie Myriam, and others, but no votes were announced, nor placings beyond first.
Gibert Becaud read out the result.
Marie Myriam briefly sang her 1977 winning song in German during the show, when interviewed in the audience by the presenter, Julien Lepers.
The show was fairly well done, and the audience in the vast Olympia lapped it up, but many of the songs were rather amatuerish, but that's just my (Geoff Harrison) view. You can read my comments on each song below.
There was some suggestion Nayah might have had to be pulled out, as she belongs to an illegal organisation, but it seems that she will be singing in Jerusalem.
Alex Rouffignac reports (2 March):
The winner of the french selection "Eurovision 99 : la selection" is NAYAH with the song "Je veux donner ma voix".
The song can be discribed as a classical french ballad. It doesn't sound to much old fashioned and sometimes reminds me of Jean Jacques Goldman's songs for Celine Dion, but for a very short time unfortunately.
The voice is nearly good and strong, but the song ends with a very high note, and she had problems to perform it both in the selection and in the reprise of the song.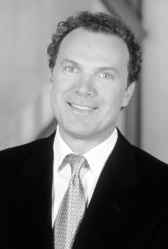 She was wearing a dress from the famous Christian Lacroix, and seems to have the same hairdresser as Jill Johnsson last year. (I think this a joke! :GH)
The general level of the songs were quite low, but nethertheless higher than the one of the French selections in the 80's.
Some of the singers didn't know very well how to sing and some performances were really ridiculous. Amina was not in the 10 members jury,as it was planned; does it mean she is somewhere near Sarajevo ? Only the winner was announced, no votes, no placings.
Thanks very much, Alex!
Click here to jump to the list of songs.
France 3 text: A live broadcast from Olympia presented by Julien Lepers (right) - France 3 brings the selection of the artist who will represent France in the Eurovision Song Contest 1999. For the first time the televiewers will vote live to choose from among 10 candidates selected by professionals the song and singers who will represent France in the Eurovision Song Contest 1999 in Israel.
Throughout the evening, extracts from the Eurovision Song Contest will recall the history, the memory and the emotion of those great past contests.
#

Title

Singer(s)

Geoff Harrison comments:

1

Les droits de l'âme

Alex

Hey, is this the Portuguese contest? - Dark haired girl sings with backing from drums & bagpipes

2

Euroland

Karine Trécy

Fast rubbish from young Karine who sings of 'Urroland'

3

Douce

Caractère (a boy band)

Five black guys with no idea about melody

4

C'est souvent ça, l'amour

Nathalie Marine

Blond girl with a deep voice and little talent

5

Plus jamais, never more

Pedro Alvez

Fairly passable ballad from Spanish-looking Pedro who sports a little beard & moustache, and can sing

6

Go ahead

Anath

Dark-haired girl in a strange song which was by turns slow and then fast in the 'Go ahead' bits. Not great

7

Irradaka

Kukumiku

Whatever this was, it wasn't in French, and had an inaudible accordion. Wish the rest was similar

8

La même histoire

Ginie Line

Vaguely motown feel to this fast song

9

Gazoline

Mo & la Gazo (a reggae song)

Some sort of Creole effort. Dreadful to my ears

10

Je veux donner ma voix

Nayah (Winner)

Nayah can sing, has some prescence, and the song has emotion & melody. In this company, an obvious winner, but the terrible costume has to go!

11

Ihtidael

Israhn (not in French!)

Lots of wailing, not much lyrics or melody

12

Eurosong

Uni.T

Two girls, two boys, crazy clothes. Lively. Could've been good, but turned out second-rate.
Earlier info:
Alex Rouffignac reports (7 Feb) on a surprise for 1999, a French National Final:
It has been anounced yesterday evening on the private channel Canal +, that France 3 (that will broadcast the ESC this year instead of france 2) planes to choose the french entry for ESC 99 in a television programme on March the 2nd. The song would be choosen by a jury, not by televoting.
Nothing was said about the possible entries in this selection, the very first one since 1987.
Thanks, Alex!
If you know more, please e-mail me, Geoff Harrison at my contact page