---
Israel 2000
---
Updated 12th February: The Israeli entry (song and performer) for the 2000 Eurovision song contest in Stockholm was chosen on 6th of January. Ping Pong will sing "Same'ach" (Happy).
Itamar Barak has now interviewed Chicky from the band, and you can read that part of the page here. As ever for Israel, controversy dogged the choice, and you can read about it here. Slightly older news about who the band are is further down the page here.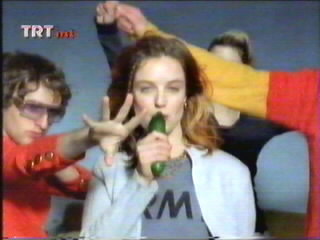 Here's the lyrics translated into English from Omer Oron in Israel:

All day long I'm sitting in the kibbutz
Another cigar and it feels a little sour
All the time just depression and boredom
If I won't finish, it will end up in a boom

Oh oh happy...

All day long wars on television
And in Australia floods have begun again
Here comes Sunday's depression
I want, I want a cucumber

Oh oh happy...
Latest news: Itamar Barak reports from Israel:
I had an interview with Roy S.Chicky Arad, one of the composers of the Israeli entry "Same'ach" and member of the band Ping Pong. After two minutes of conversation I was convinced that the comparison to the Israeli entry of '87(the Lazy Bums) is wrong. This is a well-prepared entry with a full Eurovision idiology to support it.
For 4 years Ping Pong has been concocting its debut album, a sweet pop explosion whose temporary name is "Between Moral and Fashion". It was hard work, the best underground people were hired, and the targeted goal was clear yet complicated: creating the sound and appeal of the first decade in the third millennium. This is a happy, intelligent and moving album, already in the process of re-mixing in the hands of the top DJs of Amsterdam, London and New York. The band regards itself not only as the Eurovision representative of secular Israel, the new Israel of the peace era, but also as an ambassador of the Dance Nation in this traditional and loved competition.
Chicky says:"It is very irritating that after you had been working on something you believe in for 4 years,there come people who never heard anything of our material and start scorning us,and regarding us a bad joke.We love Eurovision. We all have old Eurovision records at home".

Chicky adds "Guy Assif (known as GuyGuy, who is another composer and band member) and myself are journalists and in the past years we had a great contribution in the revival of the Pop culture in Israel. Eurovision in recent years was quite dull, except for last year. Charlotte's entry was great and we liked Selma as well,she was fantastic".Chicky seems to be tired and a bit insulted by being regarded as a joke:"The next journalist who asks me if we are somekind of a Eurovision joke will get a slap from me!"
I asked him if they are aware that they will be the first entry to walk on stage: "We will be the first band in the Eurovision's line up. With that, we will actually open the year 2000 and indicate where this decade is going. This is a very heavy task for us", when asked if the song stands any chance of winning as being played first, Chicky demonstrated his Eurovision knowledge: "Well,Brotherhood of Men won in '76 when they performed first and I think Sweden did that as well,so I think we have a chance, even though the voting system has changed".
Regarding the scandal concerning their selection process, he says: "We are happy there was an outrage about us.Personally, I love the Yossefi sisters and I adored their 1989 pre-selection entry. I am glad we contributed to their media exposure. But anyway,we're sorry we didn't come to court. We saw that there are many sexily dressed people in "Ally McBeal"..."
Ping Pong's song "Happpy" (yes, I spelled it right,the song is that happy...) is a fast dance song with a provocative feminist message. It gets stuck in your mind after ten seconds, and only hypnotherapy can remove it. As a hugh fan of the seventies pop music, Chicky promises that "Happpy" will not be different.It will have an Orchetrsa on it's backing track.
The first international release of the hit will be in Tel-Aviv's gay discotheques,but a CD single of a different song from their debut album is to be released soon. The members of the band promise one thing only : they are not promising anything! It is assumable that Israel will again make a lot of noise and "happpiness" in the Eurovision.
Shalom, Itamar Barak, Israel.
As reported today (10 Jan) in Israeli "Yediot Akhronot" paper:
The singer Offira Yossefi, composer Yoram Zadok (ISR'86) and lyricist Hamutal Ben-Ze'ev (ISR'85 and '95) are demanding that the song "Same'ach" by the band "Ping Pong" should be disqualified from representing Israel in the ESC 2000, and to chose their entry "Tikva" (which means Hope),which reached the second place in the pre-selection: only one point less than Ping Pong's.
T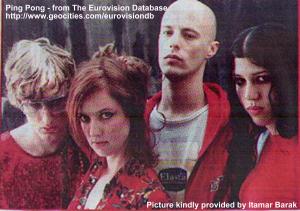 he writers of the song claim that "Same'ach" didn't meet the standarts the IBA has set itself by pointing that all the entries which were submitted to the committee, should have been composed and writen by AKUM (Israel's composers and lyricists association) members- Roy Arad and Guy Assif are not members of AKUM. Zadok and Ben-Ze'ev also claim that some members in the committee have personal and professional relationships with the winning entry's composers, a fact that questions the sincerity of the selection. The two refrained from giving names, but it seems they meant Gal Ochovsky, a committee member, who is the editor of Guy Assif in "Ma'ariv"'s culture magazine, and Assif is his editor in Ochovsky's culture magazine on IBA.
All three intend of sending a complaint to the IBA's general manager. If this won't help, they claim to have every intention of filing a suit in court. The last time that this happend in Israel was in 1992 when Anat Atzmon demanded that Dafna Dekel's song "Ze rak Sport" should be disqalified since it was longer than the three minutes limit.
Shalom, Itamar Barak,Israel.
As reported today (9 Jan) in Israeli "Yediot Akhronot" paper:
If Dana International's selection as Israel's entry to the ESC two years ago was controversial, this one is even greater.The group Ping Pong (Ahel Eden, Yifa'at Gordon and Guy Assif and Roy Arad who also wrote the song) was established within Tel Aviv's most odd and bohemic sectors.They do not regard themselves with great importance, nor anybody else.When they sent their song, "Same'ach", to the Eurovision committee it was a joke, and they even forgot all about it.
Guy Assif, known as GuyGuy, is the daily paper "Ma'ariv"'s deputy editor of the culture magazine and the editor of IBA's culture programme. His best friend, Roy S.Chiky Arad (the S. stands for sexy) is also a journalist. He is known for his fondness to disco clubs, shiny second-hand suits and water pistols...
The two girls, Ahel and Yifa'at, never dreamed of a musical career. They were called on board by Arad-Ahel was his flatmate and Yifa'at is his ex-girlfriend.
The song "Same'ach" (which should be pronounced Sameyach) is one of the songs in their upcoming debut album. The group members see this song as a feminist declaration because of the line:"I need a cucumber"...
Their selection fell on the group with total surprise. Arad forgot all about it,Eden is not in Israel at the moment and the group's manager, Ronen Ben-Tal, is having a hard time facing the media's need for details. He asked the members of Ping Pong to keep quiet. Only Assif said, "As the song's moto goes,I'm happy we won and we are proud to represent Israel. Anyway, I heard that Swede's are good looking..."
"Same'ach" overcame songs by famous artists in Israel. When it was first played it was obvious that most of the committee liked it-they just burst into laughter. But not everybody thought it was the best choice.
Avihu Medina, a well known artist and a committee member, thinks Israel will have a national disgrace on May 13th,"This song sounds like a 6 year old girl's song. It's childish and stupid.I don't understand why all the countries make an effort to come up with good entries while we have to bother the audience with three minutes of this nonsense. I can't imagine even one sane person who will vote for it".
Another member, Yoav Ginay who wrote the lyrics for "Diva", thinks the song will be a hit in Israel at least, "It's a nostalgic song with a crazy beat which makes you smile. There's no doubt it is not a serious song".
Irit Linur, member of the committee,"It is a very stupid song but I like it, and there's no need to search for a special meaning in it. Some of us liked it and some went to throw up after we heard it.It is a worthy song.We are not fighting to save the future of Israel here". "Do you think it will do any good on that night?", "Who cares?" she says.
Shalom, Itamar Barak, Israel.
Thanks very much Itamar!
If you have any more news or comments, please e-mail me, Geoff Harrison, at my contact page and I'll credit your contribution.