---
Switzerland 2000
---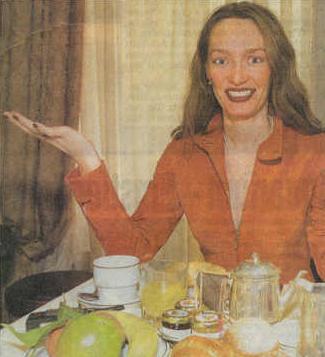 Jeanne Bogaert (pictured right from a Swiss newspaper - sent to me by Roger Kolly) sang the winning song "La vita cos'é" in the Swiss National final held on 29th January 2000 in the Casino Kursaal, Lugano. Presenter was Matteo Pelli. There's now another picture below.
Play a Real Video G2 full length clip at this link
Roger Kolly reports: Only the televoting jury from Geneva and Zurich voted; they had problems with the jury from Lugano. After the 2 juries from French Switzerland and German Switzerland Autseid and Lauranne was in the lead, then the jury experts voted for Jane Bogaert. She's 32 years old, and an ex-Model for Playboy.
At 19 years she was Miss Switzerland, at 22 singing with A-ha. After this she sang with Al Jarreau, Chris Thompson, David Hasselhoff, Toto Cutugno, Milli Vanilli and (German schlager star) Claudia Jung.
Right now she's the singer partner with Al Bano (from Al Bano and Romina Power). She's love in Rio Reiser, an German singer.
In the newspaper cutting Roger sent Jane says she's no null-pointer. Asked about (1998 Swiss entrant) Gunvor's zero points in the 1998 Contest, she says she wouldn't come home if she had no points, and added she thought the Swiss contest was a good springboard for new talent and would give Switzerland a new image. Asked about her Playboy model career she said that she'd been only 19 at the time, and was happy about the photos - they were aesthetically pleasing. Gunvor also had a nude modelling career of which she was less proud..
See the scores further down the page at this link.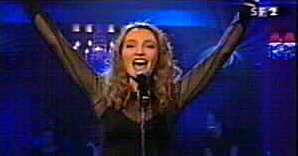 Before the contest Roger Kolly wrote:
I have more informations about Switzerland!
The perfomer "Nubya" is a "black" woman. She's a daughter from a Swiss woman and a Nigerian man. She sang with Whitney Houston in Zurich in 1999. She has a CD "From the bottom of my heart" and she's the great favourite for the Swiss-preselection in Lugano. She sang the song "Just for you" with the composer Al Walser, and the song is very very good!!!!
Jane Bogaert she will sing us a ballad. She's an Playboy Ex-Model, and she sang with Roland Kaiser, David Hasselhoff and Al Jarreau. Now she's the partner from Al Bano (from Al Bano and Romina Power). She's love in Rio Reiser, an German singer.
Bye!
Thanks, Roger!
Composer

Performer

Televoting DRS/TSR

Expert Jury

Total

Place

Génération

Benoit Kaufman

Charlotte Mahoney

2

6

3

11

=3

Vous

B.Jacqui

Lauranne

1

8

2

11

=3

Thank you for the flowers

Leo Leoni

Elisabeth White

3

4

4

11

=3

Just for you

Al Walser

Nubya & Al Walser

6

2

6

14

2

La vita cos'é

Bernie Staub

Jeanne Bogeart

4

3

8

15

1

Glückstränä

Bernie Staub

Autseid

8

1

1

11

6
Their websites:
Elisabeth White: http://www.tio.ch/ewhite 26-year old born in Sydney, but brought up in the US
Nubya: http://www.web-art.ch/am2/nubya.html 23-year-old gospel singer
Autseid : http://www.autseid.ch 7-piece band who've been performing together several years
Lauranne: http://www.fusions.ch/lauranne Neuchâtel-born twenty-something influenced by the likes of France Gall. On the website you can see a picture of her with a street lamp growing from her head!
If you have any more news or comments, please e-mail me, Geoff Harrison, at my contact page and I'll credit your contribution.