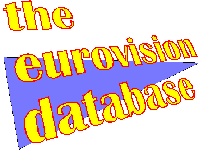 ---
1998 Eurovision Song Contest, 9th May, Birmingham, UK
---

Add your thoughts to the We Love Eurovision page
December 6th - There is now a 1999 page!
Latest update - May 24th -OK it needs updating! - soon(ish)!
See who's out in 1999, and the CD covers for 1998; more news under Dana

Winner Dana International, Sunday 10th May (Photo ©Geoff Harrison 1998)

Official sites well worth a look (a new browser window will open):
BBC's Official Site - Full Biographies, and interviews with the presenters and Britain's Imaani - excellent!
European Broadcasting Union Official Site - Counterpart to the BBC site, this has original language lyrics
Birmingham Official Eurovision Site - Nice quizzes, plus the all-important merchandising!
You can still read my 'old' news page from April month at this link.
The Trehantiri record shop e-mails (May 3) "We now have in stock, this years entries for Poland, Switzerland, Malta, Holland, Belgium. Most others are on their way. we also have The Eurovision Companion book in stock."
Internal links: