Previews
Still frames from all the videos - just click this link!
FLASH! - TRT showed all of the preview videos 14th April, (very much a surprise!) but with poor sound.
Last year RTPi showed the previews, as did TRTint, and RTE, NRK, and SVT amongst others. Best hope for those of us in the UK is German TV (see right)
Jon East, ICOMM Technologies Ltd writes: Our company has produced the Eurovision 98 web site for Birmingham. Aside from Contest Info & News, there's a daily quiz, games, voting, results and in about a week, official Eurovision merchandise.
And the EBU site finally came alive!
The BBC have launched a very promising Official Song Contest Site - take a look, but remember this site is not just for 1998!
Phil Colclough's Eurovision Poll site has had a face lift! - go take a look!!
Spanish TV will be showing a special Eurovision Gala TV show on 22nd April - should be on TVE - International
Tickets
Reports are coming in of people receiving notification that they have got a ticket in the draw, for the big night on May 9th. However, some have not yet been notified (April 10th).
Katie goes trash
71-year old former Song Contest presenter Katie Boyle is to co-host the next series of Eurotrash on Britain's Channel 4. [PA news]
Bananarama go Euro
80's girl group Bananarama have reformed to record 'Waterloo' for an album of cover versions of Song Contest winners. Others will include Kenickie's version of 'Save all your kisses for me'. [MTV]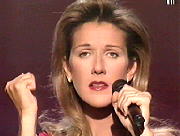 Ten years ago, Celine Dion (above) won the Eurovision Song Contest with "Ne partez pas sans moi", but in the 1998 Academy of Motion Picture Awards, her number 1 hit song, "My heart will go on" written by James Horner & Will Jennings, won the Oscar for Best Original Song from the film 'Titanic'.
18 April N3 20.15 CET: "Der schönste Grand Prix" (German celebrities competing against each other with ESC songs, including Mary Roos with Norway 85).
23 & 30 April N3 23.50 CET: The previews, set in a village pub with special guests, plus "the locals". (note time change)
1 May ARD 20.15 CET: The send-off Party for Guildo Horn - 2 hours live from his home town of Trier.
9 May ARD 20:15 CET: Live report on the Guildo Fans from Birmingham! [Thanks to Ivor Lyttle for this]
"The Complete Companion to the Eurovision Song Contest", by Paul Gambaccini, and others has just been published in the UK at £9.99. Quite nice - has the results tables (but you can find most of this here at the Eurovision Database) & pictures, but a few errors like Peter Andersson being in Sweden's "One More Time" in 1996. Worth a look.
Slovakia


Slovakia made its decision about the Slovak entry on March 9th, according to Slovak Television sources. Katarína Hasprová, was indeed selected to sing "Modlitba" (A Prayer), and Slovak Television have now supplied me with lyrics and a biography at this page. [GH]

Titanic producer
BBC-TV executive Kevin Bishop, recently opened a display about the Titanic at The National Sea Life Centre in Birmingham, right next to the National Indoor Arena, venue for the Song Contest in May.
Bishop, who was in the city making preparations for the Eurovision Song Contest in May, spoke to local schoolchildren about his research into the life of his great great grandfather Captain EJ Smith who captained Titanic, and the disastrous voyage. He then officially opened the state-of-the-art simulation unit, which allows visitors to "dive" to the eerie depths in an elevator, where they witness parts of the wreck of the ill-fated ship. [PA News]
France 2 showed a tribute to the Song Contest, Vive L'Eurovision on Saturday 21st March.
It featured a host of past French stars such as Michelle Torr, Corinne Hermes, Hughes Auffray and Marie Myriam, who talked about their entry for France, and France's 1998 hopeful, Marie Line, was on hand to sing 'Ou Allez', the 1998 French Entry.
There's a picture of Marie, and a sound clip on the page at this link.
Also present on the show was Israel's Dana International (pictured above/right), who couldn't sing the Israeli song, Diva, due to the rules, but sang another great song instead. The show's presenter, Dave, interviewed her in English, and praised her for her courage.
Dana explained the origin of her name, and said she was in Paris for Jean-Paul Gaultier to dress her for the final on May 9th.
I have a page about the controversy over Dana International, and Adar Openheim has a site devoted to Israel at the song contest, and has a full length song clip of Diva.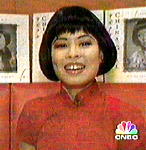 Vanessa Mae/Interval

Rumours of violinist Vanessa Mae (right) for the interval in May are confirmed. Operatic diva Lesley Garratt will also take part, along with the Canoldir Male Voice Choir. [Chris Sola]