---
Israel 1998
---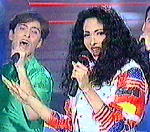 Israel had no national final, instead of the usual "Kdam", a song and artist was nominated:
Dana International, one of Israel's top female singers, is going to sing for her country in next year's Eurovision Song Contest. A scandal is unfolding in Israel because Dana is a transexual and religious groups object to her representing Israel. She was born Yaron Cohen into a Yemenite-Jewish family. Four years ago in London, Yaron underwent a sex change operation. Now the Israeli selection committee have named her to sing Diva, chosen from 33 entries, in Birmingham next May.
The chairman of the selection committee, Gil Samsonov, said it was "far and away the best." Samsonov said the fact that the singer is a transsexual may even give the Israeli entry a slight advantage. "We should be seen as a liberal, free country that chooses songs on their merits, not on the basis of the body of the man - or woman (singing)," he said.

Dana was narrowly beaten in the 1995 Israeli final (shown here above right), and potential scandal was avoided. Read more at the Irish Times web site at this URL. [Thanks to Aingeal Flanagan for this news. Some parts of this report from Associated Press]