---

Spain 2000

---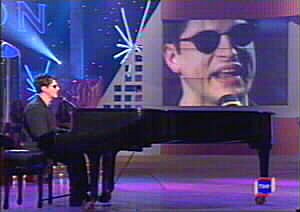 Results & video clips below!
And now you can read my report, or that from a Spanish contributor Samuel Freire, and the lyrics are here also!
Spanish Television (TVE) presented a glittering National final on February 8th - the first Spanish final since 1976. Despite being planned at short notice, it turned out to be an excellent, if somewhat long and late, show. (Over three hours ending at 1:30 am local time!)
Many of the artists were not well-known in Spain or elsewhere, but the winning singer will be familiar - no not Anabel Conde, who came fourth, but Serafin Zubiri, (right) the blind pianist singer who represented Spain in the 1992 contest. That was held in Malmo, Sweden, so Serafin is going back to Sweden in May for Spain!
I was a little disappointed in the result, preferring the Second-placed song from Raúl, and that from Anabel Conde.
Anyway, in a first for The Eurovision Database, you can watch full-length video clips of the songs, and judge for yourself. They're all in RealVideo G2 (so you may need a newer player - visit http://www.real.com if needed) and are encoded for 28.8Kbps connection.
Clips are intended for promotional purposes only, and not to deprive rights owners of their dues.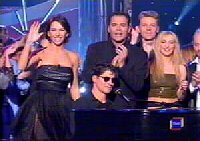 The presenters were Paloma Lago & Carlos Lozano (pictured left, first & third from left). Carlos looked a lot like Ricky Martin to me, and when song number one sounded like Ricky Martin, I thought we were in the Ricky Martin show, but things changed.
The show rather oddly opened with a song by Presuntos Implicados, seemingly a popular band in Spain - there was a advertisement for their album in one of the interminable commercial breaks. Perhaps the Spanish needed to be lulled into the Eurovision Songs.
Raúl (picture below right), sang the opening song "Sueño su boca", which was a very good song in the style of Latin hit-singer Ricky Martin. If this had won the contest I'm sure Spain would've done well in Stockholm, but it only came second in the end.
Around the songs there was the customary collection of old clips - every Spanish song from the very first was shown, except 1964, for which we only saw stills,as ever. I noticed they had black & white clips for 1968-1972, but there are colour versions of these shows around. Presumably Spain hadn't got colour TV itself at the time.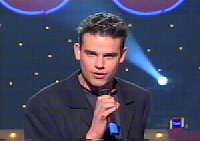 Anabel Conde (below left) got a rapturous reception for her song "Ni colores ni fronteras", in which she showed again her powerful voice which had helped make "Vuelve Conmigo" Spain's best recent placing - second in the 1995 Eurovision Song Contest final to Norway's "Nocturne".
In the middle of the songs we had another non-competitor act Los Panchos, who were pretty old-fashioned.
After the songs, Paloma & Carlos told us how to vote - just one number to call, but you could win a Mercedes car. You had to key in the number of the song you wanted to vote for.
There was a reprise of clips, then we had the interval act, "C'est la vie" from Jean-Michel Jarre.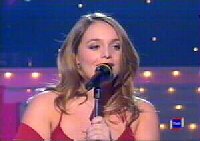 Straight after we went to the jury voting. An odd affair this:
We went all over Spain to 16 little juries of four people. We were introduced to them all. Most seemed to consist of TV or Radio executives, and were largely over 40, suit-wearing types. All very dull, but the scoreboard gave some laughs - jury number three had to vote three times before the votes came out right! The Catalan jury were the only ones with a sense of humour - seemed almost drunk! During all this Carlos kept telling us to vote - yes you could vote whilst the juries were voting! The voting itself wasn't very interesting - Serafin's song was always well in front.
Scores from the juries were 1, 2, 3, 4, 5, 6, 7, 8, 9, 10 points. When we finally had the televoting points it was awarded 10, 20, 30 points for 3rd, 2nd, & 1st only. It didn't change the result one iota.
#

Composer(s)

Performer(s)

Pts

Pl

My Comments

1

Sueño su boca
(I dream of your lips)

José Antonio Ogara & José Llobell

Raúl

152

2

Another Ricky Martin - lively, nice beat.

2

Ni colores ni fronteras
(Neither colours nor frontiers)

David Domínguez

Anabel Conde & David Domínguez

83

4

Anabel, looking good, shows off her powerful voice. David plays the guitar.

3

Sin fronteras
(Without frontiers)

Faustino Gómez & Rosa Berna

Alto Rango

75

6

4 dancers, plus blond girl & male keyboardist. Lively, but no melody!

4

Suave

Alberto Manuel Guzmán, Rafael Pastor & Pedro Morales

Angel Caramé

45

11

Angel sings with 2 girl dancers in funny white costumes. He takes off his jacket, but that's it!

5

Alcanzarás la luna

José Antonio Granados Paez

Alazán

76

5

Very Spanish thing sung by three not-so-young girls in leggings & halter tops

6

Lo quiero
(I want it)

Manolo Morvizón, Luis Baras, L.Roldán & Voss

Yago

133

3

Looks a bit like Julio Inglesias, but sings lively

7

Si te vas
(If you go)

Luis Villa

Olga Domínguez

49

10

Nervous girl shouting in a powder blue dress. Harsh & forgettable

8

Buscaré
(I will seek)

J.M.Alvarez, J.César Odro & Fernando Portillo

Aguadulce

20

14

Flamenco outing for 2 well-built girls. Monotonous

9

Colgado de un sueño
(Hung on a dream?)

Chema Purón

Serafín Zubiri

205

1

Standard ballad at the piano

10

El reloj
(The clock)

Fernando Calleja & Raquel Justicia León

20 años de cuna

23

12

Ugly man & pretty girl in a funny song with clock & cuckoo sounds

11

Muy mujer

Manuel Bravo

Manuel Bravo

3

15

Medium paced; guy in black

12

Mala racha

J.Taboada, J.García, J.Laguna & A.Mellado

Sur S.A

22

13

Group plays what I guess is Spanish jazz

13

Gotas de algodón
(Cotton drops)

Oscar Gómez

Miryam Fultz

58

8

Redhead in slinky purple dress sings slinky ballad

14

Bailando en la oscuridad
(Dancing in the dark)

S.Templa

Sito Abalos

52

9

Lively Latin beat, but a bit ordinary

15

Dónde estabas

Dulce Hernández

Dulce

59

7

Romantic ballad from a blond in a silver dress.
Samuel Freire writes from Spain:
Hi Geoff! Here is my view of the Spanish final!
Spain had its final on 8th February and the winner was SERAFÍN ZUBIRI.
The quality of the songs was poor but 4 or 5 were pretty good. One of those was the winner "Colgado de un sueño" (Hold on a dream) a pop ballad with a very sensitive chorus. Good option for entering the TOP 10! The composer is Chema Purón, who also composed "Vuelve Conmigo" (ESC SPAIN 1995).
Here is my view:
The show started well with "Sueño su boca" (I dream her mouth) sung by Raúl, a 21-year old male with a good voice. It had a very Latin feeling and was very catchy. One of my favourites.
The second one was the great Anabel Conde in a song in which she could show the power of her voice, "Sin colores, sin fronteras" (Without colours, without frontiers). But it had no chorus, so after listening to it, you couldn't remember how it as. But still a good choice for the contest.
Alto Rango were next with "Sin fronteras" (Without frontiers)...the same title again!! A pop-dance theme not very good but the favourite for the public there. A really Eurovision kind of theme. The singer was a blonde girl (really ugly) with 3 dancers. Also a guitarist.
Angel Caramé sang "Suave", another Latin song which could have been sung by Ricky Martin. He danced with 2 girls whose dresses were horrible. Good try, but not enough.
The group Alazán, composed by Azúcar Moreno's sister and cousins were next with "Alcanzarás la luna" (You'll reach the moon). A very flamenco song, very similar to "Bandido" but without their great voice and with no choreography at all!! It was OK, but something was missing.
And Yago brought "No quiero" (I don't want) which title reminded us of "No quiero escuchar" but this song was much better. Very catchy and it's one of those songs that grows on you. Another good option for going to Sweden. Incredible! It was the 4th Latin song in the night!!
And here, the disaster started with Olga. The song was great, with a rhythm similar to "Bailamos" of Enrique Iglesias. But this girl couldn't sing at all. She was very pretty but she seemed more interested in showing herself than in the song. She 'danced' (if that could be name 'dance') with 2 boys.
Agua Dulce is a 2 female band. Another typical Spanish song. It's one of those in which one of them shouts and dances. Well, not so exaggerated but it wasn't far from that.
The 9th song was Serafín Zubiri, whose song impressed all of us. He looked the same than in 1992, sitting in front of a piano and moving left and right but the song is so much different. The beginning was great, one of those that makes you shut up and just listen, a lovely ballad that could do something in Sweden. And the lyrics..." I don't mind when they say I don't touch the floor...they don't know I'm flying...She's the limit of my desires...Hold on a dream..." He got amounts of maximum votes and got the 50 points from the viewers (the maximum!!)
"El reloj" (The clock) started with sounds of a clock, as the title says and it didn't stop annoying until the end of the song. The group, 20 años de cuna, is formed by a man and a woman. This was the typical song for children.
We couldn't stop laughing at the next entry. Manuel Bravo was one of those men who doesn't stop making strange movements while singing. No good music, no good performance...disgusting! How could this man reach the final? The song was "Muy mujer" (Very woman)
SUR.S.A. are 5 gipsy boys from the south of Spain singing "Mala Racha" (Bad luck), another typical Spanish song which would do nothing in Eurovision. We like it (well, I don't) but we understand that Europe doesn't.
Miryam Fultz seemed to improve the quality of the last songs but...not enough. Her "Nubes de algodón" didn't impress the juries. The song wasn't bad but not very catchy.
Sito Ábalos was next, again a man trying to be Ricky Martin...don't you know he is the only one!!!!??? The song started well but after 10 seconds you hated it the most. "Bailando en la oscuridad" was the title (Dancing in the darkness)
And the last one was Dulce with "Dónde estabas" (Where were you), a great ballad divided into 3 pieces, very different one from the other. It was very original. Dulce had a good voice and shouted in every...break of the song?
Then the voting time came and the juries gave their points. There were 17 juries all around Spain (the 17 regions) which gave from 1,2,3...,9 and 10 points. The connection was made by Video-conference, so it reminded a lot the way Eurovision goes. Just great. And after that, the points of the televoting had to be summed up. 30 points for the 3rd song most voted: Yago "No quiero", 40 points to the second song, Raúl "Sueño su boca" and 50 points to Serafín Zubiri!!
The voting wasn't exciting at all because Serafín had most of the maximum votes. So he was the leader the hole voting until the end. It was easy to see he'd go to Sweden. When he realised he'd represent Spain again (and in Sweden again!!), he was very excited.
The final score was:
1.SERAFÍN ZUBIRI "Colgado de un sueño" 205p.
2.RAÚL "Sueño su boca" 152p.
3.YAGO "No quiero" 133p.
4.ANABEL CONDE "Sin colores,sin fronteras" 83p.
5.ALAZÁN "Alcanzarás la luna" 76p.
6.ALTO RANGO "Sin fronteras" 75p.
7.DULCE "Dónde estabas" 59p.
8.MIRYAM FULTZ "Nubes de algodón" 58p.
9.SITO ÁBALOS "Bailando en la oscuridad" 52p.
10.OLGA DOMÍNGUEZ "Si te vas" 49p.
11.ANGEL CARAMÉ "Suave" 45p.
12.20 AÑOS DE CUNA "El reloj" 23p.
13.SUR.S.A. "Mala Racha" 22p.
14.AGUA DULCE "Buscaré" 20p.
15.MANUEL BRAVO "Muy mujer" 3p.
So Serafín goes again to Sweden but now with a song much better than "Todo esto es la música". Surely, he'll improve that 14th position.
Good luck, Serafín!!
And here are the words in Spanish to "Colgado de un sueño". Thanks to Liam Pennington.
I tried my transaltion program on it, but the results were too funny to put up here!
Colgado de un sueño
en lo alto del cielo intento vivir
el mundo a lo lejos
parece pequeño visto desde aqui
Que no inporta lo que digan de mi
Que no tengo los pies en el suelo
Colgado de un sueño
Consigo vivir
CHORUS:
Aqui no hay limites a mis deseos
Nada me pueden prohibir
Navego libre por mis pensamientos
¡Que no me bajen de aqui!
Aqui hay espacio para mis anhelos
Todo se puede cumplir
Que no me obliguen a pisar el suelo
Que sólo quiero seguir
Colgado De Un Sueño

Flotando en el aire
Sin miedo a caer
Que el mundo es pequeño
Que todas mis ansias no caben en el
Que no me importa lo que digan de mi
Que no tengo los pies en el suelo

CHORUS

Colgado de un sueño (X3)
If you have any more news or comments, please e-mail me, Geoff Harrison, at my contact page and I'll credit your contribution.