---
Ireland 2000
---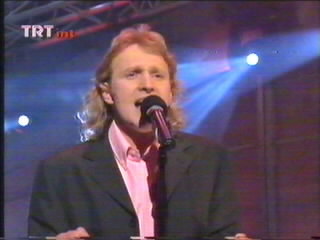 Eamomn Toal will represent Ireland with 'Millenium of Love'.
The Irish Entrant, Eamonn Toal, now has a website at: http://www.eamonntoal.com

No Pat Kenny, but we had Mary Kennedy as presenter, and the usual style of songs heavily dominated by ballads. Many were convinced cheesy "Millenium of Love" was the obvious winner, but for me Shimma's "When you are Near" was the most promising, but unfortunately it was a good song badly performed. The sound balance was poor, and Cecelia Aherne was too loud compared to the others. It seemed clear only she really had any idea how to perform the song. A documentary earlier had revealed the group was greated in a hurry to back Ms Aherne.
The voting was by telephone, but regionalised. I was greatly amused by the number of times Mary Kennedy told people to hold off voting just yet. Perhaps they too were bored with the slow pace of the show. The voting itself was pretty dull - Eamonn walked it everywhere.
The rest of the page has the original preview with the scores.
RTE plans its National selection to take place on February 20th.
It now seems Sky Digital will be showing the Irish final here in the UK on Tara TV.
Keith Mills was at the RTE Press Conference on 9th February, and brings us this update (final scores now added):
The Irish song will be chosen in a show broadcast from RTE's studios in Dublin on 20th February by televoting. The presenter will be Mary Kennedy (ESC 95). The progamme will go out live on Tara TV in the UK, and also live on the internet at http://www.rte.ie/eurosong.This site is being re-launched on Friday 11th February.
I believe the website may have the songs to download or stream from Friday onwards. My opinions may well change a lot when I hear the songs in full. For the first time EVER there is no song in Irish (Gaelic) in the final selection.
Pat Kenny (associated with the Eurosong for many years) is now no longer connected with Eurovision and Marty Whelan will be doing the commentary from Stockholm. We were introduced to 7 of the 8 singers and heard about a minute of each song.
Here are the 8 songs in more detail.:
A : "Millennium Of Love" Sung by Eammon Toal Written by Gerry Simpson and Ray J.Smyth. Unknown singer but it's Smyth 3rd Finals in 1996 his song "Missing You" which was highly rated and finished second to "The Voice". This sounded a bit like the standard "Euroballad" by numbers to me. 78 points/1st
B : "Why Did You Have To Go?" Sung by Karl Power Written by Andy Jack. Power is the lead singer with Dublin band "The Big Chill", Power nearly "made it big" as part of the band Freedom in 1990. This sounded very current in an American pop way. Mid tempo song. 30 Points
C : "All In A Lifetime" Sung and Composed by Liz Fletcher. From Athlone and unkwown by everyone. Very typically Irish Eurosong stuff. 48 Points
D : "When You Are Near" Sung by SHIMMA Written by Orla Keegan. This is the act that was drawing all the attention. Mananged by Louis Walsh (he managed Johnny Logan and Linda Martin and now manages Boyzone and Westlife) and featuring 4 teenagers (2 boys 2 girls) one of whom is the daughter of the Irish Prime Minister (Cecilia Ahern). VERY similar to a young version of Steps, including the song which is written by one of the singers in the very popular Irish band Who's Eddie? 55 Points/3rd
E : "Shine" Sung and Composed by Lisa Stanley. Daughter of the once very popular Massie McDaniel. Imagine a young Lisa Stansfield in sound and you get the picture. I liked what I heard of this. 34 Points
F : "Journey To The Centre Of Your Heart" Sung By Gavin McCormack and written by McCormack and Barry Grace. No Eurosong pedigree but Grace mainly works on TV and film soundtracks while McCormack experiences is in theatre musicals. Pleasant song, but not a winner I think. 31 Points
G : "Feel Good Emotion" Sung and Composed by Audrey Lynch. Another newcomer this time from Cork, previously with the group The Fabulous Solfa. VERY brief sample of this, but it sounded nice and breezy in a "One Good Reason" (Netherlands 99) kind of way. 47 Points
H : "Crossroads" Sung by John Hurley and Composed by Hurley and John Ryan. New names to me, but Hurley has had a song recorded by Niamh Kavanagh (Esc '93 winner). It sounded fairly ordinary Eurosong by numbers to me (but I said the same about the last two winners). 64 Points/2nd
I would make SHIMMA's "When You Are Near" a big favourite given all the publicity and the fact that it's the only really fast poppy song, that most people seem to want this year.
Thanks Keith. Thanks also to Frank Rafferty who also
Apparently Pete Waterman (of Stock/Aitken Waterman) is producing "Whenever You're Near" for Shimma for Eurosong 2000.
If you have any more news or comments, please e-mail me, Geoff Harrison, at my contact page and I'll credit your contribution.