Geoff Harrison (my contact page) reports live from the 2000 Eurovision Song Contest Press Centre in Stockholm.
I'd like to add a warm thanks to to Simon Crane at the Leicester Mercury, who was at the far end of my e-mails and published my reports in the Leicester Mercury's This is Leicestershire website.
Last updated Sunday May 21st 1200 - a review.
Click here to jump down to the latest update
Info for those in North America: Flash It seems MSN will show the contest on the Internet - 6 million viewers are hoped for. Check out this revised link (US MSN site not taking part, but this UK one IS) http://www.msn.co.uk. Word has it that Portuguese TV (RTPi) and French TV5 will show the contest (TV5 delayed) on Saturday. TV5 has wide cable availability in Canada, I know. RTPi is carried on a few cables, and can hooked off various satellites. Their web site is http://www.rtp.pt Good Luck. European viewers of course have no problem - 9pm CET Saturday May 13 (8pm UK).
May 5th 1000 Preview: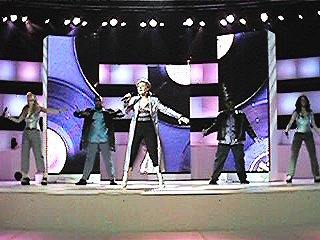 Can there be a more fitting place than Stockholm, home of Eurovision superstars Abba, to host that annual festival of music everybody loves, if only to hate, the Eurovision Song Contest?
I'm amongst of the thousands descending on the Nordic capital for this unique European summit, where Europe comes together to air it's musical differences in a smorgasbord of twenty-four songs battling it out on May 13th.
Sweden won last year's bash with Abba-ish "Take me to your heaven", sung by blond Charlotte Nilsson, whilst Britain's Precious came only 12th, but we have high hopes again this year with Nicki French.
The Cumbrian lass, who had a hit a few years ago with "Total eclipse of the heart", sings the modestly-titled "Don't play that song again" - a song which could easily be mistaken for one from Steps, as could fan's fave "Once in a lifetime", sung by 18 year-old Estonian Ines.
Many of this year's songs have a more modern feel, the standard is high, and most are in English.
As well as the Steps-like songs, there's a Britney Spears clone from Russia's Alsou, and a Travis clone from new entrants Latvia.
There's always a chance Ireland could win an eighth time with "Millennium of Love", sung by Eamonn Toal, unkindly dubbed "Millennium of cheese" by some wag on the Internet, and Iceland could top last year's second place with rocky "Tell Me!"
There's two controversial songs, "Wadde hadde dudde da", a desperately unfunny joke song from German disc jockey Stefan Raab, and "Sam me'ach", from Israel's "Ping-Pong". Fortunately this is in Hebrew, as the girls seem to have a fixation about cucumbers.
My money is going on Norway's girl group Charmed, who furiously rush around singing, "My heart goes boom", and maybe it will.
I've only ever picked the winner when it's been Norway. As they rarely win, I'm usually wrong, but maybe this time..!
May 6th 1200 From BBC-1 Teletext today:
EUROVISION WINNER "WILL SNUB CONTEST"
The winner of last year's Eurovision Song Contest is snubbing this year's show after a row with organisers, according to a report.
Swede Charlotte Nilsson - who won with Take Me To Your Heaven - is refusing to appear at next week's contest in Stockholm, says Expressen newspaper.
"All they wanted me to do was hand out bouquets," Nilsson is quoted as saying. "I'm not a flower girl. If they want that they can ring Miss Sweden."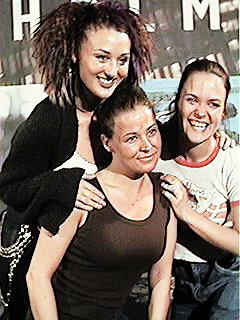 May 9th 0900 The game's afoot!
On Monday, Israel's Ping-Pong opened the week-long rehearsals for Saturday's Eurovision Song Contest here in Stockholm. Off stage, they're a bit wacky, but on stage they don't have a gimmick, but Dutch hopeful Linda has - in the opening of her belter 'No Goodbyes', male dancers come from under her voluminous dress, and at the end of the song she strips off their silvery tops! Britain's Nicki French polished routine was much more sedate, but her stage dress is a secret until Saturday.
The atmosphere around the Globe is great. So many familiar faces, even amongst the backing singers - I talked to Lena backing 'Voice' for Cyprus. She was in Jerusalem last year, and Dublin in '97. "They just called me and said - Do you want to do Eurovision?, I said - Do I!". She explained she had none of the pressure the leads had, and was planning lots of shopping
My favourites this year are Hanne, Oddrun, & Monika - they're Charmed , and were - charming. Their rehearsal of "My Heart goes boom" went perfectly - maybe it helps that Oddrun was once a stuntwoman. Stockholm's Mayor welcomed us to a reception at the Town Hall in the evening, and we met some of tomorrow's line up; the tiny four girls making up Macedonia's "XXL", and the strange Roger Pontare for Sweden, in North Sweden costume with a necklace of bear-tooth & claw .
May 10th 1200 Tuesday's ongoings, plus some pictures added - see above for Nicki, Charmed & Stefan Raab.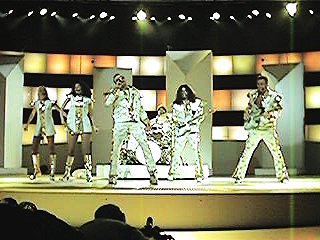 Tuesday May 9th "I told the captain to sail to Oslo to get rid of those journalists, but by mistake he sailed back to Stockholm", said Germany's Stefan Raab at the cocktail party at the Vasa museum Tuesday evening. He was making another of his umpteenth interviews, talking about the steamboat trip so secret he hadn't mentioned it at the morning's press conference. Raab is this year's clown, his song "Wadde hadde dudde da", titled after an old woman asking her dog "What have you got there?", is kitsch, funny, and catchy, maybe because it sounds like a Spice Girls song. "I asked my girlfriend about that", he says, "and she said it's better than The Spice Girls".
Macedonia's own Spice Girls, XXL, are not extra large. I spilled my glass of wine when I saw saw what they were not wearing at the cocktail party. Their ages range from 16 to 18, and their song "100% love" has a breathless dance routine. One to watch, but no winner.
Unlike Latvia's song, "My Star", produced in London by Mike Mansfield, the man behind hits of "A-Ha", and it has their style. Comes over great, as does Denmark's song from the Olsen Brothers. They are the oldest in the competition, one is 48, and reeled off many British '60s acts as their inspiration, before inviting me to their party Wednesday night.
late addition: Wednesday morning, Ping-pong are rehearsing with a bit of English - they tried out sing "Be Happy!" as the chorus. Rest in Hebrew.
I'm off on a boat trip now, and hope to catch Roger Pontare in some sort of show at Skansen Park this afternoon.
It's blazingly hot - are we back in Jerusalem?
May 11th 0800 Wednesday's happenings
Jojo and Theres proudly showed me the autographs they'd collected in crayon, pencil and ink in a child's notebook. They had signed pictures too, and weren't fussy if you weren't the lead singer - they were happy to get something from a backing singer or even a journalist.
They had tickets for Saturday, Jojo revealed, "And these are our rats", she added - the creatures were in Eurovision mood too - they were in a discarded CD packing box. It was 11pm, and these 11-year olds were on their way home so very late. While they'd stalked the Globe Hotel, I'd been on a whirlwind of boat trip, park happening, and four parties.
Earlier, in glorious weather, I'd been on the steamship Stockholm, with, so it seemed, half the singing acts, on a joyful tour of Stockholm's archipelago. The ever-present four girls from Macedonia's XXL sang "My heart will go on" arms outstretched on the the ship's prow, whilst the Turks from The SOS did belly dances on top deck. There was even a Japanese film crew teaching blind Spanish singer Serafin how to say "Hi, vote for me!" in Japanese.
The rest of the day became a blur - there was the Finnish party, the Maltese, the Danish, the Israeli, and the British. The fine weather gave way to rain, but nobody cared.
I'll add some more commentary for the web:
On the boat trip XXL also sang Danijela's song from 1998, which impressed the Croatian Head of Delegation Ksenija.
The SOS's writer Suhan was really enjoying the week, and told me how he me Pinar at the 1996 Turkish contest where she'd come second.
She'd had a baby only three weeks before they won this year's contest. He said the contest was not so popular at present in Turkey - they needed to score well to get interest - as had Dinle in 1997.
Hearing I was from Leicester, he told me he'd worked for a month at the Leicester General Hospital in 1990, and was to be a transplant surgeon, but thing changed.
After the boat trip we took a quick visit to the Abba exhibition at the Nordiska museum. Bit disappointing. A few bits of memorabilia with tags only in Swedish, and a rather dull slideshow.
Over at Skansen folk park Roger Pontare was there with his North Sweden people, a Sami, and a Red Indian. Roger is from the far North.
Leaving, I met Slovenia's well-known presenter Mojca Mavec. She looked tired - this year she was assistant to the commentator.
She thought Nicki French was a nice lady & great singer, but thought maybe she was too old to do the reactions with the backing singers she'd seen, "But I've just had a bad day really", she added.
Nina Astrom entertained us with her backing group at her party. She opened with "You've got a friend", and later went onto her song, and some bluesy numbers. All while we ate Finnish food, Dutch cheese, and drank Italian wine - representing the nationalities behind the song.
On the boat she showed me the Finnish papers. She was happy with the coverage
At the Maltese party Stefan Raab was doing his round of childish interviews with the acts for German TV. Maltese writer Phillip Vella, did say that "If we get Claudette seen in Germany, maybe we get a few votes". Maybe.
Claudette wore a noblewoman's dress from sometime in the past, and looked regally confident.
XXL were there, of course, but managed to keep off their matching pink or turquoise mobile phones this time (unlike on the boat). They left, as did the Olsen Brothers, so it was time to follow onto the Danish party.
This was on the 7th floor of the Globe hotel, and later the curtains were drawn, and you could see straight in the arena.
The Olsens did a nice set of smooth easy-going songs, and their song in English & Danish.
Ping Pong had an impromptu party on the 11th floor to play a film, a winner of New York's gay & lesbian film show. They were wacky, as ever.
I'm embarrassed to say I passed on the UK party back in town at the Tip-Top - I'm getting too old to stand the pace - but I'm reliably informed by Graham, who got back at 3.40 am, that she sang "Total Eclipse" and DPTSA, and bopping to Eurovision tunes went into the wee hours.
Anyway, a brief mention about the stage. You have stills on this page, so you can see something. The set features moving boxes which can change their appearance.
In the UK song two boxes separate to reveal the backing singers behind, and they were bright green for Switzerland the other day - they didn't like it.
Blank for Germany - already enough noise there.
No fireworks yet from Sweden - the fire department has to check it out.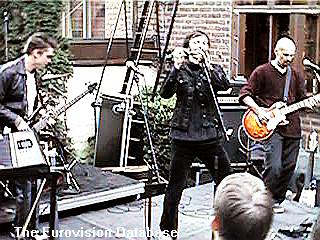 May 11th 0800 Thursday's highs & lows
Thursday May 11th - pictures later when I can find a free PC - this is edited and uploaded from a pocket PC!
Thursday already! - things are really moving fast. It was a day of highs and lows. The lowest point was in the morning when we heard Israel might pull out because they were told they couldn't wave a Syrian flag in their song, "Be Happy". It seems it was just a stunt - the flag will be there. The highpoint was when Latvia's band "Brainstorm" treated us to a open-air half-hour live gig. They are something really special, great performers with catchy tunes, and fascinating lyrics. I don't think their song, "My Star" will win, but I'm sure we'll hear more from Brainstorm.
The party for Dutch hopeful Linda was an ugly crush, but she sang "Ding-a-dong" with the lead singer of Teach-In - the band that last won for Holland 25 years ago here in Stockholm.
Iceland's event at the embassy was much more sedate - their Beatles-style rock number "Tell Me!" by August & Telma is sure to please. The favourite here is Steps-like "Once in a lifetime" by Estonia's Ines but things may change Friday after the first full rehearsals.
Adding - security is stepped up today Friday - the metal detectors are here, the press centre is busy, Estonia is favourite amongst delegates who voted at the OGAE stand.
First press-only full rehearsal is 2pm local, so its exciting! I will be in all 4 performances!
Hopefully I'll add more after this afternoon's but there are on,y 20 PCs here.
Friday - 12 May 1800
After a great rehearsal, we are preparing for the first public rehearsal tonight.
Our presenters bring plenty of humour to the job. Not yet seen the scoreboard in action, but before it there's a performance of Ring-Ring. The Interval is mostly film full of cliches about each country, but you want to know about the songs!
Main things to note: Cyprus sings partly in Italian, rest in Greek. Turkey has some lines in English, which got applause. Al Bano is one of Jane Bogaert's backing singers. Roger Pontare's fire show is here - those in the first few rows get their eyebrows singed! Too much fog though, this time.
There's some great face to face moments in both the Cypriot & Icelandic songs - good for those of us with long lenses this afternoon.
After Iceland there's a brief interval - a super montage of classic Eurovision moments, including Dana International's fall!
Nicki French is said to a sore throat, but sounded fine to me. Claudette Pace seemed to hold a little back, but that can change.
Charmed's costumes were curious, but an improvement of the Norwegian final. It's still my favourite. Alsou sounds superb, and the two dancers now seem to add to the song.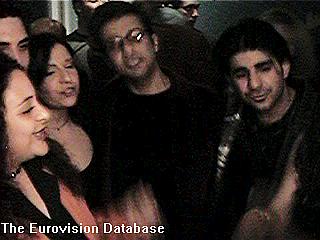 Ping Pong used the Syrian flags, and shouted "Be Happy" instead of Sam e' ach.
Linda now doesn't strip the boys tops off - its left to backing singers.
The only risible bit was from Croatia. Goran sticks to Croatian, and has a beautiful blond girl writhing about in what seems like a grey sack. There were giggles from the crowd - really. Eventually she comes out and there's a great two-shot.
Brainstorm are unchanged, and are still great. The boxes show fish swimming during this song.
Stefan Raab brings the house down, but I still think it's no masterpiece.
I was surprised by the fine performance of Natalie Sorce (Belgium) in a glittery white dress, and Sofia Mestari in red came over strong too.
The 24-track compilation album is now on sale here - 140Kr in Globen, dearer outside, and you gotta get it - royalty disputes may sink its further distribution. Its on BMG, and gets a plug from Christine Marchal-Ortiz (EBU scrutineer) on the show.
And lastly I'll mention Ireland. The favourite here is Estonia (very static - green costume, very tight trousers, cowboy hat!), but after the show everyone thinks Ireland will win.
I don't like it - too cheesy, but it comes over well - he's in black with a brown jacket. Dark background
Saturday May 13th 0800
"The Estonians gave me this lucky coin - I hope it isn't just lucky for Estonia!", said our girl Nicki French after the first public rehearsal of Saturday's show. Everything had gone smoothly - there was plenty of humour from the presenters, and the performers did their best. A few less experienced singers seemed to suffer nerves - 16-year-old Alsou for Russia seemed weak for the first minute of her Britney Spears-style song "Solo", but there's another rehearsal Saturday afternoon.
I nearly had my eyebrows burned at the climax of Sweden's song when huge flames flew into the air. "When spirits are calling my name", is easily the most colourful song - imagine, if you can, a Laplander wearing Maori face paint and backed by a Red Indian and an Eskimo. It went down a storm with the home crowd, but they were also enraptured by The Olsen Brothers from Denmark. "Fly on the wings of Love" is soft rock sung by two leather-jacketed guitar guys in their late forties brought up on our 60's beat groups. It's good, but I can't see it winning.
Next greatest applause was for Norway & United Kingdom - these are the ones to watch as winners. Hanne, Oddrun, and Monika sang the motown-influenced pop song "My Heart Goes Boom" for Norway. It's very catchy, and hits you first time, but then so does "Don't Play That Song Again" from our Nicki French. After the show Nicki told me she thought Malta got the biggest applause, but it was Norway she thought biggest threat.
On the hotel bar monitors we saw the presenters test out the live link-ups for voting. They worked well into the night as everyone prepared for the big show Saturday at 8pm.
It will be a long day.
Latest after the final rehearsal - Saturday 1600 UK time
Everyone is in fine voice now. as i speak, the "winners", something called Wonderland from Serbia (Swedish jokes!) are about to perform Ring-Ring. They include Sofia Kaellgren.
One of the other jokes include votes from Hungary, after Anders says its time for the scoreboard, or as we call it Smorgasbord.
The voting features well-known spokespersons - Colin Berry for UK, Marlayne for Holland, Evelin Samuel for Estonia, Marie Myriam for France, last year's Michael for Denmark. Axel Bulthaupt brings the German votes from outside the reeperbahn.
Norwegian expert Kato Hansen forecasts Ireland as winner, with Denmark, Estonia, Iceland, Malta & Norway behind. Billboard's Fred Bronson put 100 Kr on Denmark at 15-1 after hearing how well the audience liked them.
Betting here favours Estonia, then UK
Interval act by Bounce is no Riverdance - make the tea. Preceded by a dull film of European cliches.
Scoreboard is clear and well-done.
Pontare's fire looks great on TV, whilst Croatia's ballet in a bag looks silly - sorry Goran, but it takes away from your fine ballad.
Anyway, I'm not sure I can do an update tonight - I'm booked for BBC Radio 5 straight after, but we'll see.
My forecast - not entirely what I wanted
Norway


UK

Ireland

Netherlands

Denmark
Enjoy the show!
Sunday May 14th 1100
How wrong can you be?
At least I had Denmark in the top 5!
The UK came 16th, and Nicki French wasn't too happy. She did a live couple of songs at the Globe Hotel afterward, including a acappella 'Don't Play that Song Again'. She wouldn't be consoled.
I did something on Radio 5 Live straight after the show following Jonathan King, who talking the most incredible rubbish. He said we'd sent the most-Eurovision song, not the one with the best chance. I got no chance to respond to him, but was asked to respond to Johnny Logan who said the show was Karaoke. Well, the Olsens gave a great live set on Thursday - they are old rockers, and the win went down a storm. They were happy UK gave them 12 points.
The party was a noisy affair - Norway got a lot of attention.
Anyway, more later, press centre is closing. BYE!
Sunday May 21st 1200 Latest Contest Review: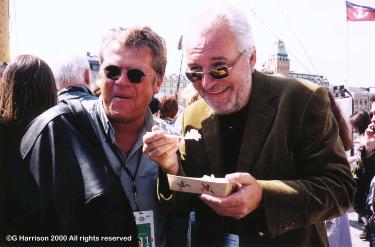 "When I can get mashed potato from a kiosk, I know I'm in Sweden!", said Jorgen, eating as we queued for the boat trip, Wednesday. This was the first time I met the genial Olsen Brothers, who took the Eurovision crown for Denmark last Saturday. We chatted about their heroes, the sixties British beat groups they opened for like the Kinks, and how phenomenal their song "Fly on the wings of love", was in Denmark - the Danish song contest was repeated by popular demand.
The boat trip was one of the week's highlights - Macedonian girls XXL, arms outstretched singing "My heart will go on" at the front of the boat, and belly dancing on top deck from the Turks. Suhan Ayhan, their writer, once trained as a transplant surgeon at Leicester General Hospital, but was now a plastic surgeon - and a musician.
Other highlights were the concert by Latvia's Brainstorm, given in the back garden of their embassy, and Sweden's Roger Pontare's 'event' in Skansen Park, but they were nothing compared to Saturday night. Outside The Globe that fine evening, the party was already on. Past Swedish entrants and near-entrants were playing their hits, children were offering flags from all 24 countries, and everyone was wondering who'd win. Estonia, Sweden, the United Kingdom were possibles, but Denmark was never a contender. Inside the atmosphere was fantastic. Over 10,000 people in a vast golf ball, all with fluttering flags and flashlights.
We were drilled in making the opening special, by bursting into rapture on cue, then they played our tune - the Eurovision theme - and we were off. Israel's Ping Pong got the party going, and by Britain's "Don't play that song again", the crowd was matching Nicki French's waving and pointing fingers, but it wasn't to be Nicki's night.
Denmark's Olsen Brothers were wildly popular - maybe this was a clue - but it was Sweden's Roger Pontare who brought the house down. Everyone was on their feet to see a song with no equal in Eurovision history. Roger was face-painted as a Maori Chief, dressed as a Lapp, with a Red Indian war-dancing, and an Eskimo banging a drum on stage, plus 30 foot high jets of flame - unforgettable.
Before long Austria's aptly named Rounder Girls closed the songs with "All to you", and we were into the voting.
The voting rarely fails to surprise, and this year was no exception. Denmark soared from the start. Only Russia ever had any chance of catching it, whilst the United Kingdom was sinking - sinking behind Romania, which all had tipped for bottom place.
Sixteen year-old Alsou, the Russian girl, was bouncing up and down in the Green Room, whilst the Olsens politely waved. The tension eventually lifted and Denmark's first winners in 37 years lifted the trophy. They sang the winning song three times, and were, as ever, genial. Stars in Denmark 30 years ago, they had made a sensational comeback, but they remembered meeting me earlier in the week when I congratulated them in their hotel. "We were so happy you gave us 12 points", said Jorgen, thrilled the British public loved his song.
Meanwhile Britain's Nick French was inconsolable at getting our lowest place of 16th. She gave an impromptu performance of the song and "River deep, mountain high" in the hotel's disco, but tears were in her eyes.
Norway's three girls - Charmed - were ecstatic to come 11th - their song, "My Heart Goes Boom" was number one in Norway, and Monika told me "Today was just wonderful".
It was already daylight, and time to say good-bye to the friends old and new, until the next gathering in a year's time in Denmark.
It'll be great - it always is.

visits to this page between May 5th, 2000, and 26th April 2001 when counting stopped