---
United Kingdom 2000
---
Updated 3rd May - new pictures below: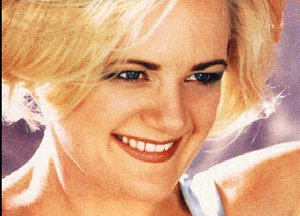 Nicki French will sing "Don't play that song again" by John Springate & Gerry Shepherd in Stockholm. There's a tiny bit of background at this link.
The TV presentation of A Song For Europe 2000 took place on February 20th, 1635-1715 on BBC-1 with Katy Hill presenting. Voting lines were opened during the live show, & the winner was announced at the end of the show.
In presentation order:
Sexy Sadie 4th place


Catherine Porter 29,348 votes/3rd

Six Chix - 42,309 votes/2nd

Nicki French - 47,355 votes/1st
There was a loud cheer from the fan audience when they heard Six Chix had come second - they were obviously relieved the disgraceful hyping of that canine sextet hadn't worked, and that the most commercial of the four had won.
Blue Peter (children's show) presenter Katy Hill admitted being a fan. "My all-time favourite Eurovision song is Diggi-Loo-Diggi-Ley", she told us, and then introduced the acts, which were preceded by film of the writers.
The Four performers - click a picture to enlarge

Sexy sadie

Catherine Porter

Six Chix

Nicki French
Up first were Sexy Sadie - all violins & cellos on stage, fronted by identical twin girls. Sounded sharp.
Catherine Porter & Tony Moore told us they were the only writer/performer team this year, and they'd changed the song a bit. Well, the soupy strings and kazoo solo seemed to detract from the song for me, but still a good interestingly different song.
Kimberley Rew then told us about Six Chix in what seemed to be the longest introduction of the four, complete with a clip of Katrina winning the 1997 contest. Six Chix had appearred on numerous TV shows during the past weeks with Jonathan King more or less saying they were going to Stockholm, and they were in today's papers again. It is nice to see an act getting coverage, but a pity the Song for Europe guru only hyped the one act, not the four. Anyway they looked and sounded pretty 'wuff.'
Nicki French was then up, and gave a polished performance with sinple dance movements. Whilst we voted there was a bit of film of Precious, the 1999 UK act in Jerusalem, after which Katy Hill informed us "Precious only just missed out in '99". Mmmh, Katy should try work as a spin doctor.
Then the results. Not a bad show. the rest of the page is unchanged.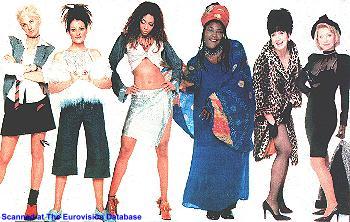 The Sun "newspaper" on February 12th carries an article and pictures of one of the four hopefuls, the Jonathan King-hyped group Six Chix (picture right). No girl-group this one. Mrs Einstein (Netherlands 1997) need have no fears.
They are (left to right): Laura Witcombe (17), Becky McCormack (20), Cheri Nicolette (25), Sharon D Clarke (34), Lynda Hayes (42), and Linda Taylor (51). The article says their single "Only the women know" goes on sale on Monday 14th February. This seems unlikely, as any airplay might predjudice the contest on February 20th, but who knows? - Only the Women!
Thanks to Darren Thrussell for phoning me about this feature
15 January: Over 28,000 Listeners to Radio 2 phoned in and whittled the eight songs which had been played over the past week down to the four marked in red on the list below.
Links to hear some of the songs!
Here's the list of the final eight which Radio 2 listeners heard on "Wake up to Wogan" and "The Ken Bruce Show" on BBC Radio 2 from 10-13 January, with a compilation of all the songs on Friday 14th January, followed by the customary voting.
Robin Scott has confirmed this - BBC1 will have a show at 1635 on February 20th (time to be confirmed), with voting afterward.
Songs marked in red were selected by the Radio 2 audience to go through to the final on February 20th.
The show will be live on that Sunday afternoon in London. Call 0181 576 1227 for tickets.
| | | | | |
| --- | --- | --- | --- | --- |
| # | Song | Composers | Performers | Place |
| 1 | Aria | John Tonks & Helene Horlyck | Helene Horlyck | |
| 2 | Crazy | Tony Moore & Catherine Porter | Catherine Porter | 3 |
| 3 | Don't Play That Song Again | John Springate & Gerry Shepherd | Nicki French | 1 |
| 4 | I Won't Let You Do This To Me | Mike Connaris, Terry Bradley & Paul Brown | Sexy Sadie | 4 |
| 5 | Only The Women Know | Kimberley Rew | Six Chix | 2 |
| 6 | Stand Up | Richard Silver | Jane Tretton | |
| 7 | The Answer | Tony Moore & Catherine Porter | Catherine Porter | |
| 8 | Wherever You Go | Simon May & Ben Robbins | India | |
(performers 'Pas De Deux' were renamed to 'India' after the initial list came out)
Unusually this year quite a few of the songs can already be heard through official web sites:
Some Real Audio clips of the UK songs can be found at http://www.mcasso.com .Follow the links to Eurovision, or just click here to go direct. On the Glitter Band/Nicki French site there's a Real Audio & Mp3 file of the Nicki French song (not on the other site). Mark from the Glitter Band fan club provided these links to me, and describes Nicki's song as "Steps meets Abba". Judge for yourself.
Meanwhile Jason Walton writes, "I am a very close friend of Richard Silver who has 'Stand up' as one of the final eight songs for the UK. The song also got selected into the final 15 of the 1st London International Song contest. He is, as yet an unpublished songwriter and hopefully this will be his big break!" Thanks Jason, and good luck to Richard.
Those of you outside the UK may like to catch the songs complete either via the audio channel on UK Gold (on Astra Analogue Satellite) or via the BBC's new Real Audio feed of Radio 2. The site says it doesn't broadcast at all times, so you'll have to see. Wogan's show is on from 0730-0930 British time, followed by the Ken Bruce show.
Of the writers, Kimberley Rew brought us the 1997 winning song, "Love Shine A Light", but Katrina & the Waves are no more - Katrina is now a BBC Radio 2 presenter. Simon May is one of Britain's most successful songwriters - many TV themes and other hits. Mike Connaris was behind both of Alberta's British song contest entries in 1998 & 1999.
Of the performers the most well-known is Nicki French who had a big hit in 1995 with a dance version of Jim Steinman's "Total Eclipse of the Heart". Like many British artits she has had better success since then abroad. "Ti Amo" was a hit in Brazil. The writers of her song John Springate & Gerry Shepherd were once lead members of The Glitter Band. They have provided this link to a site about Nicki French's entry.
Thanks, everybody!
If you have any more news or comments, please e-mail me, Geoff Harrison, at my contact page and I'll credit your contribution.