---
Germany 2000
---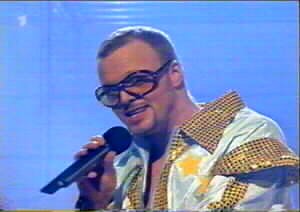 May 5th:
Stefan Raab (right) will sing Wadde Hadde Dudde Da in Stockholm. In second place was Corinna May, with Kind of Blue coming third.
Play a Real Video G2 Clip at this link.

A report will appear later, but in the meantime I've added more pictures, and you can now play "Bitter Blue" by Kind of Blue also. This was my favourite song & it came 3rd. It was their first ever TV appearance and they sounded great, especially lead singer Katrin Holst.
This year's Top German Entrants, E-Rotic, Corinna May, Kind of Blue & Stefan Raab. Click on a pic to enlarge
The German final takes place in Bremen on February 18th from 1915-2045 UK time. As last year this clashes with Turkey! It can be seen outside Germany on the Astra satellite. Sky Analogue viewers should be able to find ARD. Sky Digital viewers cannot see it.
Songs are now shown in performance order on the right.
You can hear clips of the songs at this site from ProSieben, a German TV channel which isn't hosting the show!

Corinna May who was disqualified in last year's German final, is confirmed, as is Stefan Raab (seen right in a 'supporting role' with Guildo Horn).

Stefan was the writer of Guildo Horn's memorable "Guildo hat Euch lieb" for the 1998 contest.

The most well-known group is E-Rotic who had novelty hits in Germany like "Fred, come to bed", and "Fritz, love my tits"

If you have any more news or comments, please e-mail me, Geoff Harrison, at my contact page and I'll credit your contribution.

#

Song Title

Performers

1

Queen Of Light

E-Rotic

2

Fliegen (Flies)

Lotto King Karl & Die Barmbek Dreamboys fischering ROH

3

Adios

Marcel

4

Free

Claudia Cane & Mother Bone

5

Du mußt kein Model sein (You don't have to be model)

David Kisitu

6

I Believe In God

Corinna May

7

Ick werd zun Schwein (I become a pig?)

Knorkator

8

Bitter Blue

Kind of Blue

9

Wadde hadde dudde da

Stefan Raab

10

Alles wird gut (Everything becomes good)

Goldrausch

11

We Can Move A Mountain

Fancy
See the original German Press release at this link. There are details of how to get tickets there.