---
Germany 1999
---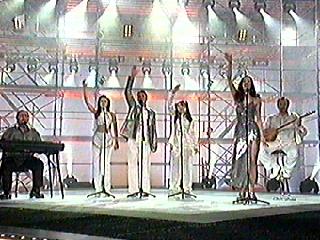 Corinna May was disqualified as the winner of the German final on March 16th by German TV channel NDR. The melody had appeared on a CD by another singer with English lyrics in 1997, and was therefore not original, as required by the rules. Composer Frank Zumbroich admitted this, and so the second-placed song "Reise nach Jerusalem - Kudues'e Seyahat" (Journey To Jerusalem). performed by Sürpriz (left) will represent Germany in Jerusalem.
Cathrin, who had been placed third in the telephone vote, now moves up to 2nd with 'Together we're strong.'
No third place was announced.
Play Real Audio full length clips: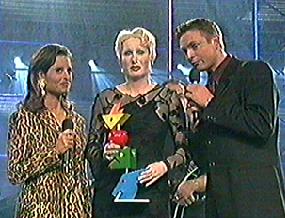 The picture on the right shows Corinna May receiving the trophy from presenters Sandra Studer & Axel Bulthaupt.
Corinna May won the German contest on March 12th with "Hör den Kindern einfach zu". She had over 33% of the 680,000 votes cast by the German public, and was a clear winner.
Rather like last year, a rather rowdy show, but the lullaby-like song (with a bizarre Scottish ending with bagpipes) seemed a clear favourite with the crowd, who booed a few acts, notably Patrick Lindner.
My comments:
Jeanette - Nice song from a young girl backed with three inaudible violins

Carol Bee - Lots of dancing

Patrick Lindner - told us "I'm not Guildo", and showed us with his very schlager song

Megasüß - was two girl rap singers, and was terrible

Sürpriz - Multlingual Turkish delight, with a very Turkisk mid-section. Rather too sickly for me

Elvin - a man at a piano with a head microphone

Corinna May - Lullaby with dozens of familiar ideas tossed in. Blind singer has a very hard face

Naima - dark girl with forgettable song

Michael von der Heide - this year's Paul Oscar. Very camp, with two girls in red backing

Wind - now down to four. Rather off-key. Despite the English title, this was in German.

Cathrin (above right) - wobbly start, but this rouser was popular in the hall, because of its towering shout the house down moments. Easily my favourite
The Interval act was Israeli singer Noa (below left), who sang a fine song "One becomes two" which is on the album from the show, now out in Germany. It's called 'Countdown Grand Prix 1999' and has all 11 songs, plus others, One place on the net to get it from is http://www.alphamusic.com Cost is 33DM.
After Noa we were 'treated' to the most god-damned awful racket from some guy called Loa Falkman who had a transparent saxophone. Truly a low point.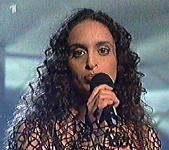 Then the results, and a tearful Corinna thanked Germany for the win, little realising it would soon be taken from her.
Of course, had the Turkish final not been on at the same time (and available all over Germany on cable), perhaps Turkish viewers would have voted more for Sürpriz, and it might have won outright.
Anyway, Sürpriz, will probably get by quite well in Jerusalem, and Ralph Siegel is there again as writer with Bernd Meinunger - the team that brought us Nicole in 1982, but lots of lesser stuff since (and Mekado)
There's now a nice official German site with pictures and 20 second sound clips at this link.
Originally Matthias Reim had a song but it was withdrawn
| | | | | |
| --- | --- | --- | --- | --- |
| Title | Performer(s) | Music | Lyrics | Record Company |
| Lover Boy | Carol Bee | Candy de Rouge | Candy de Rouge & Carol Shantay Brown | Columbia/ Sony |
| Das tut unheimlich weh | Jeanette Biedermann | Andreas Bärtels & Rick Rossi | Kristina Bach | Polydor |
| Together We're Strong | Cathrin | Herman Weindorf | Peter Bischof Fallenstein | Intercord |
| Heaven | Elvin | Andreas Linse | Eric Brodka | WEA |
| Bye, Bye Bar | Michael von der Heide | Thomas Fessler, Jeannot Steck & Micha Lewinsky | Micha Lewinsky | Schweizer Fernsehen DRS & BMG Ariola Schweiz |
| Ein bißchen Sonne, ein bißchen Regen | Patrick Lindner | Alfons Weindorf | Bernd Meinunger | BMG Ariola München |
| Ich habe meine Tage | Megasüß | Windsor Robinson & Jürgen Magdziak | Windsor Robinson, Jürgen Magdziak & Claus Funke | Electrola/ EMI |
| Hör den Kindern einfach zu | Corinna May | Frank Zumbroich | Frank Zumbroich | Mercury |
| Itsy Bitsy Spider | Naima | Oliver Göddecke, Alexander Seidl, Robert Parr | Oliver Göddecke, Alexander Seidl, Robert Parr | Universal |
| Reise nach Jerusalem - Kudüs'e seyahat | Sürpriz | Ralph Siegel | Bernd Meinunger | Jupiter Records |
| Lost in Love | Wind | Norbert Beyerl | Werner Schüler | Koch International |

Presenters will be Axel Bulthaupt (who did it last year) and from Swiss TV, Sandra Studer, better known as Sandra Simo who represented Switzerland in the 1991 Eurovision Song Contest, and last year presented the ill-fated Swiss selection. (The winner Gunvor got no points in the Birmingham final)
More Info:
Cathrin (Catherine von Spannenberg) - a 16 year old girl (pictured here) who recently released her first single 'Dreams'. You can read more about her at the Intercord records web site.

Michael von der Heide - this is the Swiss-German entry. If it wins through, and wins in Jerusalem, who knows who will stage the 2000 contest! (..but I doubt that will happen)

Wind - The band "Wind" have performed three times in the International final (last time 1992), and last year took part in the German final (follow this link). None of the current line-up took part in an International final.

Patrick Lindner - A Folk music singer turned Schlager singer, Lindner is most notable for his cheesy grin.

Sürpriz - Riese nach Jerusalem (The Journey to Jerusalem - pictured right). The inevitable Ralph Siegel (He of "Ein Bißchen frieden", the 1982 winner) entry, to be sung in German, English & Turkish by this six-piece Munich-based Turkish band. Read more about this at the Jupiter Records Web Site.