---
Belgium 2000
---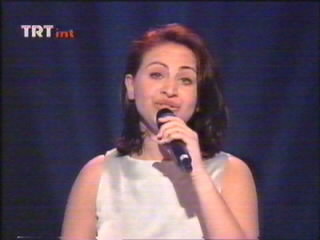 21-year old Nathalie Sorce will sing "Envie de vivre" in Stockholm, after winning the Belgian contest on February 18th. The scores are now below. Nathalie is very much into Gospel singing according to the cover of her CD single. The song's writer Silvio Pettuzo is of Italian origin and also had a second song in the Belgian final - it came 4th.
---
The French-speaking part of Belgium through their TV service RBTF will provide the Belgian entrant for Eurovision 2000, following Vanessa Chinitor from the Flemish community in 1999.
Below is the list of songs sent to me by Chris Vandenabeele of the Belgian Eurovision Union. Visit their web site (http://come.to/belgian.eurovision.union) for the latest news.
The ten Belgian songs are known.
The English translation is a rough translation.
More information can be found on the Belgian Eurovision Union-site

1. CHRISTEL PAGNOUL - "Pour la vie" ("For life") Website http://www.christelpagnoul.com 6066 votes (7th)
(text: Christel Pagnoul & Valérie Weyer - music: Francis Goya & Ralph Benatar)
2. FRÉDÉRIC REYNAERTS - "Le nomade m'a dit" ("The nomad told me") 17774 votes (2nd)
(text & music: Frédéric Reynaerts)
3. GERLANDO - "Rêve" ("Dream") 4002 votes (9th)
(text:Hughes Maréchal - music: Fernando De Meersman) his website http://www.sonymusic.be/Artists/gerlando
4. MARIA CANEL - "Et si..." ("And now...") 2518 votes (10th)
(text: Maria Canel - music: Maria Canel & Patrice de Matos de Morais)
5. MEZZO MEZZO - "Belgicanos" 10750 votes (4th)
(text & music: Silvio Pezzuto)
6. NATHALIE SORCE - "Envie de vivre" ("Wants to live") 21362 votes (1st)
(text & music: Silvio Pezzuto)
7. SABRINA KLINKENBERG - "Tous ce que je suis" ("All that I am") 11085 votes (3rd)
(text: Jacques Broun - music: Alexi)
8. TRIANA - "Donne" ("Give") 5270 votes (8th)
(text & music: Roberto D'Angelo & Filippo Di Maira)
9. LA TEUF - "Soldat de l'amour" ("Soldier of love") 6216 votes (6th)
(text & music: Alec Mansion)
10. GÉRALDINE COZIER - "Ma voie" ("My way") 8371 votes (5th)
(text & music: Geraldine Cozier, Cecile Delamarre, Pascal Noel & Philippe Libois)
Björn Verdoodt writes:
"We finally have a confirmation for the Belgian Eurovision final 2000!
It will be held on Friday the 18th of February in RTBF-studio 6, which is at the Reyerslaan in Brussels.
This is the same venue as in 1995 and 1998. The program host will be Jean-Pierre Hautier, who also presented in 1998 and who did the RTBF-commentary in Birmingham and Jerusalem." (Sources: RTBF and Chris Vandenabeele -BEU-)
Thanks very much, Björn!
Stephen Boddington tells us about a show running in Brussels: Belgium One Point
A hilarious comedy revolving around a Eurovision party is now playing for its third year at the Theatre de la Toison d'Or in Bruxelles (till mid-Feb).
It has everything you'd expect, from the serious fan who forbids anyone to speak during the songs, the uninitiated straight couple who insist on doing just that, to the camp gym bunny who is so excited he can't even keep his trousers on! There are even some excellent ESC-dance routines and plenty of fave songs to sing along to.
I cant recommend it enough although anyone without a very good knowlege of French will find the plot impossible to follow. Tickets cost around twelve pounds, showing Wed-Sun only.
If you have any more news or comments, please e-mail me, Geoff Harrison, at my contact page and I'll credit your contribution.