---
Belgium 2002
---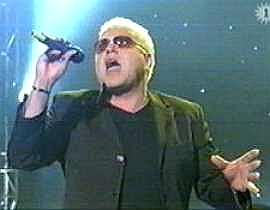 Sergio (a) The Ladies (right) won the Belgian final on February 17th with Sister, a lively song reminiscent of Tom Jones & James Brown. Sergio performs the song very well. The series of semi finals had some great songs, although the shows themselves followed the fomula of 1999, and were slow and not very interesting. The final had 7 songs but took 112 minutes!
The act seems to be undergoing a mutation of its name to the less snazzy, but more politically correct Sergio & The Ladies.
I have a recording of the contest and will put up all the details soon.
The rest of the page remains unchanged
---
Flanders takes its turn to choose a song to represent Belgium in Tallinn. Not very auspicious, as the Flemish contests are usually great fun, but for some reason the winning song always scores badly at the International final. Maybe this year...
There are four heats and a final. In each heat, seven artists will sing a song. One of them will go through to the final. Three artists with the second best score will go through too. So, there will be seven songs in the final.
Official site: http://www.tv1.be/eurosong2002
Dates
First Semi-Final: Sunday 20th January
Second Semi-Final: Sunday 27th January
Third Semi-Final: Sunday 3th February
Fourth Semi-Final: Sunday 10th February
Final: Sunday 17th February
Points will be awarded by listeners from Radio 2 (jury 1) and Radio Donna (jury 2). There's also a European jury (jury 3), consisting of representatives of Eurosong countries, plus an expert jury (jury 4), and finally, TV1 viewers can vote by telephone and SMS (jury 5). Each jury awards one-sixth of the points except the TV1 viewers with double the power at two-sixths.
Semi-Final 1
Without love - Wuyts & Schepens (Lyrics: Danny Wuyts & Jan Schepens / Music: Danny Wuyts)
You and Me - 3 For You
Nooit een dag te laat (never a day too late) - Wim Leys (Lyrics and Music: Ruud Houweling)
All out of love - Sonny (Lyrics: Dirk Paelinck / Music: Marc Paelinck)
Hollywood star - Mistery (Lyrics and Music: Ricky Mondes, Jimmy Towers & Dirk Winters)
The sun shines - Kim 'Kay (Lyrics: Kim 'Kay / Music: John Terra)
Comme une enfant - Léa Dan (Lyrics: Vanessa 'Léa Dan' Van Strijthem / Music: Jan Leyers)
Semi-Final 2
The magic times - The Incredible Time Machine (Lyrics and Music: Rudolf Hecke)
Everything - Bennett en Bosman (Lyrics and Music: Gary Burr & Chely Wright)
Time of my life - Ivan (Lyrics: Raf Van Bedts / Music: Paul Vermeulen & Lou Roman)
When I look in your eyes - Tanja Dexters (Lyrics and Music: Gunther Thomas & Wim Claes)
Meer (More) - Luc Schuit (Lyrics: Luc Schuit / Music: Pallieter Van Buggenhout)
Wherever you'll be - Severine Doré (Lyrics: Dirk Paelinck / Music: Mark Paelinck)
Flyin' - Raf Van Brussel (Lyrics and Music: Raf Van Brussel)
Semi-Final 3
I ragazzi di oggi - Raffaele (Lyrics: Fred Bekky & Raff 'Raffaele' Vetrugno / Music: Fred Bekky)
What goes up - Danaë (Lyrics and Music: Dirk & Jo Cassiers)
Shine on - Jimmy (Lyrics and Music: Eli Mizrahi)
Ik kan jou niet vergeten - Patrick Vinx (Lyrics: Dirk Paelinck / Music: Mark Paelinck)
Forever yours - Iris (Lyrics and Music: Kit Hain & Cheryl Beattie)
Paco y pacita - Wade & C (Lyrics and Music: Patsy Verfaille, Vincent Goeminne, Kristof Lesure & Pallieter Van Buggenhout)
Someday - Spark (Lyrics and Music: Jess Leary, Mary Ann Kennedy & Kye Fleming)

Semi-Final 4
Imitation love - Indiana (Lyrics: Scott English / Music: Dyke)
Op naar de top - Christoff (Lyrics: Daniël Ditmar / Music: John Terra)
If I.. - Peter Elkins (Lyrics: Dirk Paelinck / Music: Mark Paelinck)
Take this heart - Yasmina (Lyrics: Rudolf Hecke / Music: Rudolf Hecke & Mark Van Hie)
Sister - Sergio (a) The Ladies (Lyrics: Dirk Paelinck / Music: Marc Paelinck)
Nananana - Fantasie (Lyrics: Geert Van De Meutter / Music: Geert Van De Meutter, Lies Wuyts & Wim Van Meensel)
All my love - VandaVanda (Lyrics and Music: Peter Gillis, Miguel Wiels & Alain Van de Putte)
If you have any news or updates on this country's National Semi-Final I'd like to hear about it. E-Mail me, Geoff Harrison, at my contact page