---
Croatia 2002
---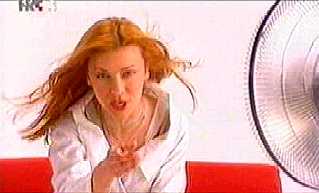 Vesna Pisarovic (right) will sing "Sasvim sigurna" (Absolutely sure) for Croatia in Tallinn on May 25th.
She won the Croatian Dora on March 10th.
After a telephone poll, the people of Croatia voted that she should sing the song in English in Estonia. I met Vesna at the Melodije Hrvatskog Jadrana in Split in July 2000, and she is charming with stunning looks, but does speak English with an accent, but then this can often be lost in singing. Just for those who wonder about these things, last year's Croatian entrant, Vanna, speaks perfect unaccented English
The picture is from the video of last year's Dora song "Za tebe stvorena."
I have a recording of the contest and will put up all the details soon.

This must be a record for me. I taped the Dora live from HRT, and its now two weeks later & I have only seen the last 15 minutes.
Those of you who know me, know that I prize the Croatian Dora & the Swedish Melodifestival most high amongst all the national finals of every country, and have attended both in person. Sweden in 1996, Croatia in 1999.
I must be getting old. Anyway there will be tons of pictures here soon.
If you have any news or updates on this country's National selection I'd like to hear about it. E-Mail me, Geoff Harrison, at my contact page