---
France 2002
---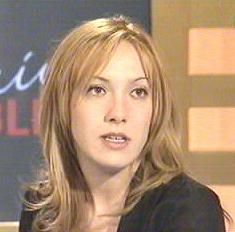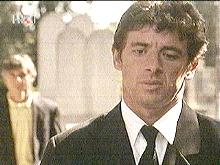 Thierry Verhaege e-mailed me in January to say France 3 announced on 26th December the well-respected singer/songwriter Patrick Bruel (pictured right acting in a film) would compose the French entry.
His current CD Juste Avant (Just Before) is another great success. More information about Patrick Bruel at http://www.patrickbruel.fr
It was announced in late February (thanks to Fred in France) the song is called "Il faut du temps" and would be performed by newcomer 20-year old Sandrine François (pictured left in a dire talk show).
Oliver reports by e-mail that a special TV show is to recorded on April 3rd to be broadcast on April 9th on France 3 featuring the song.
The song can already be heard via Audiogalaxy and is a fine ballad much like last year's French entry.
Looks like France plans a strong follow-up to the very well-received "Je n'ai que mon âme" last year sung by Natasha St Pier. She came a very respectable 4th.
If you have any news or updates on this country's National selection I'd like to hear about it. E-Mail me, Geoff Harrison, at my contact page